New Alumni-Student Initiative Launched with Mentoring Event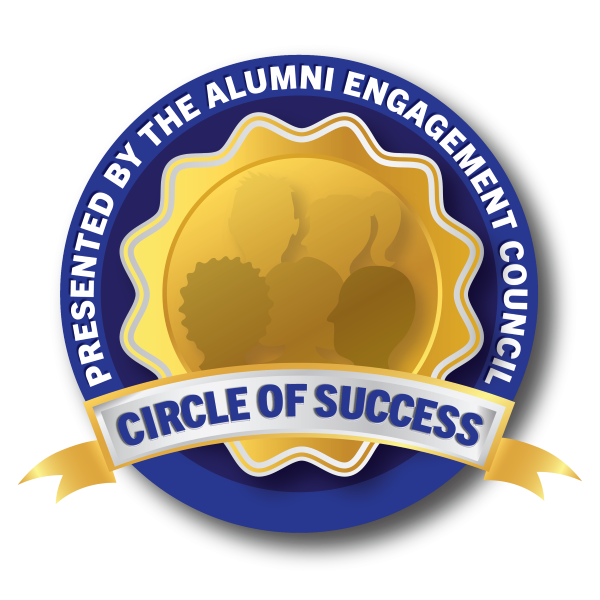 The Alumni Engagement Council (AEC) at the CUNY School of Professional Studies (CUNY SPS) sponsored the March 10 event Life After Graduation, an online discussion to launch the Circle of Success, a brand-new alumni initiative geared to fostering relationship building, mentoring, and engagement with current students.
"CUNY SPS alumni are amazing and always looking for ways to give back to their alma mater. We think the Circle of Success offers them a wonderful opportunity to stay connected to the School while providing support to current students who will one day join them in the alumni network," said Nidia Cordova, alumni relations manager, who organized and moderated the digital dialogue. "Our goal is to continue strengthening the supportive community that already exists within the School."
The Life After Graduation panel featured three alumni members of the AEC: Dani Lucchese, Milan Fredricks, and Lisa Sheridan. Topics discussed included the grad school application process, the importance of mentoring, and resume building.
Fredricks (Communications and Media '20) explained her motivation for participating in the event. "This School has given so much to me, and I feel joyful when I can give even a little bit back. The Circle of Success bridges the gap between alumni and students. It gives alumni an easy way to support students, and it gives students the chance to speak to and potentially build organic relationships with alumni. That's great for everyone!"
Students attending, most of whom were ACE Scholarship mentors and ACE first-year participants, reflected that the event helped build much-needed connections. "Taking classes online can be very isolating …The event gave me the inspiration that I really needed. Hearing other people's struggles and how they overcame them was something I could relate to," said Robert McInerney, a psychology student and ACE scholar.
Virginia Wallace, a health information management and first-year ACE student, observed, "I was very taken with the discussion about the importance of mentoring. I need a mentor, and I'm actively seeking ways to connect with other students and to find a mentor. I spent 25 years living in the 'bush' in Alaska, providing healthcare for indigenous folks in a number of Native villages. I was very isolated but loved my work, and I was very good at my practice in wilderness medicine."
Lucchese (MA in Disability Studies '16) shared their impression of the night. "I was surprised by the level in which so many students related to the experiences the alumni panel shared. It definitely served as a powerful reminder that none of us are alone in our post-graduation journeys," said Lucchese. "I wanted to make sure students didn't leave the event anxious about next adventures after graduation. The important thing I hope they remember is that life is a journey filled with many highlights, opportunities for growth, and people to guide you."
Following this launch, the Circle of Success is planning to expand its reach. Associate Director of Student Life Anthony Sweeney, who helped assemble the ACE student participants, noted, "We are already planning a second workshop. The next one will tackle the graduation process and what to expect when you are at the finish line."
Based on the enthusiastic responses of current attendees, these additional events are likely to be a draw. Kathleen Bautista, a first-year communications and media student and ACE participant, said, "I would definitely attend future Circle of Success events because they would be additional opportunities to learn. The event inspired me to join the Alumni Engagement Council because it made me realize the importance of forming relationships."
About the CUNY SPS Alumni Engagement Council
The Alumni Engagement Council (AEC) serves as ambassadors for the CUNY School of Professional Studies (CUNY SPS) events and other activities, connecting the School to increase awareness of the many services available through the Office of Alumni Relations, to encourage a larger and more diverse participation in the programs, and to initiate new ways to communicate with the growing alumni population. For further information or to join the AEC, please contact alumni@sps.cuny.edu or (646) 664-8661.
About the CUNY School of Professional Studies
As New York's leader in online education since 2006, the CUNY School of Professional Studies (CUNY SPS) offers the most online bachelor's and master's degree options at the City University of New York, and serves as the University's only undergraduate all-transfer college. With 24 degrees and numerous other non-degree and grant-funded workplace learning programs, CUNY SPS meets the needs of adults who wish to finish a bachelor's degree, progress from an associate's degree, earn a master's degree or certificate in a specialized field, and advance in the workplace or change careers. Consistently ranked highly by U.S. News & World Report for its online offerings, and noted for its soaring growth and enrollment, CUNY SPS has emerged as a nationwide leader in online education. The School's renowned and affordable online programs—which offer in-state tuition to all students regardless of where they live—ensure that busy working adults may fulfill their educational goals on their own time and schedule.
Press Contact
Andrea Fagon
Director of Marketing and Communications
andrea.fagon@cuny.edu