Latest Top Marks for Data Science MS Underscore Program's Uniqueness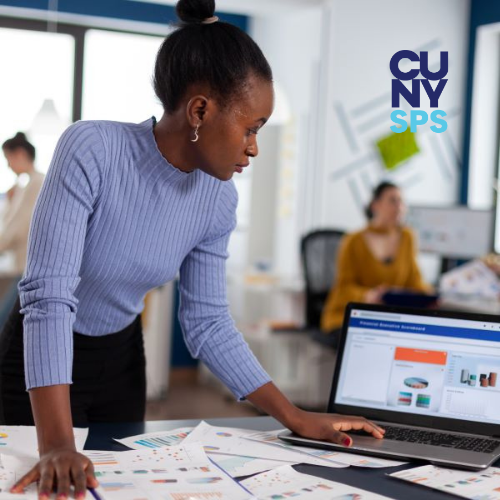 The CUNY School of Professional Studies (CUNY SPS) is pleased to announce that the School's MS in data science program has been once again rated highly by data science and higher education websites.
Earlier this fall, online guide Discover Data Science featured the CUNY SPS MS in data science on its Top 30 Affordable Online Master's in Data Science Programs for 2021, ranked #6 in terms of affordability.
This month, Intelligent.com rated the program #20 on its list of Best Online Masters' in Data Science Programs of 2022, joining 8 other CUNY SPS programs also ranked highly by the website.
These rankings stand as the latest recognition for the MS in data science program, which has received numerous accolades over the years. In the following Q&A, Arthur O'Connor, the academic director of data science and information systems at CUNY SPS, shares his thoughts on what makes the program so unique.
The MS in data science program continues to be rated highly by those in the field. Why do you think the program is always on the top of everyone's list?
I'd say three things: quality, cost, and convenience. Our curriculum is comparable to some of the most highly rated graduate schools in the nation, but we're a fraction of the cost, especially since we offer in-state tuition to all students. And our online learning model enables our students to more easily balance their study, work, and personal lives.
It's great to see our graduate degree program—and CUNY SPS—start to gain some market recognition.
The MS in data science program's learning objectives and courses are designed around employer needs. Can you give us an example of how the program prepares students for the workplace?
Most of our faculty are industry practitioners, so the tools and platforms they teach with are those that they currently use on the job.
I've heard so many hiring managers complain: "We don't have a degree shortage; we have a skills shortage." They want employees who not only understand the issues, but also can develop solutions. We believe that it's critical our students not just understand the WHAT of data science, but also know HOW to do it. That's why we focus on providing our students with practical, hands-on quantitative, and technical know-how using current industry best practices.
Are there any standout classes, projects, or collaborations going on in the program that you're particularly excited about right now?
This year, we launched a "hybrid" course in advanced Python programming for students local to NYC, which combines our online learning model with traditional, face-to-face classroom interaction. We're hoping to build upon that model to increase student engagement.
Additionally, we're currently developing a new course devoted exclusively to the many data engineering issues that arise with Big Data, and we hope to launch at least one new course on artificial intelligence, focusing on some of the more popular types of deep learning neural networks.
Last year, we hired our first tenure-track faculty member, Dr. Jason Bryer, who is helping us promote best practices in online teaching and student engagement across both degree programs.
But to be honest, what I'm most excited about—and proud of—are our students; they are a remarkably bright, dedicated, and talented group. I'm continually impressed by the quality, creativity, and thoughtfulness that goes into their work.
About the Master of Science in Data Science
The MS in data science (previously MS in data analytics) online degree program helps students earn the credentials and acquire the skills needed to enter or advance in the fast-growing field of data science. Ranked last year as one of the Best Value Online Big Data Programs, the MS in data science online degree program offers foundational knowledge and hands-on programming competencies, resulting in project-based work samples similar to that of a programming boot camp.
About the CUNY School of Professional Studies
For over 15 years, the CUNY School of Professional Studies (CUNY SPS) has been leading online education in New York. Notable for offering the most online bachelor's and master's degree options at the City University of New York, and for serving transfer students as the University system's only undergraduate all-transfer college, CUNY SPS meets the needs of adults who wish to finish a bachelor's degree, progress from an associate's degree, earn a master's degree or certificate in a specialized field, and advance in the workplace or change careers.
The School's growth has been remarkable, with twenty-four degrees launched since 2006. Enrollment has risen by more than 30% in the last four years to over 4,000 students in the credit-bearing programs. Thousands more are enrolled in non-degree and grant-funded workplace learning programs. In addition, the School has an active alumni network and has established the CUNY SPS Foundation, which offers multiple scholarship opportunities to current students.
CUNY SPS has consistently been named by U.S. News & World Report as one of the country's top online institutions. This year, the School was ranked in the top 2% in the nation on the publisher's list of the 2021 Best Online Bachelor's Degree Programs.
Press Contact
Andrea Fagon
Director of Marketing and Communications
andrea.fagon@cuny.edu