You are here
The Kiosk Receives Certificate of Recognition at CUNY Correspondents' Dinner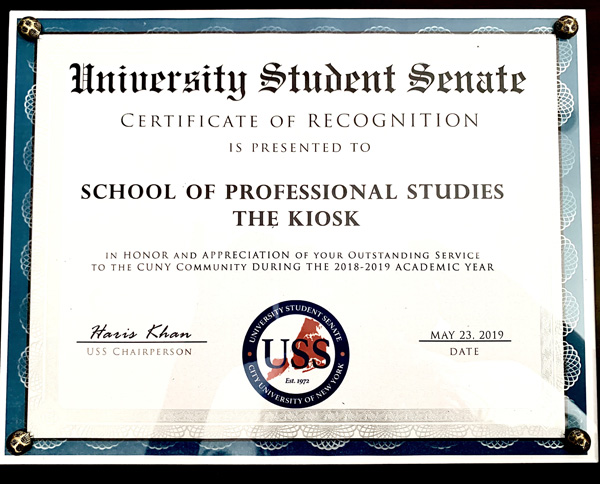 New York, NY – The CUNY School of Professional Studies (CUNY SPS) is honored to announce that its student-run news site The Kiosk received a Certificate of Recognition at the CUNY Correspondents' Dinner held on May 23, 2019 at City College's Great Hall.
Hosted by CUNY University Student Senate, the inaugural CUNY Correspondents' Dinner was developed to recognize and honor student media and journalists across CUNY. Since its inception on October 29, 2018, The Kiosk and its dedicated team of content providers have sought to share news, ideas, and experiences as a way to bridge all CUNY SPS constituents.
"Student journalism […] fosters community and helps writers hone their craft in a collaborative atmosphere," says Lisa Sheridan, The Kiosk's founder and editor-in-chief. "It ensures students have a voice and holds those in power accountable. As online students without an analog campus experience, I thought it was particularly important that we have a student journalism publication to serve [our] students."
Receipt of this accolade has affirmed the assiduous effort that Sheridan and her team have devoted to The Kiosk and serves as motivation to proliferate their journalistic endeavors.
"Personally, this award provides recognition, appreciation, and support for the work that has been done," says Duubar Villalobos Jimenez, The Kiosk's news editor. "With this award, we can now be more confident in the outstanding services that we provide, thus encouraging us to keep stimulating our society to achieve greater good."
ABOUT THE CUNY SCHOOL OF PROFESSIONAL STUDIES
Home to the first fully online degree programs at the City University of New York, the CUNY School of Professional Studies provides online and on campus programs that meet the needs of adults who are looking for a seamless way to finish a bachelor's degree, earn a master's degree or certificate in a specialized field, advance in the workplace, or change careers.
Affirming its role as a leader in online education, CUNY SPS was ranked in the top 5% in the Nation in U.S. News & World Report's list of the 2019 Best Online Bachelor's Degree Programs. Of the institutions ranked, CUNY SPS lists 1st in New York City.
Press Contact:
Andrea Fagon
Director of Marketing and Communications
andrea.fagon@cuny.edu
(646) 664-8690