Former Disability Studies Student and Professor Publishes Book on Care for the Disabled
As part of our observance of CUNY Disability Awareness Month this April, the CUNY School of Professional Studies (CUNY SPS) is pleased to showcase members of our community and the work they are doing to support people with disabilities.
This week, we spotlight Dr. Akemi Nishida, an assistant professor of disability & human development and gender & women's studies at the University of Illinois Chicago, whose book Just Care: Messy Entanglements of Disability, Dependency, and Desire was recently published by Temple University Press.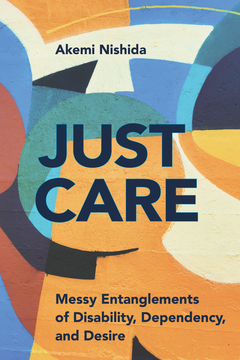 Dr. Nishida, a former student and professor in the CUNY SPS disability studies program, recently spoke with CUNY SPS about her book and the impact that the School has had on her research and career.
Q: Please tell us about your experience as a CUNY SPS student.
A: I took a course in the [CUNY SPS] MA in Disability Studies program while I was a PhD student in the CUNY Graduate Center's critical social and personality psychology program. After that, I was recruited to teach at the disability studies program at CUNY SPS.
Q: What years did you teach at CUNY SPS and what class(es) did you teach?
A: I worked at CUNY SPS from 2010 to 2014, and taught the graduate courses "Embodiment and Disability," "Disability and Diversity," and "Qualitative Research Methods."
Q: What is the main focus of your book?
A: Just Care is a thoughtful examination of care injustice and social justice enabled through care. The current neoliberal political economy has turned care into a business opportunity for the healthcare industrial complex and a mechanism of social oppression and control. My book analyzes the challenges people negotiate whether they are situated as caregivers, receivers, or both. I also illuminate how people with disabilities come together to assemble community care collectives and bed activism (resistance and visions emerging from the space of bed) to reimagine care as a key element for social change.
Q: Did your years studying and teaching at CUNY SPS inspire any aspects of the book? If so, how?
A: Yes. Chapters 1, 2, and 3 are based on my dissertation, where I engage in a relational analysis of the experiences care workers and care receivers go through. Although their experiences and the oppressions they encounter under the name of care (e.g., exploitative care work or ableist abuse and the control care receivers experience through the personal assistance they receive) are often analyzed separately in feminist and disability studies, I start my analysis from the fact that these workers and care receivers spend the majority of their daily lives together, witness and co-experience what their care partners go through, and the oppressions they experience are intertwined.
Such analysis came more organically to me thanks to my experiences at CUNY SPS' disability studies program. The disability studies courses were taken by those who work as care workers as well as disabled people who receive daily care assistance (at least when I taught there). Discussing the topic of care and how they each hold different and sometimes overlapping perceptions and experiences of care helped me to develop the relational analysis. In the book, I describe how those who are already coming from marginalized communities (e.g., migrant women of color care workers and lower-income disabled population receiving the public healthcare supports) are often put in the US public health care system, where they experience further marginalization and debilitation. It is also students working together, building friendships, and dreaming and fighting for care justice for all in and out of the classrooms, which affirmed that care workers and those who receive long-term care are not only impacted by the care-based oppressions (which I touch upon in Chapter 2) but also resisting and enacting other-world-making together (which I explore in Chapter 3).
Also, CUNY SPS provided a space for me to share my dissertation…. My talk [co-sponsored by CUNY SPS and held in November 2022] was attended by not only the aforementioned students, but also those who participate in public healthcare policymaking in NY. The opportunity to share my research with a wide range of audience helped me to disseminate my research findings further and hopefully to deliver the voices and perspectives of care workers and care receivers to those who are in policy administrative positions.
Q: Anything else you would like to share?
A: The CUNY SPS disability studies program has been my most favorite place to teach. I absolutely loved working with students who are dedicated to ending ableism, and who are friendly, supportive of one another, and creative! Many of my students gave creative and artful presentations by dancing, rapping, and engaging in theatrical play to demonstrate what they learned in the courses.
The fact that whatever I taught in the class (e.g., self-determination) was implemented immediately in the everyday lives of disabled people living in group homes—since the majority of students worked at such homes and applied what they learned in the classroom to their workplaces—was a very powerful and rewarding experience for me as a professor. I deeply miss the students I worked with and want to know what they are up to now.
Also, the generous mentorship and strong leadership of Dr. Mariette Bates [former academic director of the disability studies program] gave a foundation for my career as a professor. I cannot emphasize how much I grew at CUNY SPS and how much fun I had there, thanks to students, staff, and faculty members.
Just Care: Messy Entanglements of Disability, Dependency, and Desire is available at Temple University Press.
About Disability Studies at the CUNY School of Professional Studies
Disability Studies is an emerging academic field that explores disability from multiple perspectives, including the social sciences, humanities, science, and the law. CUNY SPS offers groundbreaking, fully accredited online degree and certificate programs within Disability Studies including the BA in Disability Studies, MA in Disability Studies, MS in Disability Services in Higher Education, Advanced Certificate in Disability Studies, and Advanced Certificate in Disability Services in Higher Education.
About the CUNY School of Professional Studies
As New York's leading online school since 2006, the CUNY School of Professional Studies (CUNY SPS) offers the most online bachelor's and master's degree options at the City University of New York, and serves as the University's first undergraduate all-transfer college. With 26 degrees and numerous other non-degree and grant-funded workplace learning programs, CUNY SPS meets the needs of adults who wish to finish a bachelor's degree, progress from an associate's degree, earn a master's degree or certificate in a specialized field, and advance in the workplace or change careers. Consistently ranked highly by U.S. News & World Report for its online offerings, CUNY SPS has emerged as a nationwide leader in online education. The School's renowned and affordable online programs ensure that busy working adults may fulfill their educational goals on their own time and schedule.
Press Contact
Andrea Fagon
Chief Marketing and Communications Officer
andrea.fagon@cuny.edu