Dr. Campanelli Wins John Mogulescu Innovation Prize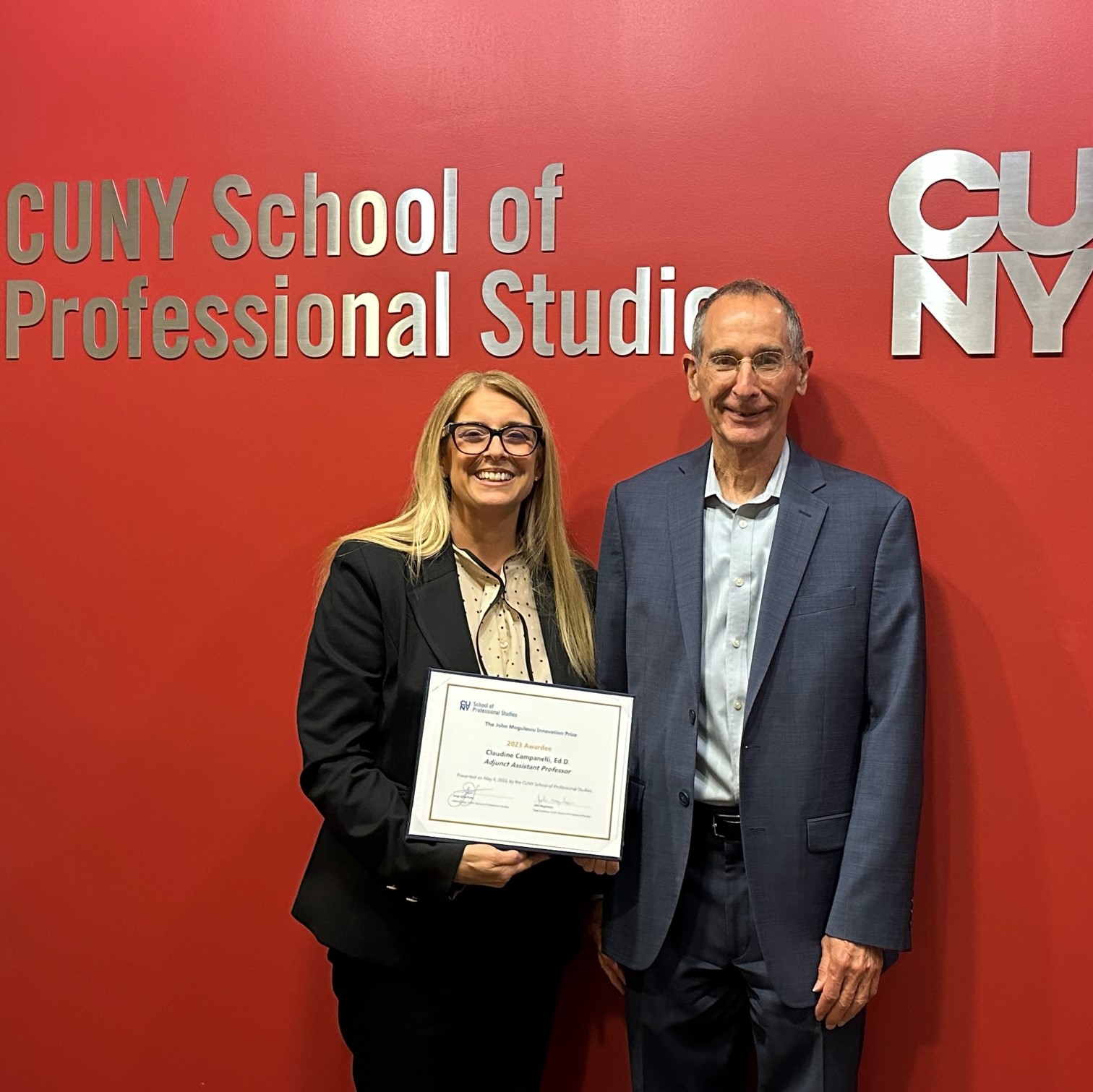 The CUNY School of Professional Studies (CUNY SPS) is pleased to announce the winner of its inaugural John Mogulescu Innovation Prize.
Following a competitive process, Dr. Claudine Campanelli, the program administrator of CDA (Child Development Associate) and CPAC (Children's Program Administrator Credential) at CUNY SPS, was awarded this year's prize for her idea to create a credit-bearing Child Development Associate (CDA) program in Spanish.
On May 4, Interim Dean Jorge Silva-Puras presented Dr. Campanelli with her award in a ceremony held on the CUNY SPS campus. They were joined by Dean Emeritus John Mogulescu, as well as CUNY SPS Foundation Board Executive Committee members Blake Foote and Patti Lieberman. 
In appreciation of Founding Dean Mogulescu's mission to promote excellence and innovation at CUNY SPS, the CUNY SPS Foundation Board established the Innovation Prize Fund in Fall 2022. The prize is designed to foster continued innovation at CUNY SPS and acknowledges a CUNY SPS student, faculty member, or administrator with an innovative idea, program, approach, study, or research that advances the School. 
The Fund awards a prize annually (until funds are exhausted). A committee ("Innovation Prize Committee") convenes each year to review applications and select prize recipients. To be considered, CUNY SPS students, faculty members, and administrators must submit a statement outlining their innovative idea or program, the potential impact it may have on the CUNY SPS community, and any additional details promoting the novelty and excellence of the idea or program. 
To select the winning recipient, the Innovation Prize Committee scores each submission based on innovation, impact, feasibility, scalability, connection to CUNY SPS mission/vision, and collaboration. The award is not contingent upon implementation, but a celebration of innovative thinking and a supportive environment of excellence.
About the CUNY School of Professional Studies
As New York's leading online school since 2006, the CUNY School of Professional Studies (CUNY SPS) offers the most online bachelor's and master's degree options at the City University of New York, and serves as the University's first undergraduate all-transfer college. With 26 degrees and numerous other non-degree and grant-funded workplace learning programs, CUNY SPS meets the needs of adults who wish to finish a bachelor's degree, progress from an associate's degree, earn a master's degree or certificate in a specialized field, and advance in the workplace or change careers. Consistently ranked highly by U.S. News & World Report for its online offerings, CUNY SPS has emerged as a nationwide leader in online education. The School's renowned and affordable online programs ensure that busy working adults may fulfill their educational goals on their own time and schedule.
Press Contact
Andrea Fagon
Chief Marketing and Communications Officer
andrea.fagon@cuny.edu