Disability Studies Professor Awarded 2023 Adjunct Faculty Teaching Prize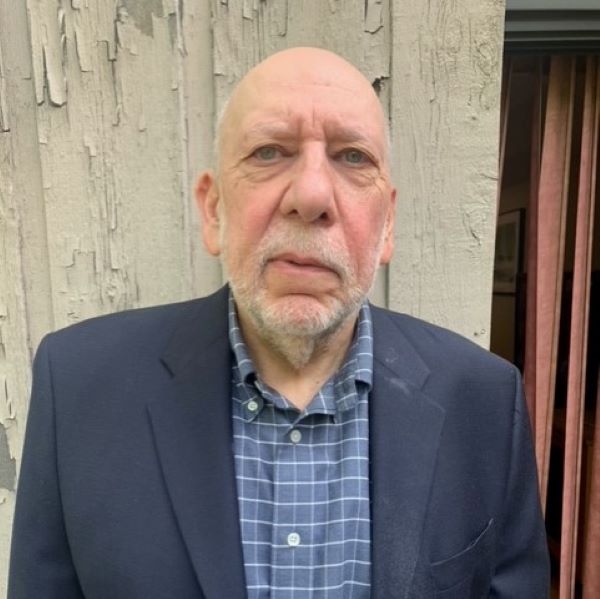 The CUNY School of Professional Studies (CUNY SPS) is proud to announce that Neil Harbus, an adjunct professor in the School's disability studies programs, has received the 2023 Adjunct Faculty Teaching Excellence Award.
In an online ceremony on June 7, Interim Dean Silva-Puras presented Professor Harbus with the award, which officially recognizes CUNY SPS adjunct faculty and comes with a $1,000 prize.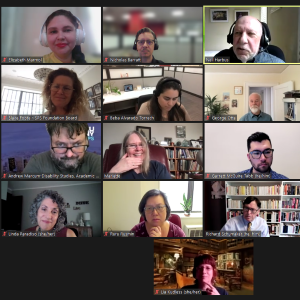 Also attending the ceremony were CUNY SPS Foundation Board members; OFDIT faculty advisory board members who served on the selection committee; and other administrators, faculty, and staff.
Professor Harbus, who has taught at CUNY SPS for the past 12 years and has worked as a psychiatric social worker for over 35 years, was selected for this honor by a panel of students and faculty based on the strength of his nomination by undergraduate students and endorsements from his program director.
As Professor Harbus outlined in a statement of teaching philosophy submitted to the award committee, his teaching practices have been shaped and honed by his many years working as a behavioral health practitioner.
"Academia was new to me, so when I began to teach, I drew on my experience in the mental health field to inform my approach to teaching. In the past 12 years, my teaching philosophy has evolved, but in many ways, I still draw on principles from psychiatric rehabilitation, where a collaborative, trauma-informed approach is used to enhance knowledge, teach skills, and assist people in learning how to access resources," Professor Harbus explained. "…I aim to engage each student in my class, customize their learning (person centered), and creatively collaborate with them so they can master that learning. As a result, I see many students signing up for my courses who have their own lived experience with mental health issues. I try to create a class atmosphere where all feel heard and welcomed."
Professor Harbus, who had the distinction of being nominated by his students every year since the award was offered, also shared what a student wrote after learning of his fourth nomination.
"There is a difference in the way you interact with the students…that gives us the opportunity to really engage with the material that we are learning," the student noted. "The material is important, and then you go beyond to break it down for us and you make it real for us using all your experience. On top of that, you encourage us to make it real… by promoting assignments that get us involved with research in real organizations. "
During the ceremony, Professor Harbus' colleagues also reflected upon his remarkable dedication to his students and his creative and innovative online teaching practices.
Dr. Andrew Marcum, academic director of the School's disability studies program, noted the impact of the eight classes Professor Harbus has so far developed for the program. "His work represents the best of what disability studies could be—bringing socially relevant scholarship to the practice—and supports and enables people in the practice while expanding it to include mental health and wellbeing, which is increasingly important as we move forward," Dr. Marcum said.
In brief remarks delivered at the end of the ceremony, Professor Harbus offered his thanks for this acknowledgement. "I felt honored, in just being nominated by students four years in a row, but it is nice to also be recognized by my colleagues. As I mentioned, we [adjunct faculty] often work to a large extent in a vacuum, especially when we teach exclusively online. So this means a great deal to me."
Professor Harbus joins Emily Brooks, who received the 2022 Adjunct Faculty Teaching Excellence Award, as the second disability studies faculty to win the award. Other prior winners include Debra Schaller-Demers (Research Administration and Compliance) and Bradley Gardener (General Education, Communication and Media, and Information Systems). For more information, visit the award page.
About the Adjunct Faculty Teaching Excellence Award
Responding to CUNY SPS Student Association members' interest in highlighting faculty excellence, Tracy L. Meade, former senior associate dean for strategy and innovation, established the Adjunct Faculty Teaching Excellence Award. This prize, which is given at the end of each academic year, acknowledges an adjunct instructor's creative and innovative online teaching practices in undergraduate courses, and includes a $1,000 prize. Candidates are nominated by CUNY SPS students in online undergraduate degree programs; the nominees must then be endorsed by their program directors and provide a statement of their teaching philosophy, and a panel of students and faculty select each year's recipient.
About the CUNY School of Professional Studies
As New York's leading online school since 2006, the CUNY School of Professional Studies (CUNY SPS) offers the most online bachelor's and master's degree options at the City University of New York, and serves as the University's first undergraduate all-transfer college. With 26 degrees and numerous other non-degree and grant-funded workplace learning programs, CUNY SPS meets the needs of adults who wish to finish a bachelor's degree, progress from an associate's degree, earn a master's degree or certificate in a specialized field, and advance in the workplace or change careers. Consistently ranked highly by U.S. News & World Report for its online offerings, CUNY SPS has emerged as a nationwide leader in online education. The School's renowned and affordable online programs ensure that busy working adults may fulfill their educational goals on their own time and schedule.
Press Contact
Andrea Fagon
Chief Marketing and Communications Officer
andrea.fagon@cuny.edu