CUNY SPS Youth Studies Program Hosts 3-Part Lecture Series on Community & Youth Organizing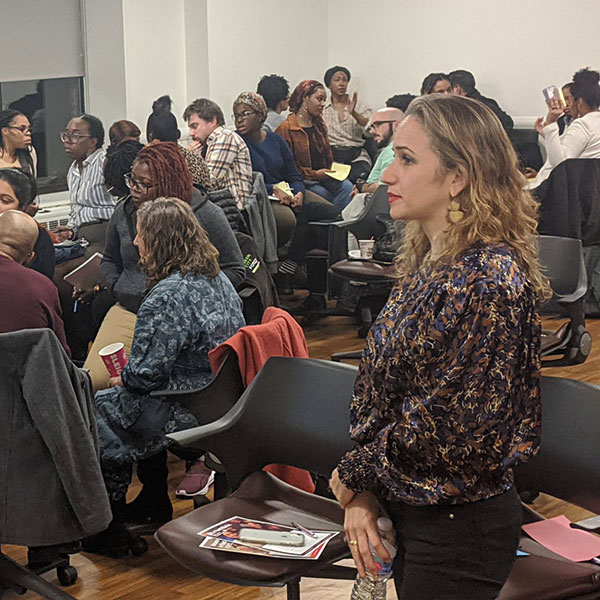 The CUNY School of Professional Studies (CUNY SPS) youth studies program hosted a three-part lecture series on youth and community organizing in January 2020. Alumni, community partners, and industry colleagues attended the three talks, which focused on New York City police reform, the legacy of a 1960s community organization that founded one of Brooklyn's premier Black independent schools, and the impact of the black power movement on youth development and organizing.
Dr. Sarah Zeller-Berkman, director of the CUNY SPS youth studies program and the Intergenerational Change Initiative, said "We were so excited to have all three events packed with current and former youth studies students as well as prospects, youth-serving agency partners, funders, organizers, academics, and new and old friends of the program.  We left fortified with historical knowledge that is relevant to activism happening around NYC today as well as valuable tools to add to our youth and community organizing toolkits."
The first talk on January 7, titled NYC Police Reform Organizing, illuminated organizing tactics and skills using as a case study the fight against police brutality in NYC from the 1990s to the present day. Lumumba Bandele, an adjunct faculty in the youth studies program, spoke with Joo-Hyun Kang about her role and experiences coordinating the country's most comprehensive community-based police reform coalition, Communities United for Police Reform, and the series of historic campaigns the organization has led transforming police practices in NYC. They also discussed their shared chapter in the soon-to-be released anthology, Remaking Radicalism: A Grassroots Documentary Reader of the United States, 1973-2001, which will be published by the University of Georgia Press later this year.
On January 14, the talk Reflections on the East looked back on a historic fight for self-determination and community control over education in Bedford Stuyvesant, Brooklyn, in the 1970s. Bandele moderated the talk, which highlighted the legacy of the East, a community organization founded in 1969 by a group of educators and activists. Shortly after its founding, the East established one of Brooklyn's premier Black independent schools, the Uhuru Sasa Shule (Freedom Now School). Dr. Shegun Shabaka, an East member and former teacher at Uhuru Sasa, shared his recollections and discussed the founding, history, and long-term impact of Uhuru Sasa. Kweli Weusi, a former Uhuru Sasa student and daughter of East founder Jitu Weusi, also joined the conversation.
The final lecture Black Youth Development & Organizing, held on January 15, explored the framing of black self-determination as a basis for youth development and organizing and how its legacy of initiatives has informed and inspired current work. Speakers included Gina Arias, a member of the Justice Committee, a grassroots organization dedicated to building a movement against police violence and systemic racism in New York City and empowering low-income Latino/as and other people of color to address these issues. Raymond Figueroa Jr, the president of the New York City Community Garden Coalition and a teacher at Pratt Institute Graduate Center for Planning and the Environment, also shared his experiences as a community activist. During the panel, both speakers discussed how the principles of the black power movement, which include cooperative economics, creativity, collective work and responsibility, are a useful framework for current day community-youth development programs.
About the MA in Youth Studies program
The MA in Youth Studies, the first program of its kind in New York, was established in 2017 with the goal of supporting the needs of individuals ages 12 to 24 by training qualified frontline youth workers, directors, and administrators. In addition to offering a high-quality degree, the Youth Studies program has a research agenda that uses youth-adult partnerships and a critical participatory action research approach to inform youth policy and practice in NYC. Current projects include partnerships with ACS and DOE and Amplify, a set of new and innovative research tools designed to engage young people in city-wide policy making and drive local action.
About the CUNY School of Professional Studies
Home to the first fully online degree programs at the City University of New York, the CUNY School of Professional Studies (CUNY SPS) provides online and on campus programs that meet the needs of adults who are looking to finish a bachelor's degree, earn a master's degree or certificate in a specialized field, advance in the workplace, or change careers.
The School's growth has been remarkable. Launching twenty-three degrees since 2006, enrollment has risen by more than 30% in the last four years to over 3,700 students in the credit-bearing programs. We serve thousands more who are enrolled in our non-degree and grant funded workforce development programs. In addition, the School has an active Alumni network and established the CUNY SPS Foundation, which offers multiple scholarship opportunities to our current students.
Affirming our role as a leader in online education, CUNY SPS was ranked in the top 5% of U.S. News & World Report's list of the 2020 Best Online Bachelor's Degree Programs, making CUNY SPS the highest nationally listed program in New York State and New York City.
Press Contact:
Andrea Fagon
Director of Marketing and Communications
andrea.fagon@cuny.edu
(646) 664-8690