CUNY SPS Spotlights PEWL ACS Workforce Institute Partnership During Child Welfare Worker Appreciation Week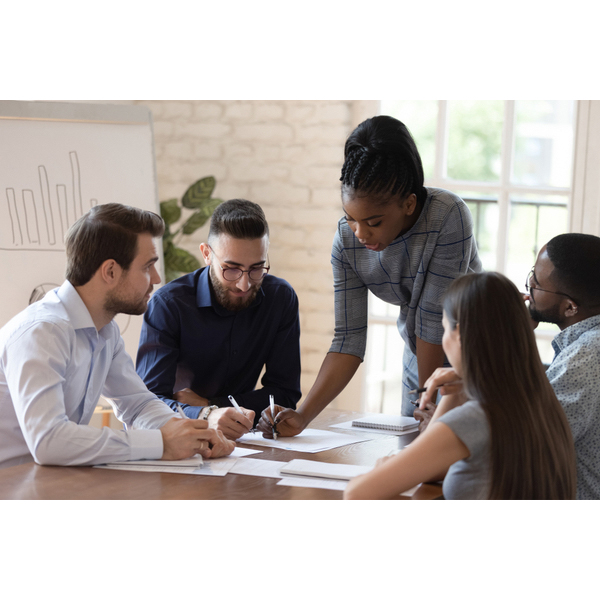 The CUNY School of Professional Studies (CUNY SPS) is proud to celebrate Child Welfare Worker Appreciation Week with a spotlight on the NYC Administration for Children's Services Workforce Institute program managed by the School's Office of Professional Education and Workplace Learning unit (PEWL).
Established in 2015, as a partnership between ACS, PEWL, and the Hunter College Silberman School of Social Work, the ACS Workforce Institute provides ongoing professional skills development for direct service staff and supervisors at ACS and its many partner agencies across the child welfare and juvenile justice sectors.
"The projects undertaken by ACS Workforce Institute are the cornerstone of our commitment to empowering child welfare specialists and, in turn, safeguarding the well-being of our city's children," said Program Director Charlene Armstrong. "Through our collective efforts, we strive to create a nurturing environment where professionals can thrive, equipping them with the tools and knowledge needed to provide exceptional care and support for the most vulnerable among us. As CUNY SPS employees on this project, this is the very reason we have fulfillment in our work."
Among the Institute's projects that lift, and support child welfare workers include training in an alternative, non-investigatory child protection response known as Collaborative Assessment, Response, Engagement & Support (CARES).
CARES is an ACS core strategy for combating racial disparities in child welfare and promoting social justice, explained TAP Deputy Director Chris Rector. It's a collaborative, unintrusive response for families and does not require an investigation or a determination of allegations made by a reporter to the Statewide Central Register of Child Abuse and Maltreatment.
Rector said his team provided and expanded CARES training city-wide to 49 Division of Child Protection (DCP) units this past fiscal year with a goal of 64 units by the end of the 2023 calendar year. A unit is comprised of five child protective services specialists and one supervisor. In addition to the training, the staff facilitates monthly coaching session with DCP staff to support their implementation of the CARES approach with families.
In addition to the CARES program, Armstrong noted other projects in development by her team include an introduction to best practice approaches for communication and documentation within the child welfare system.
This course will have two 30-minute eLearning sessions, the first of which will assist child welfare staff in interpreting behaviors. Learners will be exposed to best practices that will support staff to respond to behavioral and emotional responses that may be a result of current, past, or present trauma. The second session will explore how labeling youth can lead to unintended consequences which can influence how they view themselves, and how others interact with them.
In a separate program, ACS Workforce Institute staff also train child protective specialists on how to look for signs of neglect and abuse by simulating potential scenarios they might face when visiting homes of those reported to ACS.
On the second floor of a former department store converted into offices for the ACS James Satterwhite Academy in Jamaica, Queens, Jesenia Pijuan, simulation specialist, oversees the actors, equipment, and "apartments" that are used to train the specialists.
The center in Jamaica is one of six training sites throughout the five boroughs managed by ACS Workforce Institute.
Assistant Deputy Director of Learning Operations Jasmin Singleton said the simulations are great learning opportunities for new incoming child protective specialists to practice the skills that they've learned during their trainings.
"They get a chance to really see what it's like being in the house, working with a parent, having conversations with kids…having tough conversations," Singleton said. "It's real experience, and it's great to have the actors play the family members. They are very believable even though the actor is an adult playing that role."
Pijuan said the simulation training is a vital component to the work.
"We're glad that they go through our simulations to practice and experience a family visit in a safe and realistic environment," she said. "Learners would be less prepared if they went to visit families without the much-needed strength-based feedback received from the actors, trainers, and fellow trainees."
About the CUNY School of Professional Studies
As New York's leading online school since 2006, the CUNY School of Professional Studies (CUNY SPS) offers the most online bachelor's and master's degree options at the City University of New York, and serves as the University's first undergraduate all-transfer college. With 26 degrees and numerous other non-degree and grant-funded workplace learning programs, CUNY SPS meets the needs of adults who wish to finish a bachelor's degree, progress from an associate's degree, earn a master's degree or certificate in a specialized field, and advance in the workplace or change careers. Consistently ranked highly by U.S. News & World Report for its online offerings, CUNY SPS has emerged as a nationwide leader in online education. The School's renowned and affordable online programs ensure that busy working adults may fulfill their educational goals on their own time and schedule.
Press Contact
Andrea Fagon
Chief Marketing and Communications Officer
andrea.fagon@cuny.edu