CUNY SPS Showcases Academy for Community Behavioral Health Programs During Mental Health Awareness Month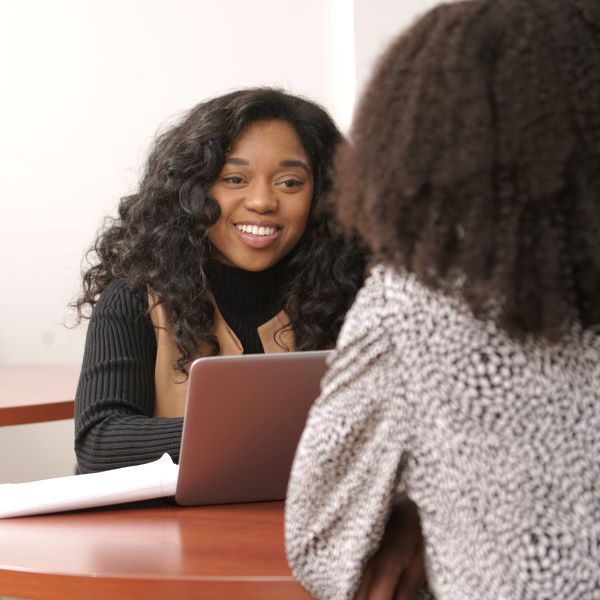 Each year, Mental Health Awareness Month and National Children's Mental Health Awareness Day are observed in May. In recognition of these events, the CUNY School of Professional Studies (CUNY SPS) shines a spotlight on the Academy for Community Behavioral Health (the Academy) and several of its latest efforts to help social service providers promote mental and behavioral health.
New Certificate Program to Provide Trauma-Informed Organizational Skills
Launched in June 2021, the Academy is run by the CUNY SPS Office of Professional Education and Workplace Learning (PEWL), with funding from the Mayor's Office of Community Mental Health (OCMH) and Mayor's Office for Economic Opportunity (NYC Opportunity).
One theme across Academy programs is the goal of helping social service providers address the high levels of stress, trauma and loss that these providers—and the communities they serve—experience.
"Individual healing work never happens outside collective healing work. We seek to lift up transformative responses to generational violence and trauma in our communities," said Academy Associate Director Vanessa Nisperos.
To expand this work, starting in mid-May, the Academy is piloting a new Trauma-Informed Organizational Practice certificate program. This unique program has been co-designed with input from staff, supervisors, and senior leaders at more than 25 organizations across New York City.
Through eight months of training and coaching, this course will help organizations develop trauma-informed supervision and leadership skills. It will deepen providers' understanding of trauma to include collective, historic, and intergenerational traumas; race-based trauma; and secondary trauma. Additionally, it will give teams evidence-based tools they can use to reduce the impacts of trauma on staff and community members and promote healing.
NYC non-profit social service providers can visit the Academy's website to learn about other upcoming courses, including a series on Tools for Coping with Stress and Trauma.
Creative Arts Program Helps Young People Impacted by Violence to Heal
During five weeks in May and June, youth in Connecting Through Art and Creative Expression: Tools to Support Children and Young People Impacted by Violence, learn to use art materials to build trust, confidence, and connection with young people who have experienced or witnessed violence. The course is open to staff of NYC nonprofit community-based organizations or government agencies who deliver social services in New York City.
"The creative process has the power to transform experiences, especially for children who have encountered trauma due to violence. Art materials can provide safety for children to express their emotions, process their narratives, and ultimately, heal," said course instructors Kimberly Faulkner and Deborah Rice. "This hands-on course encourages learners to really engage and explore art materials by experiencing them. We have to start with our own creative process first to fully understand, witness, and guide children in using art materials."
Natalie Rentas-Titus, director of social services at Day One NY, found the course very helpful, particularly with one client. "I was working with a 14-year-old survivor of sexual assault and we were struggling a little bit to connect about her experience because talk therapy was challenging for her," she said. "I found myself in a place of uncertainty, and considering how else I could support her."
Rentas-Titus said, after a class, she completed a project with the client where the teen drew the piece of the story that was difficult for her to talk about. "The instructors' advice on how to engage and maintain the flow of conversation after the art was created was extremely helpful and resulted in a successful session with my client."
Connecting Through Art and Creative Expression is one of the Academy's free courses for New York City non-profit social service providers. The Academy gives social service providers skills to provide relevant and accessible behavioral health support in places where people already have meaningful relationships and seek help.
As an additional resource, the NYC Well: The Mental Health Association of New York City's 24-hour-a-day, seven-day-a-week mental health hotline 1-888-NYC-WELL (1-888-692-9355) is available for crisis support and can connect you with long term support. Some supports include Family Resource Centers, peer support, and referrals to ongoing mental health care.
About the CUNY School of Professional Studies
As New York's leading online school since 2006, the CUNY School of Professional Studies (CUNY SPS) offers the most online bachelor's and master's degree options at the City University of New York, and serves as the University's first undergraduate all-transfer college. With 26 degrees and numerous other non-degree and grant-funded workplace learning programs, CUNY SPS meets the needs of adults who wish to finish a bachelor's degree, progress from an associate's degree, earn a master's degree or certificate in a specialized field, and advance in the workplace or change careers. Consistently ranked highly by U.S. News & World Report for its online offerings, CUNY SPS has emerged as a nationwide leader in online education. The School's renowned and affordable online programs ensure that busy working adults may fulfill their educational goals on their own time and schedule.
Press Contact
Andrea Fagon
Chief Marketing and Communications Officer
andrea.fagon@cuny.edu