CUNY SPS Shares Institutional Expertise at EdTech Events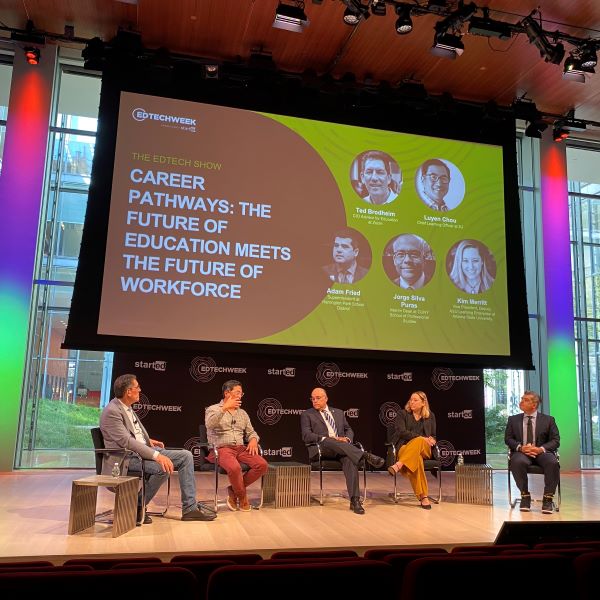 The CUNY School of Professional Studies (CUNY SPS) shared its unique institutional perspective as an online education leader serving adult students during several education technology (EdTech) events this September.
First, CUNY SPS was featured at two events during the 2022 EdTech Week, an annual series of in-person and virtual conferences that brings together distinguished professionals at the forefront of educational technology to focus on solving education challenges.
During the panel "Career Pathways: The Future of Education Meets the Future of Workforce", held on September 21, Interim Dean Silva-Puras added his thoughts to a larger discussion about the challenges confronting ed tech innovators, such as how higher education can address the needs of the evolving workplace while still maintaining core values of responsiveness and quality.
In the forum, Silva-Puras described how CUNY SPS utilizes the principle of the 'iron triangle' in higher education—quality, affordability, and access—to serve the School's adult students. "CUNY SPS is particularly well suited to address the so-called 'iron triangle'. We're very accessible because of our ability to be flexible, particularly in the online space," Silva-Puras continued, "We are very affordable—CUNY has one of the lowest tuition rates in the entire nation. And we are very high quality. As far the national ranks, we're in the top ten nationwide…The adult learner population particularly needs quality, value, and accessibility to be successful."
Separately, a select group of EdTech participants came to visit the CUNY SPS campus during the in-person EdTech event "Building Bridges with Microcredentials." Jennifer Sparrow, interim senior associate dean for academic affairs, and Holli Broadfoot, experiential learning director, joined Interim Dean Silva-Puras to discuss several opportunities and innovations the School offers to support adult learners and bridge skill building opportunities. Some of the topics covered in the presentation included Credit for Prior Learning, a CUNY SPS program that fast-tracks degree completion, and micro-credentials that help adult learners keep up with the changing job market.
That same week, Interim Dean Silva-Puras also spoke at a separate panel discussion entitled The Great Resignation: Workers' Experiences With Job and Education Transitions examining the causes of—and how to adjust to--the post-pandemic employment phenomenon. During the talk, organized and facilitated by the educational nonprofit Strada, Silva-Puras discussed how to best serve working adults who want to upskill and students who face a rapidly changing workforce.
Nicole Erazo, digital strategy manager, was one of the CUNY SPS faculty and staff who attended. "It was such an informative webinar," Erazo said. "It was wonderful to see Interim Dean Silva-Puras featured in a panel discussion alongside other educators and partners (including Amazon Career Choice) on this trending news topic."
About the CUNY School of Professional Studies
As New York's leader in online education since 2006, the CUNY School of Professional Studies (CUNY SPS) offers the most online bachelor's and master's degree options at the City University of New York, and serves as the University's only undergraduate all-transfer college. With 26 degrees and numerous other non-degree and grant-funded workplace learning programs, CUNY SPS meets the needs of adults who wish to finish a bachelor's degree, progress from an associate's degree, earn a master's degree or certificate in a specialized field, and advance in the workplace or change careers. Consistently ranked highly by U.S. News & World Report for its online offerings, and noted for its soaring growth and enrollment, CUNY SPS has emerged as a nationwide leader in online education. The School's renowned and affordable online programs—which offer in-state tuition to all students regardless of where they live—ensure that busy working adults may fulfill their educational goals on their own time and schedule.
Press Contact
Andrea Fagon
Director of Marketing and Communications
andrea.fagon@cuny.edu