CUNY SPS Receives Grant to Support Workforce Training Collaboration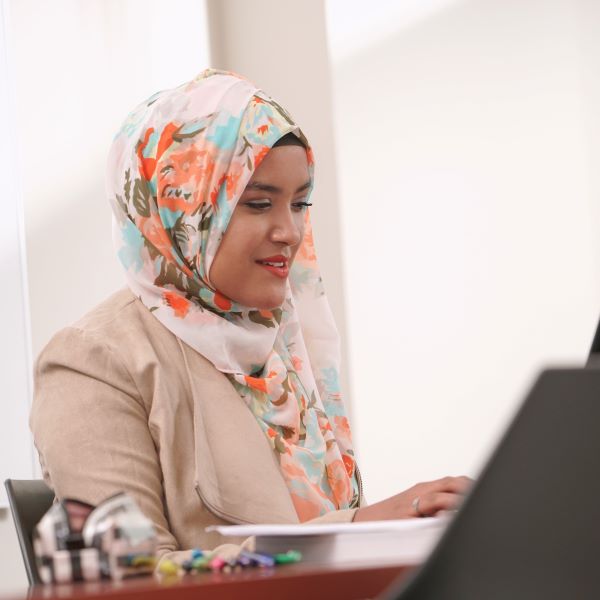 The CUNY School of Professional Studies (CUNY SPS) is pleased to announce that it has received a $75,000 grant from the Pinkerton Foundation to support the IT Pathways Partnership, an innovative collaboration with the workforce training providers Per Scholas, NPower, and Opportunities for a Better Tomorrow (OBT).
Created as part of CUNY SPS's larger mission to connect the workforce training sector with the City University of New York, the IT Pathways Partnership is designed to enable graduates from these three nonprofits' IT training programs to receive college credit toward a CUNY SPS bachelor's degree.
"The CUNY SPS Credit for Prior Learning program helps graduates of these rigorous training programs receive academic credit for the college-level learning they have acquired, saving them time and money toward bachelor's degree completion, and this generous award from Pinkerton Foundation will help us to further this effort," said Jennifer Sparrow, associate dean of academic affairs at CUNY SPS, who authored the grant proposal. "With these funds, the IT Pathways Partnership will assist IT training program graduates who go on to attend CUNY SPS, providing them with the support to successfully navigate the transition to college."
"This funding opportunity is very exciting. We are thrilled to help graduates of top-notch workforce development organizations pursue the next step of their career journey by enrolling in CUNY SPS for their bachelor's degrees. The sky is the limit!" said Laurie Dien, vice president/executive director for programs, the Pinkerton Foundation.
The Pinkerton Foundation grant will be applied toward supporting the work of the College Navigator, a CUNY SPS staff person who serves as a liaison between the partner organizations and the School and guides prospective students throughout the application process and the first semester.
This grant is the second one awarded to the IT Pathways Partnership by the Pinkerton Foundation. Previously the Foundation had provided a planning grant which, along with funding from the Carroll and Milton Petrie Foundation and the Graduate NYC/CCIF, enabled CUNY SPS to launch the partnership and enroll the first cohort of IT training graduates into the School's information systems program in Fall 2021.
About the Pinkerton Foundation
The Pinkerton Foundation is an independent grantmaking organization that supports community-based programs for young people living in under-resourced communities in New York City. Programs the Foundation supports focus primarily on education, after-school, career readiness and youth justice projects.
About the Partner Organizations
For twenty-five years, Per Scholas has prepared motivated and curious adults who are unemployed or underemployed with the technical and business skills to launch successful careers in technology, creating onramps to businesses in need of their talents. In 2020, Per Scholas will enroll more than 2,000 students across twelve cities. Independent, third party data prove that the organization is making positive and potentially lifelong change happen in communities across the country.
NPower is a national nonprofit that serves as the link between non-traditional job seekers and employers hiring diverse IT talent, creating an alternative fast-track to jobs for veterans and young adults on a national scale. The nonprofit envisions a future where our domestic technology workforce is diverse and clear pathways exist for all people regardless of ethnicity, gender, or socio-economic background to succeed in our digital economy. NPower offers programs in Tech Fundamentals, Cybersecurity, and Cloud Computing.
Opportunities for a Better Tomorrow (OBT) was founded in 1983 to serve at-risk, out-of-school, and out-of-work youth in Sunset Park, Brooklyn. OBT now serves over 4,000 youth and adults annually across four sites in economically vulnerable neighborhoods in Brooklyn and Queens. OBT has expanded its workforce training offerings to include youth education and internship programs, adult job training and education, and immigration services.
About the CUNY School of Professional Studies
As New York's leader in online education since 2006, the CUNY School of Professional Studies (CUNY SPS) offers the most online bachelor's and master's degree options at the City University of New York, and serves as the University's only undergraduate all-transfer college. With 24 degrees and numerous other non-degree and grant-funded workplace learning programs, CUNY SPS meets the needs of adults who wish to finish a bachelor's degree, progress from an associate's degree, earn a master's degree or certificate in a specialized field, and advance in the workplace or change careers. Consistently ranked highly by U.S. News & World Report for its online offerings, and noted for its soaring growth and enrollment, CUNY SPS has emerged as a nationwide leader in online education. The School's renowned and affordable online programs—which offer in-state tuition to all students regardless of where they live—ensure that busy working adults may fulfill their educational goals on their own time and schedule.
Press Contact
Andrea Fagon
Director of Marketing and Communications
andrea.fagon@cuny.edu