CUNY SPS and OBT Win Grant to Help Opportunity Youth Earn College Credit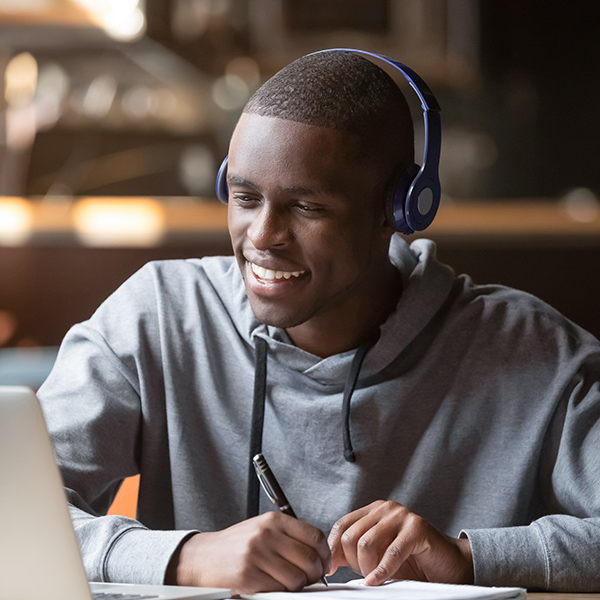 The College Completion Innovation Fund (CCIF) has awarded $200,000 for a collaborative project between the CUNY School of Professional Studies (CUNY SPS) and the workforce development non-profit Opportunities for a Better Tomorrow (OBT) to help opportunity youth receive college credit for their workforce training.
Under this project, titled On-ramps: Creating Credential to Degree Connections in Tech Sector Career Pathways, CUNY SPS and OBT will work together to enable 17-to-24 year olds enrolled in OBT's technology certification offerings to transfer their prior learning and technical credentials into CUNY SPS degree programs.
In particular, the CCIF grant funds will be used to evaluate OBT's Digital Media Marketing training, which provides learners with credentials in digital marketing and analytics from Google and Facebook, toward credit in the fully online CUNY SPS BS in Business program.
"We look forward to deepening our partnership with OBT to develop equitable pathways into CUNY SPS that recognize and award credit for the high-quality, industry-informed training and credentials that OBT provides," said Jennifer Sparrow, associate dean of academic affairs at CUNY SPS. "We will draw on OBT's deep knowledge of the needs of the New York City labor market to enrich our curriculum by incorporating work-based learning and employer-valued credentials into our academic pathways."
"We are thrilled to partner with the CUNY School of Professional Studies to break down barriers for New York City's young adults to attain their bachelor's degrees," said Courtney Granger, VP of Programs and interim co-CEO at Opportunities for a Better Tomorrow (OBT). "This partnership will allow graduates of OBT's tech training programs to have a seamless transition between a credential and a degree program, and will open more doors to careers in a growing sector. Often, there is a gap between advanced training completion and college enrollment; we are excited to launch this initiative that will close this gap and support OBT graduates along their pathway to fulfilling, living wage employment. We are grateful to the College Completion Innovation Fund for helping us to build this pathway for our graduates."
Created to increase momentum to degree completion and re-engage stopouts (those with previous college experience but no degree), the On-ramps collaboration will be the first such program to focus on the 17-to-24-year-old opportunity youth population enrolled in technology certification training programs at OBT.
This project is the latest extension of the academic partnerships CUNY SPS has already forged with NPower, PerScholas, and OBT to evaluate their workforce training programs for college credit at CUNY SPS.
"These partnerships will help CUNY SPS serve a diverse population of younger learners who are highly motivated to continue working toward a degree while they use their skills and training in high-quality entry level jobs," said Sparrow.
About OBT
Since 1983, Opportunities for a Better Tomorrow (OBT) has provided workforce development and education services for opportunity youth, ages 17-24, and adults who are disconnected from education and/or employment. OBT's mission is to break the cycle of poverty and inequity through education, job training, and employment. With programming that ranges from High School Equivalency preparation to ESOL courses to industry-certified training programs for high school graduates, OBT focuses on meeting individuals "where they are" and working with them to meet their goals.
About the CUNY School of Professional Studies
For over 15 years, the CUNY School of Professional Studies (CUNY SPS) has been leading online education in New York. Notable for offering the most online bachelor's and master's degree options at the City University of New York, and for serving transfer students as the University system's only undergraduate all-transfer college, CUNY SPS meets the needs of adults who wish to finish a bachelor's degree, progress from an associate's degree, earn a master's degree or certificate in a specialized field, and advance in the workplace or change careers.
The School's growth has been remarkable, with twenty-four degrees launched since 2006. Enrollment has risen by more than 30% in the last four years to over 4,000 students in the credit-bearing programs. Thousands more are enrolled in non-degree and grant-funded workplace learning programs. In addition, the School has an active alumni network and has established the CUNY SPS Foundation, which offers multiple scholarship opportunities to current students.
CUNY SPS has consistently been named by US News & World Report as one of the country's top online institutions. This year, the School was ranked in the top 2% in the nation on the publisher's list of the 2021 Best Online Bachelor's Degree Programs.
Press Contact
Andrea Fagon
Director of Marketing and Communications
andrea.fagon@cuny.edu