CUNY SPS Receives Grant to Help IT Training Program Graduates Receive College Credit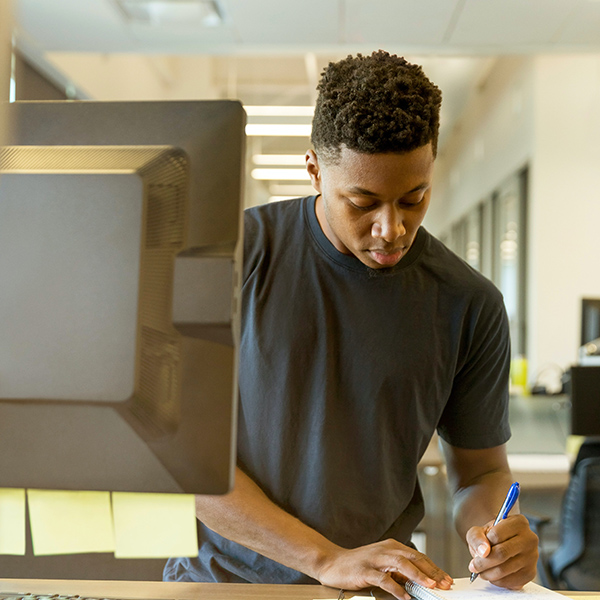 In yet another sign of recognition for its commitment to providing innovative pathways to degree completion, the CUNY School of Professional Studies (CUNY SPS) is proud to announce that it has received a $109,139 grant from the Carroll and Milton Petrie Foundation to support a partnership with three nonprofits—Per Scholas, NPower, and Opportunities for a Better Tomorrow (OBT)—to enable graduates of their IT training programs to receive college credit and apply it toward CUNY SPS bachelor's degree programs.
Jennifer Sparrow, associate dean of academic affairs at CUNY SPS, authored the grant proposal. "For learners who begin their post-secondary education in non-credit programs such as apprenticeships, continuing education courses, or boot camps, the pathway to a bachelor's degree can be complex and difficult because the training programs and college degree programs do not connect," said Sparrow. "This generous funding from the Carroll and Milton Petrie Foundation will allow us to support and expand our innovative partnership with these organizations so that we can help New Yorkers with industry-informed IT training and credentials obtain long-term, well-paid jobs in this high-demand sector."
"We are excited to support this collaboration between CUNY SPS and three of the city's leading IT training organizations. This partnership should serve as a model for others who hope to build innovative career pathways that combine high-quality training experiences and four-year degrees," said Cass Conrad, Executive Director of the Carroll and Milton Petrie Foundation.
Under the direction of CUNY SPS Experiential Learning Manager Holli Broadfoot and with planning grant support from the Pinkerton Foundation, this collaboration seeks to develop non-credit to credit 'on ramps' toward learning by allowing program graduates of Per Scholas, NPower, and OBT to matriculate into select CUNY SPS career-focused degree programs with up to 15 credits toward their bachelor's degree awarded for their non-credit learning. To achieve this, CUNY SPS has leveraged its expertise in credit for prior learning assessment to evaluate and award college credit for rigorous, high-quality, non-credit training and apprenticeships provided by the partner organizations. 
With this grant, CUNY SPS plans to fund elements of the partnership, including the launch of a pilot program with students who have successfully completed a course of study at one of the non-profit partners. CUNY SPS will provide a dedicated advisor, or 'navigator', who will guide prospective students through the application and financial aid process and serve as a liaison to partner organizations. Following a trial period, this opportunity may be extended to current students and graduates of Per Scholas, NPower, and OBT at all locations and possibly to additional training organization partners.
About the Partner Organizations
For twenty-five years, Per Scholas has been advancing economic mobility through rigorous training for tech careers, and connecting skilled talent to leading businesses. We believe that a thriving workforce starts with equitable access to education. By providing skills training and access to employer networks to individuals often excluded from tech careers, Per Scholas envisions a tech workforce as diverse as the customers it serves.  
Per Scholas offers a pipeline of entry- and mid-level talent, trained for a variety of IT, cybersecurity, and engineering roles, and earning industry-recognized credentials, where applicable. Per Scholas graduates are qualified, diverse, motivated, and trained on curricula responsive to emerging market demands, with an emphasis on the business professional skills critical in today's workplace. Per Scholas provides talent to 500+ businesses nationwide. 
NPower is a national nonprofit on a mission to move people from poverty to the middle class by training youth from underserved communities and veterans in a range of tech skills and placing them in quality jobs. Students who enter their free, six-month program, earn industry-recognized certifications and graduate with the competencies of an IT professional with one to two years of experience. NPower also places students in paid internships with corporate and nonprofit organizations. Eighty percent of NPower graduates get a full-time job or continue their education. Not only is NPower changing life trajectories for individuals from vulnerable communities but they are also strengthening the overall competitiveness of U.S. businesses hamstrung by today's limited pool of IT talent. To learn more about NPower, visit their website.
Opportunities for a Better Tomorrow (OBT) was founded in 1983 to serve out-of-school, and out-of-work youth in Sunset Park, Brooklyn. OBT now serves over 4,000 youth and adults annually across four sites in economically vulnerable neighborhoods in Brooklyn and Queens. OBT has expanded its workforce training offerings to include youth education and internship programs and adult job training and education. Our innovative Youth Education & Job Training program includes intensive business skills training with integrated High School Equivalency (HSE) exam preparation, paid work experience, job and college placement, and retention supports. 
OBT offers a number of advanced training programs for participants who already have their High School Equivalency. These include its Cloud Support Engineer program, which is offered through a partnership with Generation, an international education and workforce development nonprofit. The class prepares 66 students a year to earn their Amazon Web Services Credential 1, trains them in a variety of cloud computing technical skills, and places them in quality jobs, putting them on the path to lucrative careers in industries that offer starting salaries of $45,000-60,000. OBT's Advanced Training programs also include Digital Marketing, Medical Administrative Assistant, and Masonry.
About the Carroll and Milton Petrie Foundation
The Carroll and Milton Petrie Foundation is a private, independent grantmaking foundation that began active operation in 1998. Our grants support colleges, universities, nonprofit organizations and individuals as they work to improve education and career outcomes for low-income New Yorkers. Our goal is to ensure that all New Yorkers, particularly those from marginalized communities, have the resources and opportunities needed to reach their goals in school, work, and life.
About the CUNY School of Professional Studies
For over 15 years, the CUNY School of Professional Studies (CUNY SPS) has been leading online education in New York. Offering the most online Bachelor's and Master's degree options at the City University of New York, CUNY SPS meets the needs of adults who are looking to finish a bachelor's degree, progress from an associate's degree, earn a master's degree or certificate in a specialized field, and advance in the workplace or change careers.
The School's growth has been remarkable, with twenty-four degrees launched since 2006. Enrollment has risen by more than 30% in the last four years to over 4,000 students in the credit-bearing programs and thousands more who are enrolled in non-degree and grant-funded workplace learning programs. In addition, the School has an active Alumni network and has established the CUNY SPS Foundation, which offers multiple scholarship opportunities to current students.
CUNY SPS has been ranked in the nation's top 5% by U.S. News & World Report for the past six years, most recently in its list of the 2020 Best Online Bachelor's Degree Programs, making CUNY SPS the highest nationally listed program in New York State and New York City.
Press Contact
Andrea Fagon
Director of Marketing and Communications
andrea.fagon@cuny.edu