CUNY SPS Receives Prestigious 2019 Cael Adult Learner Impact Award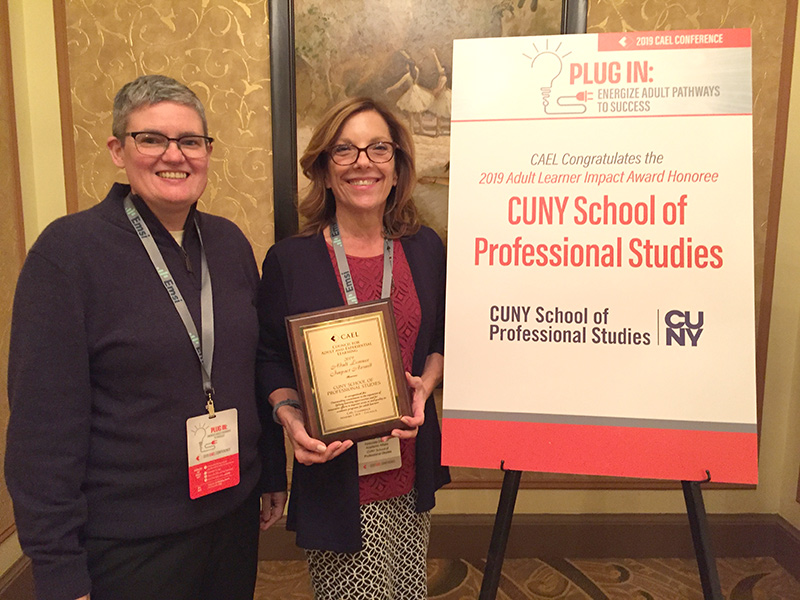 The CUNY School of Professional Studies (CUNY SPS) is proud to announce that it has received the prestigious Adult Learner Impact Award from the Council for Adult and Experiential Learning (CAEL) for 2019. This annual honor recognizes member institutions that have shown an outstanding commitment to the expansion, access, and quality of lifelong learning opportunities and academic programs for adult learners. Dr. Jennifer Sparrow, associate dean of academic affairs, accepted the award during the 2019 CAEL annual conference on November 7, 2019.
Since its inception, CUNY SPS has worked to accommodate the needs of working adults, a population that is typically underserved in the higher education arena. By offering a majority of its degree and certificate programs online, CUNY SPS provides students with flexibility to continue their education while maintaining their work schedules and personal obligations. Additionally, the resources and student-centered support systems available at CUNY SPS, such as career and tutoring services, advisement, counseling, disability and veteran services, as well as zero-cost textbook courses, are all geared toward removing roadblocks to degree completion.
In the fall of 2014, CUNY SPS began offering credit for prior learning opportunities to its undergraduate students with the assistance of CAEL. This initiative, guided by the expertise of Dr. Sparrow, makes it possible for students to earn up to 90 credits for previous education, work experience, and learning conducted outside of the classroom. In the 2018-2019 academic year alone, 232 students earned a total of 1,222 credits through experiential learning, which inevitably lessens the amount of time and money spent toward earning a bachelor's degree.
"Our partnership with CAEL has been a catalyst for launching a robust Credit for Prior Learning program and other services and programs designed for adult degree-completers," says Dr. Sparrow. "It's an honor to have our School's work recognized by this highly regarded institution, and we are delighted to be this year's Adult Learner Impact Award recipient."
As CUNY SPS continues to evolve and grow, so do the options it provides to improve the overall student experience. Over the past year, the School has enhanced its responsiveness to matters concerning financial aid and scholarships; introduced Test Flight, an online learning simulation for prospective students; and launched Jump Start, a performance-based admissions process designed for returning adult learners for whom work performance may be a better measure of college readiness than past academic performance.
The CAEL Adult Learner Impact Award (previously known as the Institutional Service Award) was inaugurated in 1984. Previous recipients of the award from across the nation include DePaul University (Chicago), the University of Alabama (Tuscaloosa), Pace University (New York), University of Maryland University College (College Park), and Case Western Reserve University, Weatherhead School of Management (Cleveland), among others. CAEL is a national nonprofit that works within the higher education, public, and private sectors to make it easier for people to get the education and training they need.
About the CUNY School of Professional Studies
Home to the first fully online degree programs at the City University of New York, the CUNY School of Professional Studies (CUNY SPS) provides online and on campus programs that meet the needs of adults who are looking to finish a bachelor's degree, earn a master's degree or certificate in a specialized field, advance in the workplace, or change careers.
The School's growth has been remarkable, with twenty-three degrees launched since 2006. Enrollment has risen by more than 30% in the last four years to over 3,700 students in the credit-bearing programs and thousands more who are enrolled in non-degree and grant-funded workforce development programs. In addition, the School has an active Alumni network and has established the CUNY SPS Foundation, which offers multiple scholarship opportunities to current students.
CUNY SPS was ranked in the top 5% of U.S. News & World Report's list of the 2019 Best Online Bachelor's Degree Programs, making CUNY SPS the highest nationally listed program in New York City.
Press Contact:
Andrea Fagon
Director of Marketing and Communications
andrea.fagon@cuny.edu
(646) 664-8690