CUNY SPS PEWL Unit Publishes Year in Review Report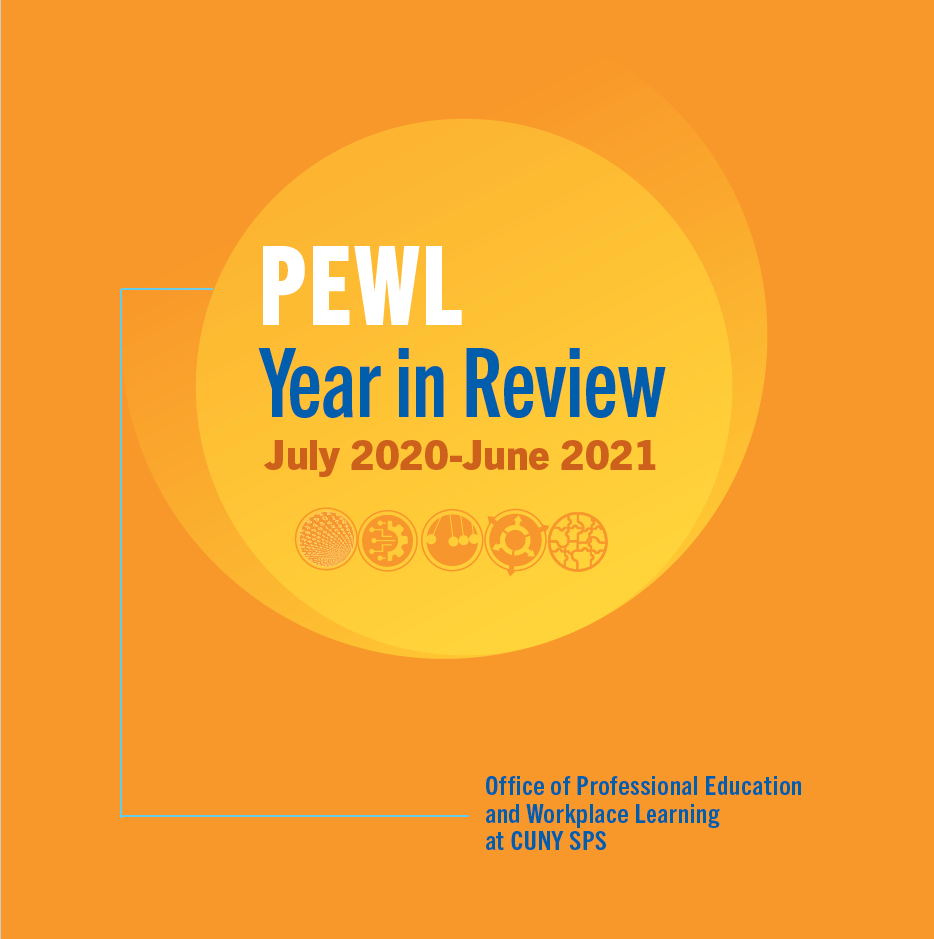 The CUNY School of Professional Studies (CUNY SPS) is pleased to announce the publication of the second report highlighting the work of the Office of Professional Education and Workplace Learning (PEWL).
Established in 2006, PEWL's mission is to provide individuals with the opportunity to advance their careers through professional coursework, and help organizations achieve their goals with custom workplace learning programs. Since its inception, PEWL has served more than 250,000 workers.
In 2020-2021, under the leadership of Executive Director Amy Perez, PEWL managed and implemented a portfolio of $30.3 million in grants and contracts. The unit develops and runs training programs for City and State agencies and private organizations.
The report features the Academy for Community Behavioral Health, PEWL's newest program with the Mayor's Office for Economic Opportunity and the Mayor's Office of Community Mental Health. It also draws attention to PEWL's areas of expertise, its impact, and how it uses technology to help stakeholders achieve their goals.
"We are incredibly proud to showcase PEWL's important, engaging, and diverse work through this report," said CUNY SPS Interim Dean Jorge Silva-Puras. "This is a fantastic unit that not only partners with agencies and organizations to develop learning solutions, but also provides professional development through a variety of programming to employees. In addition, PEWL helps their stakeholders improve their operations to serve their clients more efficiently. I encourage more organizations to partner with PEWL."
Senior Associate Dean for Strategy and Innovation Tracy Meade noted the report boldly underscores the expertise that PEWL brings to their partnerships.
"The CUNY SPS Professional Education and Workplace Learning office is unique within the CUNY system, and I invite you to read our Year in Review report to see why," said Meade. "I want to thank Amy Perez for her inspiring leadership of the PEWL Office and express my gratitude to all PEWL staff for their passion and commitment to PEWL and to CUNY SPS."
"It's an incredible honor to work with my PEWL colleagues," Perez said, who oversees the unit, which has more than 200 staff members, located at CUNY SPS, downtown Manhattan, and upstate New York. "At the core of what we do is supporting organizations and city agencies—and ultimately New Yorkers—meet organizational goals and develop professionally. With the pandemic persistently remaining in the foreground, PEWL continued its mission of helping organizations meet the unprecedented challenges of the last several years."
Read the PEWL Year in Review for Fiscal Year 2021.
About the CUNY School of Professional Studies
As New York's leader in online education since 2006, the CUNY School of Professional Studies (CUNY SPS) offers the most online bachelor's and master's degree options at the City University of New York, and serves as the University's only undergraduate all-transfer college. With 25 degrees and numerous other non-degree and grant-funded workplace learning programs, CUNY SPS meets the needs of adults who wish to finish a bachelor's degree, progress from an associate's degree, earn a master's degree or certificate in a specialized field, and advance in the workplace or change careers. Consistently ranked highly by U.S. News & World Report for its online offerings, and noted for its soaring growth and enrollment, CUNY SPS has emerged as a nationwide leader in online education. The School's renowned and affordable online programs—which offer in-state tuition to all students regardless of where they live—ensure that busy working adults may fulfill their educational goals on their own time and schedule.
Press Contact
Andrea Fagon
Director of Marketing and Communications
andrea.fagon@cuny.edu