CUNY SPS Nursing Graduates Exhorted to Create Culture of Innovation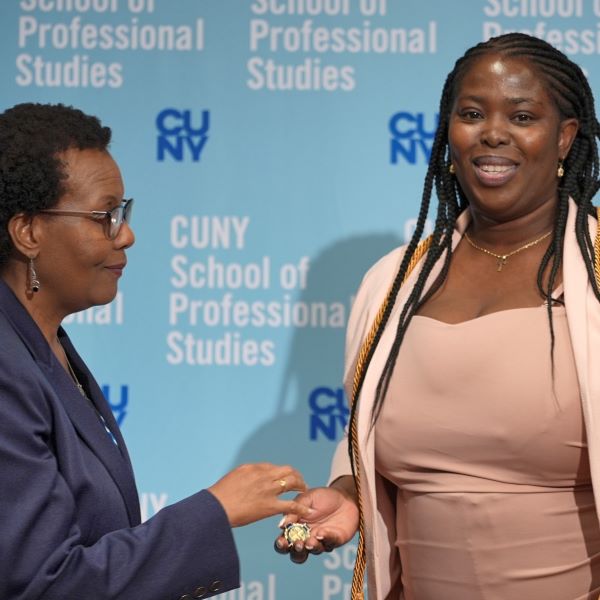 The CUNY School of Professional Studies (CUNY SPS) celebrated nursing graduates from the 2022-23 academic year during the Nursing Convocation and Pinning Ceremony at Baruch College on May 9.
The in-person event, which honored their program completion, was also live-streamed on YouTube, and featured speeches and congratulatory messages for the 235 nursing students earning their bachelor's and master's degrees.
These numbers also include the seven graduates who were officially inducted into the Sigma Theta Tau International Honor Society of Nursing for Fall 2022 and Spring 2023, and 13 Petrie Scholars honor students.
Dr. Margaret Reilly, academic director of the CUNY SPS nursing programs, officiated the ceremony and delivered opening remarks highlighting the evening's theme—innovation.
"Throughout history nurses have brought innovation to care that has profoundly changed human health. All of you deserve special recognition for your innovations to create cultures of care and the positive impact you make every day," Dr. Reilly said, echoing this year's National Nurses' Month theme 'Nurses Make a Difference.'
After Dr. Reilly's remarks, Interim Dean Jorge Silva-Puras congratulated the graduates. "We know how much you go through to get to this point," he said. "It's a lot of sacrifice, family, and work obligations, plus a lot of studying. I know you are well-prepared to serve the New York City population. You are incredible in what you have done and what you continue to do. I honor you and I am proud of all of you."
Next, Dr. Thomas Smith, chief nursing officer at Kingsbrook Jewish Medical Center/Rutland Nursing Home, delivered a keynote address focusing on the theme of innovation.
During his speech, Dr. Smith highlighted the collaboration between CUNY SPS Nursing and Kingsbrook Jewish Medical Center and Longterm Care, a safety net health care facility that is part of One Brooklyn Health. Inspired by a nursing innovation grant awarded by the CUNY Office of Health & Human Services, CUNY SPS nursing faculty and Kingsbrook nursing staff created a mini-nurse residency Capstone for students, focused on a quality improvement innovation project, in the specialty pulmonary unit for adults on long-term ventilators.
"This work has been an inspiring example of clinical and academic partnerships for the advancement of nursing practice and health equity," he said.
Dr. Smith also discussed four themes during his address—awe, appreciative inquiry, partnership, and pursuit of knowledge—as a process for innovation to flourish, while noting that CUNY SPS nursing students have acquired new knowledge to advance and sustain excellence and equity in their clinical practice.
"Never stop learning," he implored. "Without learning you will not grow, and you certainly will not innovate. You must always focus your nursing practice on inquiry and discovery of new knowledge. Never stop your journey of curiosity and I guarantee you will discover and create new knowledge for your patients and yourself."
Two student representatives from the bachelor's and master's classes also offered their remarks. 
Sheldon Orgill, a BS in Nursing candidate, spoke glowingly about his time at the school and what it meant to him.
"My time here at CUNY SPS was exceptional as the curriculum rewarded critical thinking and academic rigors quenched my thirst for learning," he said. "I am confident with the education I received here and that I am well prepared to solve any situation, in and out of the clinical setting."
He also quoted Bob Marley, noting "'The greatness of a man is not in how much wealth he acquires, but in his integrity and his ability to affect those around him positively.' I ask the graduates of today to continue to be a beacon of light in the world. Continue to race towards excellence and humility. Continue to be the change that you want to see in the world and continue to be the superheroes you are—nurses."
Following Orgill's speech, CUNY SPS nursing pins were awarded to the undergraduates, continuing a tradition that acknowledges program completion begun with Florence Nightingale, the founder of modern nursing.
At the completion of the undergraduate portion of the ceremony, Renz Nikka DeGula, an MS in Nursing Education candidate, spoke on behalf of the master's class about the best ways for nurses to approach their careers.
"We have the knowledge and skills to innovate health care and to contribute to our profession," she said. "As the Covid pandemic has taught us, personal, professional, and academic challenges were opportunities for growth, change, and innovation. Creating a culture of innovation fosters an environment where new ideas are welcome, and creativity is encouraged. Nurses must be empowered to take risks, experiment, and think outside the box. It also means valuing diversity and inclusivity, recognizing that different perspectives and experiences support innovations in equitable healthcare... and recognizing that the road to innovation is a journey, not a destination, and the road ahead is not always easy."
After DeGula's speech, graduate nursing pins were distributed and Dr. Reilly offered final remarks, ending with a charge to the new nursing graduates.
"Go out there and be the leaders that you are," she said. "Be the changemakers that you've become. Create those cultures of innovation as Dr. Smith has inspired us to do so. You will do great work and we are so very proud of you!"
About the CUNY SPS Online Nursing Programs
The CUNY School of Professional Studies offers a portfolio of online degrees and advanced certificate programs in nursing to help fill the growing void within the healthcare system. Serving as the first fully online nursing degree in the CUNY system, our programs help nurses advance within their careers while continuing their education in a timely, flexible, and affordable way.
About the CUNY School of Professional Studies
As New York's leading online school since 2006, the CUNY School of Professional Studies (CUNY SPS) offers the most online bachelor's and master's degree options at the City University of New York, and serves as the University's first undergraduate all-transfer college. With 26 degrees and numerous other non-degree and grant-funded workplace learning programs, CUNY SPS meets the needs of adults who wish to finish a bachelor's degree, progress from an associate's degree, earn a master's degree or certificate in a specialized field, and advance in the workplace or change careers. Consistently ranked highly by U.S. News & World Report for its online offerings, CUNY SPS has emerged as a nationwide leader in online education. The School's renowned and affordable online programs ensure that busy working adults may fulfill their educational goals on their own time and schedule.
Press Contact
Andrea Fagon
Chief Marketing and Communications Officer
andrea.fagon@cuny.edu