CUNY SPS Makes Strong Showing at CUNY Accessibility Conference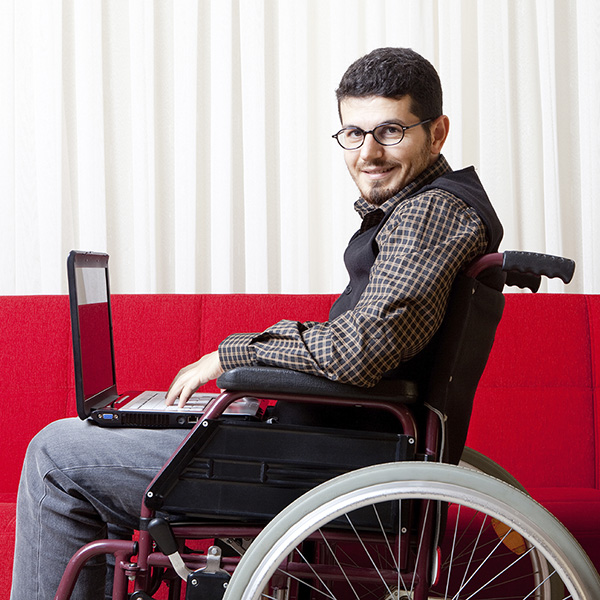 In a sign of continuing commitment to the disability community, a number of students, faculty, staff, and alumni from the CUNY School of Professional Studies (CUNY SPS) participated in the 11th Annual CUNY Accessibility Conference. This year's event, which explored the theme of Disability Identity and Inclusion, was hosted on Zoom and livestreamed on Facebook and YouTube from May 21 to May 29.
Mariette Bates, academic director of the CUNY SPS disability studies program and one of the presenters, noted, "The accessibility conference has grown over the last decade to be an extremely well-attended and important event. CUNY and our School have so much to contribute to the dialogue about creating better access for all of our students. As the director of the CUNY SPS disability studies program, I am especially proud of the contributions that our faculty, staff, and students made this year to the conference."
This year's event featured presentations focusing on issues relating to accessibility in technology and education, starting with a keynote speech by New York City Public Advocate Jumaane D. Williams on the first day of the conference, which also coincided with Global Accessibility Awareness Day.
In the following twelve one-hour sessions, which were held over six days, members of the School community discussed a range of disability-related topics online. CUNY SPS presenters included Duubar Villalobos Jimenez (MS in Data Science alumnus), April Coughlin (MA in Disability Studies alumna and former faculty member), Pamela Judd (MA in Disability Studies alumna), Laura M. Laria (MA in Disability Studies alumna), Matthew Conlin (MA in Disability Studies alumnus, faculty member, and managing editor of the Journal of Teaching Disability Studies), Leonard Blades (MS in Disability Services in Higher Education student and Student Association representative), and Luis Gutierrez (MS in Disability Services in Higher Education student).
The CUNY Accessibility Conference Committee also included four CUNY SPS staff members: Chris Fleming, student disability services coordinator; Antonia Levy, associate director of faculty development and instructional technology; Christopher Leydon, associate director of student services; and Heather Zeman, events manager.
Also hailing from CUNY SPS was Shivan Mahabir, one of the conference's primary organizers, who completed a BA in Disability Studies this Spring. Mahabir is currently the assistive technology specialist manager at CUNY Assistive Technology Services (CATS) at Queensborough Community College.
Duubar Villalobos Jimenez, who discussed in his presentation how auto captioning in YouTube can be much less accurate for non-native speakers of English, remarked, "I felt honored to have such an opportunity to share unique research findings that affect many communities around the world. …From my perspective, when more people join and present their findings, needs, and benefits at a larger scale, most likely, we will be able to find more people taking faster actions in the right direction for the benefit of all."
Other CUNY SPS highlights included a discussion by Bates and Matthew Conlin on the newly launched Journal of Teaching Disability Studies, and a closing session that featured Leonard Blades and Luis Gutierrez, two executive board members of the CUNY Coalition for Students with Disabilities (CCSD), who discussed the work the coalition has done to engage students through remote learning during the COVID-19 crisis.
This year's conference joins a list of related events recently organized by members of the CUNY SPS community. In honor of CUNY Disability Awareness Month this past April, the CUNY SPS Abilities and Resources Committee hosted Perspectives on Access: An Afternoon of Panel Conversations and Film and co-sponsored with CCSD a screening of the documentary film Crip Camp.
The CUNY Accessibility Conference, an annual event founded in 2009 to be an essential pathway to sharing information and cutting-edge ideas throughout CUNY and beyond, has brought together over 300 disability services professionals and other important figures in higher education yearly. The remote event this Spring featured more than 800 registered attendees, with 170-200 participants on average attending each of the dozen sessions.
Archived versions of the conference sessions, once captioned, will be available for viewing on CATS' Youtube account.
About the CUNY School of Professional Studies
For over 15 years, the CUNY School of Professional Studies (CUNY SPS) has been leading online education in New York. Offering the most online Bachelor's and Master's degree options at the City University of New York, CUNY SPS meets the needs of adults who are looking to finish a bachelor's degree, progress from an associate's degree, earn a master's degree or certificate in a specialized field, and advance in the workplace or change careers.
The School's growth has been remarkable, with twenty-three degrees launched since 2006. Enrollment has risen by more than 30% in the last four years to over 3,700 students in the credit-bearing programs and thousands more who are enrolled in non-degree and grant-funded workplace learning programs. In addition, the School has an active Alumni network and has established the CUNY SPS Foundation, which offers multiple scholarship opportunities to current students.
CUNY SPS has been ranked in the nation's top 5% by U.S. News & World Report for the past six years, most recently in its list of the 2020 Best Online Bachelor's Degree Programs, making CUNY SPS the highest nationally listed program in New York State and New York City.
Press Contact
Andrea Fagon
Director of Marketing and Communications
andrea.fagon@cuny.edu
(646) 664-869