CUNY SPS MA in Psychology Kicks Off Spring 2021 Day in the Life Talks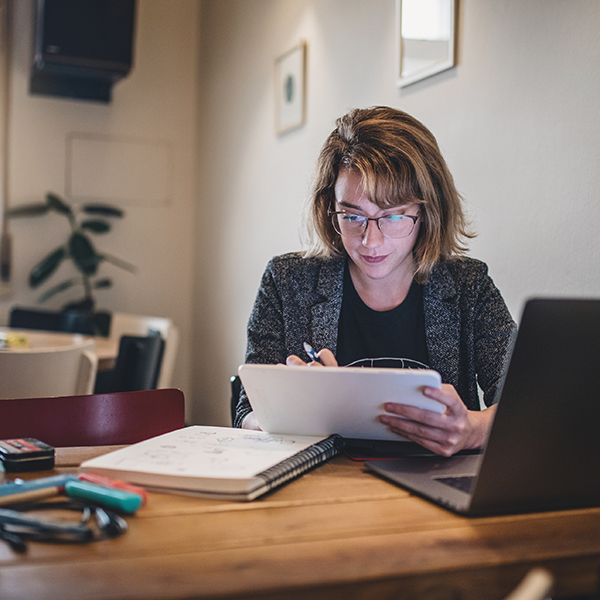 The CUNY School of Professional Studies (CUNY SPS) MA in psychology is kicking off its Spring 2021 installment of the popular Day in the Life series, which invites psychology professionals to meet and talk about their career, research, and field with CUNY SPS students. On February 23, diversity & talent management professional Dr. Casey Smith will discuss her work in the field of Industrial/Organizational psychology in an online event open to all members of the CUNY SPS community.
"The goal of the Day in the Life series is to provide students with insight into a typical day/week/month for Developmental or Industrial/Organizational (I/O) psychologists, respectively. Student learn about the various paths that brought people to these fields (both educationally and professionally speaking) and how their current roles fit in with these two subfields and the broader field of psychology," said Dr. Carla Marquez-Lewis, academic director for the psychology program. "We want students to understand that there are so many routes to, as well as from, Developmental psychology and I/O psychology so they can think about how to use their graduate degree once their time with CUNY SPS is over."
Each semester, the MA in psychology program offers two Day in the Life events geared toward the program's specializations in Developmental and I/O psychology in an effort to provide students with an opportunity to meet those working in the field and gain a sense of the directions their own career could take. Last fall, the events were offered in an online format that brought together two dynamic psychology practitioners with CUNY SPS students, faculty, alumni, and other members of the community, spurring animated and informative conversations.
In September 2020, Dr. Isabella Elisha, the new associate director of the psychology program at CUNY SPS, spoke about her career in Developmental psychology. During her talks with students and faculty, and in a subsequent Q&A, Dr. Elisha discussed her past and current positions/roles and some of her current projects examining Black youth's civic engagement and community participation, and shared the ways that social science can be used to help boost or make social justice.  
In a second talk that November, Dr. Ashley Hoffman, a personnel research psychologist for the federal government described her ten years in the Industrial/Organizational psychology field. As part of her presentation, Dr. Hoffman recounted her experiences working with experts in a variety of occupations, including sales, finance, construction, railroad personnel, and law enforcement, and highlighted some of her different responsibilities, such as teaching, training, and assessment for job analysis, test development, and selection processes. 
In addition to the February 23 event with Dr. Casey Smith, the MA in psychology program will be hosting a second Day in the Life talk in April with Professor Juliana Karras-Jean Gilles of San Francisco State University. 
For more information on the Day in the Life series, visit the registration page. 
About the MA in Psychology Program
The CUNY SPS MA in Psychology online degree program prepares students for employment opportunities and advanced studies that require a deeper understanding of behavior motivations, along with strong research, communication, and teamwork skills. The program's fully online format makes it the first and only degree of its kind offered at the City University of New York (CUNY). The online format allows students to read course materials, participate in class discussions, and complete assignments on a more flexible schedule. In addition to the MA program, CUNY SPS also has a fully online BA in psychology program that has been ranked #6 in the nation on U.S. News & World Report's list of Best Online Bachelor's in Psychology Programs for 2021. 
About the CUNY School of Professional Studies
For over 15 years, the CUNY School of Professional Studies (CUNY SPS) has been leading online education in New York. Notable for offering the most online bachelor's and master's degree options at the City University of New York, and for serving transfer students as the University system's only undergraduate all-transfer college, CUNY SPS meets the needs of adults who wish to finish a bachelor's degree, progress from an associate's degree, earn a master's degree or certificate in a specialized field, and advance in the workplace or change careers.
The School's growth has been remarkable, with twenty-four degrees launched since 2006. Enrollment has risen by more than 30% in the last four years to over 4,000 students in the credit-bearing programs.  Thousands more are enrolled in non-degree and grant-funded workplace learning programs. In addition, the School has an active alumni network and has established the CUNY SPS Foundation, which offers multiple scholarship opportunities to current students.
CUNY SPS has consistently been named by U.S. News & World Report as one of the country's top online institutions. This year, the School was ranked in the top 2% in the nation on the publisher's list of the 2021 Best Online Bachelor's Degree Programs.
Press Contact
Andrea Fagon
Director of Marketing and Communications
andrea.fagon@cuny.edu