Psychology Day in the Life Series: Dr. Casey Smith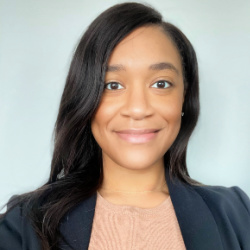 The CUNY SPS MA in Psychology Program's Day in the Life series provides students with an opportunity to learn about those in the fields of Industrial/Organizational and Developmental Psychology, the two concentrations offered in the program. In line with the purpose of the series, Dr. Casey Smith, a Diversity & Talent Management professional, will discuss her path to Industrial/Organization Psychology, past and current positions/roles, her research, and how it all ties to the broader field of Industrial/Organizational Psychology. This talk will be 30-40 minutes, with a 20-30 minute Q & A to follow.
Casey Smith, Ph.D. is a trained Diversity & Talent Management professional with substantive experience in talent/performance management, leadership development, training facilitation, talent growth and strategy, diversity research, and data analysis. She has over 8 years of applied experience and has worked across a variety of industries, such as finance, aviation, manufacturing, and consulting. In line with her extensive training in Industrial Organizational Psychology, Dr. Smith has a passion for talent development through the lens of diversity and inclusion. She believes that tapping into the tenets of diversity, inclusion, equity, and belongingness inspire teamwork, talent growth, and organizational impact.
This event is open to all members of the CUNY SPS community.