CUNY SPS Hosts Inaugural Business Education Conference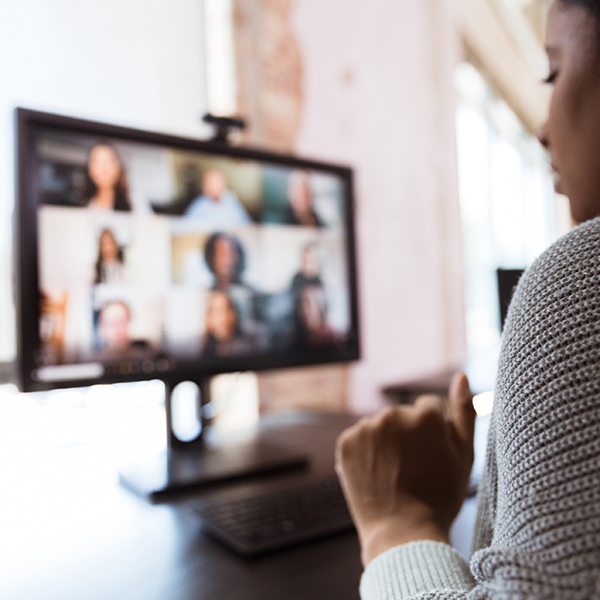 This November, the CUNY School of Professional Studies (CUNY SPS) Online Business programs hosted its first-ever business conference The State of Business Education: Today, Tomorrow, and Beyond. Over 200 current students, alumni, faculty, staff, and prospective students registered to attend the two-day virtual conference, which featured 11 panel discussions that brought together business leaders, educators, and CUNY SPS business students in conversation to prepare for and meet the future needs of the industry.
 "The CUNY SPS inaugural business conference was a wonderful blend of ideas and perspectives mutually beneficial to all in attendance. It was the first in a series of annual conversations intended to bring business and industry, faculty, and students together to discuss our respective roles and responsibilities," said Ed Knox, associate professor and academic director of the online business programs at CUNY SPS. "The SPS faculty is committed to furthering its relationship with the corporate sector and infusing what we learn into enhancing our courses, strengthening our integrated business curriculum, and preparing our students to enter the labor market, so that they will graduate with the skills needed to advance these organizations' competitiveness in a dynamic global marketplace for goods and services."
The conference opened on Tuesday, November 10 with a series of panel talks. Highlights included a keynote presentation by Ara Ohanian, former CEO of Systech International; a discussion about the future of work that featured Melanie Hughes, Chief Human Resources Officer at Moody's, among other industry leaders; a panel on global diversity and inclusion that included Lybra Clemons, the Chief Diversity, Inclusion, and Belonging Officer at Twilio; and a conversation on ways to connect coursework to careers with CUNY SPS business alumni and faculty. 
On Wednesday November 11, attendees were invited to join a series of concurrent webinars with noted industry speakers, faculty members, and program alumni to discuss new trends and the future of different business fields, and were offered the chance to ask the speakers questions throughout the session. These webinars focused on several specific business fields including accounting, management, finance, marketing, computer/info systems, marketing, and entrepreneurship. 
Carlos Ronisky, a member of the CUNY SPS business faculty who coordinated and emceed the conference, said, "Our first State of Business Education conference truly exceeded our expectations. And I'm not just saying that. We have research to back that up, based on the surveys from our participants. Most attendees remarked that the sessions were very informative and it left them wanting more—something we will be delighted to adjust for at our next event! With the success of this conference, we are excited to build upon the foundation we laid this year for future industry conversations." 
About the CUNY SPS Online Business Programs
The BS in Business online degree program provides students with a fundamental background in business functions and principles that can be used to build or advance their careers. Through the examination of case studies, global business models, and analytical tools, students gain a strong understanding of where they would make the greatest impacts within an organization. Additionally, the attention devoted to ethical decision-making, corporate responsibility, and team collaboration helps students develop the practical managerial skills needed to thrive in a range of business areas.
The MS in Business Management and Leadership online degree program inspires working professionals to become innovators, influencers, and decision-makers across all areas of business. With an emphasis on maintaining corporate ethical practices in a global environment, the program examines case studies and organizational models to help students solve timely issues related to diversity, sustainability, and consumer trust. Unlike the MBA, the MS degree provides versatility and flexibility to all students as they learn the core business functions in addition to the emerging industry areas. The program grounds itself in the ability to help students analyze numerical and non-numerical data alike so they can become better at explaining and justifying their decisions.
About the CUNY School of Professional Studies
For over 15 years, the CUNY School of Professional Studies (CUNY SPS) has been leading online education in New York. Offering the most online Bachelor's and Master's degree options at the City University of New York, CUNY SPS meets the needs of adults who are looking to finish a bachelor's degree, progress from an associate's degree, earn a master's degree or certificate in a specialized field, and advance in the workplace or change careers.
The School's growth has been remarkable, with twenty-four degrees launched since 2006. Enrollment has risen by more than 30% in the last four years to over 4,000 students in the credit-bearing programs and thousands more who are enrolled in non-degree and grant-funded workplace learning programs. In addition, the School has an active Alumni network and has established the CUNY SPS Foundation, which offers multiple scholarship opportunities to current students.
CUNY SPS has been ranked in the nation's top 5% by U.S. News & World Report for the past six years, most recently in its list of the 2020 Best Online Bachelor's Degree Programs, making CUNY SPS the highest nationally listed program in New York State and New York City.
Press Contact
Andrea Fagon
Director of Marketing and Communications
andrea.fagon@cuny.edu