CUNY SPS Hosts 6th Annual Scholarship Reception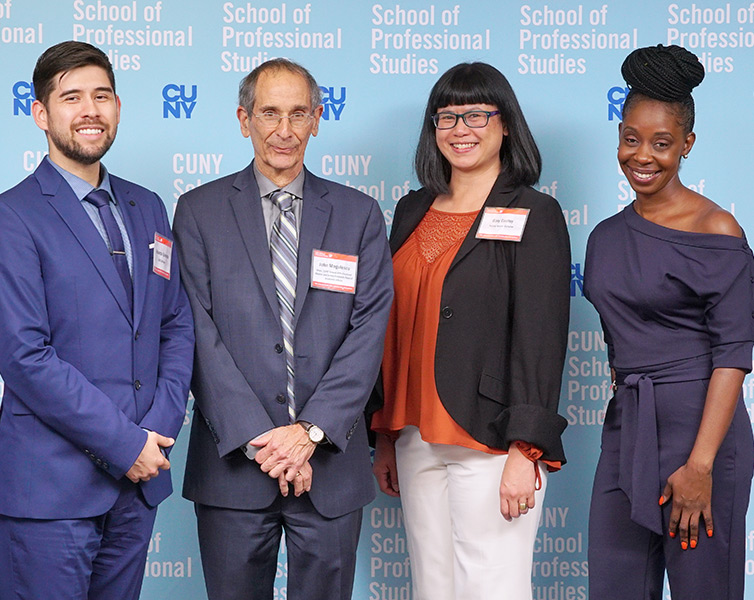 New York, NY - The CUNY School of Professional Studies (CUNY SPS) hosted its 6th Annual Scholarship Reception on October 23, to celebrate the academic achievements of its 2019-2020 scholarship recipients and thank the generous donors. 
Over 100 guests attended the reception, including student scholars, donors, faculty, and staff. CUNY SPS Dean John Mogulescu welcomed guests and later closed with a celebratory toast while Blake Foote, chair of the CUNY SPS Foundation Board, also gave brief remarks.
Dean Mogulescu, as he invited the recipients to the podium, reflected on the importance of these scholarships for the CUNY SPS student body. "The great majority of our students attend part-time while juggling work and family obligations, and because they are working adults, financial aid options, other than scholarships, are not available to them. This is why the scholarships that we are here to acknowledge tonight are so very important— in many cases, they are the only way that our students can reach the finish line and complete their degrees."
Three student recipients then gave a short speech describing the personal impact their scholarship has had on them. Chiyere Barbor is the recipient of the William J. Kissane Scholarship, which provides disability studies students with an award toward their tuition. In her remarks, Barbor recalled what led her to the disabilities studies field and commented, "With so much going on in my life personally, I am able to say that receiving this scholarship made a difference for me financially as well as academically. I hope to use what I learn at CUNY SPS to open up my own day program and residence to serve those that mean so much to me."
Eduardo Quevedo, an ACE (Achieve Your College Education) Scholar, described the financial difficulties he faced while attending an expensive private college and noted the way this scholarship, which underwrites 100% tuition for undergraduates through degree completion and requires them to mentor other students, has helped him. "Although life is no longer a mess, bills and responsibilities don't ever go away, especially when the system is as broken as it is." Quevedo shared. "Without this award, I would have not been able to return to CUNY SPS to complete my education."
Baly Cooley highlighted her experience as a Petrie Nurse Scholar, which provides 100% tuition through degree completion for students completing an online bachelor's degree in nursing after previously earning an applied science (AAS) degree with a major in nursing from a CUNY Community College. As she observed, "The real benefit of the scholarship is more than the cost of tuition. It's the faith. The faith that I can finish my degree with a high GPA. The belief that nursing is an important profession. The encouragement to continue all the way through, even though working full time and completing a degree in two years is exhausting. And most of all, the support of knowing there are people who believe in me, a 47-year-old in her second career, her second bachelor's, and her second chance at making a real difference in the world."
About the CUNY SPS Scholarship Program
The CUNY School of Professional Studies offers various scholarship opportunities to recognize outstanding students and help finance their education. In the past five years, we have awarded over $500,000 in scholarship funds to deserving students.
The Office of Scholarships serves CUNY SPS students of all levels of financial need by assisting them through the application process for scholarships provided at CUNY SPS.
About the CUNY School of Professional Studies
Home to the first fully online degree programs at the City University of New York, the CUNY School of Professional Studies (CUNY SPS) provides online and on campus programs that meet the needs of adults who are looking to finish a bachelor's degree, earn a master's degree or certificate in a specialized field, advance in the workplace, or change careers.
The School's growth has been remarkable. Launching twenty-three degrees since 2006, enrollment has risen by more than 30% in the last four years to over 3,700 students in the credit-bearing programs. We serve thousands more who are enrolled in our non-degree and grant funded workforce development programs. In addition, the School has an active Alumni network and established the CUNY SPS Foundation, which offers multiple scholarship opportunities to our current students.
Affirming our role as a leader in online education, CUNY SPS was ranked in the top 5% of U.S. News & World Report's list of the 2019 Best Online Bachelor's Degree Programs, making CUNY SPS the highest nationally listed program in New York City.
Press Contact:
Andrea Fagon
Director of Marketing and Communications
andrea.fagon@cuny.edu
(646) 664-8690