CUNY SPS Honors Our Nurses during National Nurses Week and Month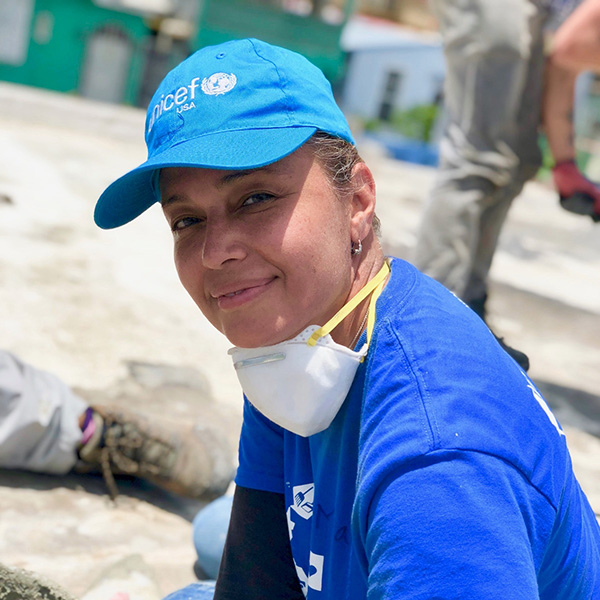 This May the CUNY School of Professional Studies (CUNY SPS) commemorates National Nurses Week and Month, an observance founded by the American Nursing Association to honor Florence Nightingale's birthday on May 12. This year marks the 200th anniversary of Nightingale's birth, inspiring the World Health Organization to declare 2020 the International Year of the Nurse and Midwife.
As the COVID-19 crisis continues, the role of nurses and the importance of their work has never been so apparent. During this extraordinary time, CUNY SPS would like to offer a special appreciation to all the brave and hardworking nurses and healthcare workers who are risking their lives on the frontlines.
Throughout this month, CUNY SPS is sharing tributes and stories from our community about the impact that nurses have had on all our lives. We are immensely proud of all our students who have started or advanced in their nursing careers. Their achievements reflect their own hard work and dedication and highlight how they have flourished while attending CUNY SPS.
Margaret Reilly, the academic director of nursing at CUNY SPS, notes that the School is deeply committed to supporting their nursing students so that they may excel. "Helping nurses gain the education, skills, and knowledge they need for today's complex and ever-changing healthcare system has been a top priority of the CUNY SPS Nursing program since its inception," said Reilly. "We are committed to providing affordable, flexible, and quality educational options that prepare nurses to be leaders, and change agents, and are gratified to see our students develop into 21st-century healthcare professionals."
Here are two examples of CUNY SPS nurses who are doing truly remarkable work.
Baly Cooley is not by any means a traditional student. After working for 20 years as a graphic designer and realizing her heart was not in it, she decided in her 40s to try a completely different path. Cooley started her new career by completing an RN program at LaGuardia Community College, and then went on to enroll in the BS in nursing degree program at CUNY SPS.
Cooley's career change was also made possible when she was selected to be a 2019-20 Petrie Nurse Scholar, which covers the full cost of tuition for her degree. To her, the scholarship represents more than just financial support. As she noted in her speech at the October 2019 Scholarship Reception, "The real benefit of the scholarship is more than the cost of tuition. It's the faith. The faith that I can finish my degree with a high GPA. The belief that nursing is an important profession. The encouragement to continue all the way through, even though working full time and completing a degree in two years is exhausting. And most of all, the support of knowing there are people who believe in me, a 47-year-old in her second career, her second bachelor's, and her second chance at making a real difference in the world."
Nicholas Choi is a CUNY SPS nursing alumni with a similar passion. Like Cooley, his decision to join the profession came after years of working at different desk jobs and finding nothing that spoke to him. After interacting with a male nurse when a family member was suffering from cancer, Choi was inspired to become a nurse himself. He began his new career by completing the associate's degree program at LaGuardia Community College and later received a BS in nursing degree at CUNY SPS in 2018.
During his time at CUNY SPS, Choi realized that he wanted to focus on trauma and critical care. In fall 2017, he volunteered for New York-Presbyterian's disaster response team and traveled down to Puerto Rico to provide medical care for people suffering in the aftermath of Hurricane Maria. After graduation, Choi went on to work at the trauma centers at the Jamaica Hospital Medical Center and currently is now employed at the New-York Presbyterian Hospital of Queens. In a recent New Yorker article, Choi recounted his experiences working in the ICU ward there in the midst of the COVID-19 pandemic.
Cooley and Choi are just two out of the many amazing, hardworking, and selfless nurses who have attended CUNY SPS. Their dedication is also shared by the School's nursing faculty, who remain devoted to their students and to teaching the profession. Anne Marie Leveille, an assistant professor in nursing at CUNY SPS, has worked as a nurse in both New York and Haiti for over 35 years. Her experiences throughout this time have led her to embrace the importance of mentoring and of building a strong nursing community. She recently reflected upon this in a short essay, inspired by the International Year of the Nurse and Midwife, that speaks to what makes nursing for so many a true life calling.
"In the Year of the Nurse, I want to thank and acknowledge those who have inspired me in my nursing journey. From the admired nursing professor… to the nurses in Haiti who never hesitated to take me and my enthusiastic nursing students under their wings during clinicals … to the many nursing colleagues who supported and inspired me at different stages of my career. Thus, my resonating cry: let each of us choose someone to mentor. … Let us continue to carry the lamp of Florence Nightingale and let us be the light that we want in another fellow nurse's life and career.…. Today more than ever, we need to support and strengthen each other."
About the CUNY SPS Online Nursing Programs
Nursing education has been a large part of the CUNY SPS portfolio for years, and we are continually expanding our offerings to match the demands of rapidly changing healthcare fields. Our first nursing program, the online RN to BS, was launched in Spring 2014 in response to the growing need for registered nurses to obtain bachelor's degrees. Back then, the class only had 24 nursing students, but has now become one of CUNY SPS' largest degree programs.
Since then, the School has established 9 other nursing programs in undergraduate, graduate, and advanced certificate options. Our statistics highlight the School's emphasis on healthcare: out of the 23 undergraduate and graduate degrees CUNY SPS currently offers, 7 of those (or 30%) are in nursing. Within our student body, we have over 600 nursing students, making up more than a quarter of the approximate 3,700 students enrolled at CUNY SPS, and have close to 500 nursing alumni.
In addition to broadening our nursing degree options, CUNY SPS has sought to make them more accessible by offering all program coursework online. Many nursing students, as well as much of our student body, work full-time while juggling family responsibilities and would not be able to attend on-campus sessions. Our fully online learning format allows nurses to access their classes and complete their coursework on their own time, making it as flexible and convenient as possible for them.
CUNY SPS also seeks to ease the burden of educational costs so that tuition is not a deterrent for nursing students. Along with offering affordable in-state tuition to all students, regardless of where they reside, the School has also made available scholarships designated specifically for nursing students.
First, the Petrie Nurse Scholars program provides 100% tuition assistance to students enrolled in the CUNY SPS online bachelor's degree in nursing (RN to BS) who previously earned an applied science (AAS) degree with a major in nursing from a CUNY Community College. This scholarship, launched with support from the Carroll and Milton Petrie Foundation in 2018, has been offered to 21 students so far.
More recently, the School has begun offering a Career Ladders Scholarship to encourage diversity in healthcare and nursing fields. This scholarship, established in 2020 through a grant from the Robin Hood Foundation, provides support to students who demonstrate a commitment or contribution to the educational preparation of male African American, Caribbean American, and Latino student for the healthcare professions.
About the CUNY School of Professional Studies
For over 15 years, the CUNY School of Professional Studies (CUNY SPS) has been leading online education in New York. Offering the most fully online Bachelor's and Master's degree options at the City University of New York, CUNY SPS meets the needs of adults who are looking to finish a bachelor's degree, progress from an associate's degree, earn a master's degree or certificate in a specialized field, and advance in the workplace or change careers.
The School's growth has been remarkable, with twenty-three degrees launched since 2006. Enrollment has risen by more than 30% in the last four years to over 3,700 students in the credit-bearing programs and thousands more who are enrolled in non-degree and grant-funded workplace learning programs. In addition, the School has an active Alumni network and has established the CUNY SPS Foundation, which offers multiple scholarship opportunities to current students.
CUNY SPS has been ranked in the nation's top 5% by U.S. News & World Report for the past six years, most recently in its list of the 2020 Best Online Bachelor's Degree Programs, making CUNY SPS the highest nationally listed program in New York State and New York City.
Press Contact
Andrea Fagon
Director of Marketing and Communications
andrea.fagon@cuny.edu
(646) 664-8690