CUNY SPS Honors Disability Pride Month and 30th ADA Anniversary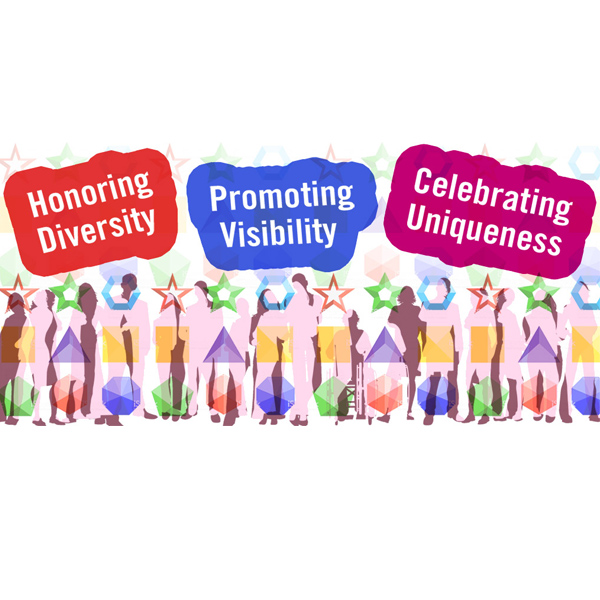 The CUNY School of Professional Studies (CUNY SPS) is proud to commemorate Disability Pride Month, an annual observance in July designed to recognize and celebrate all people with disabilities, with an event organized by the School's Abilities and Resources Committee.
This year's Disability Pride Month takes on a special significance as 2020 marks the 30th anniversary of the Americans with Disabilities Act (ADA), a landmark law signed on July 26, 1990. Considered one of America's most comprehensive pieces of civil rights legislation and the de facto "equal opportunity" law for people with disabilities, the ADA prohibits discrimination and guarantees that people with disabilities have the same opportunities as everyone else in America.
"The ADA is seen as the most important gain for the rights of people with disabilities in the last century. It was achieved after many years of activism and advocacy by disabled people and their allies," said Mariette Bates, academic director of the CUNY SPS disability studies programs. "Thirty years after it became law, our country is still in the process of realizing the vision set out in the ADA and its amendments, but we make progress toward full access and opportunity each year."
On July 8, the CUNY SPS Abilities and Resources Committee, in partnership with the CUNY Coalition for Students with Disabilities (CCSD), is hosting a virtual sign-making event to mark this milestone. From 5 pm to 6 pm, students and others are invited to create their own digital or paper sign, video, photo, or slide show to express how the ADA has impacted their life. These signs will then be incorporated into a commemorative video that will be launched at a later date.
The Abilities and Resources Committee event is offered as part of the Student Day of Action organized by CCSD on July 8. Starting at 1 pm that day, CCSD will host several sessions including Student Empowerment through Spoken Word, Honoring Women's Suffrage: Empowering Women with Disabilities, and CCSD Student Empowerment through Film, along with the sign-making event.
Liz Rubel and Rokshana Ali, co-chairs of the Committee, reflected on the ADA and the importance of commemorating its anniversary.
Ali said, "I am excited for the Abilities and Resources Committee to join with the CCSD to host the upcoming sign-making event to celebrate the 30th anniversary of the ADA this July. The activities that folks will be participating in the event will be individual and impactful. Once these pieces are brought together in the commemorative video as a collective project, we hope it to be even more inspirational." She continued, "It's a unique way to display our pride in how far we have come as a society in respect to disability rights, to helps us imagine what we can and should attain in the next 30 years, if not sooner, and to motivate us to be an individual or collaborative force for even more positive change and awareness."
Rubel noted, "It's surprising when you realize the ADA was only passed 30 years ago. As much as we need to celebrate that, there is so much work that needs to continue to be done. Let's honor this milestone by amplifying the voices of people with disabilities and understanding the work we continue to do for equality."
The CUNY SPS Abilities and Resources Committee was founded in 2018 to raise awareness around disability issues, build and maintain a campus that celebrates, advocates for, and ensures inclusiveness, and foster collaboration between students with disabilities and those who are allies.
The Committee has been actively providing programming and events in an effort to establish a supportive community where folks are empowered and affirmed in their intersectional identities. Events recently hosted by the Committee include Perspectives on Access: An Afternoon of Panel Conversations and Film and a screening of the documentary film Crip Camp, co-sponsored with the CCSD, both organized this past April as part of CUNY Disability Awareness Month.
In addition to the sign-making session, the Abilities and Resources Committee will also host a small gathering for its members on Sunday, July 12 to celebrate together on the date in which the Disability Pride Parade was scheduled to be held in New York City (prior to being canceled due to COVID-19). Committee members will be invited to share stories, poems, music, thoughts, and anything else they wish during this get-together.
The Abilities and Resources Committee joins a long tradition at CUNY SPS of scholarship and initiatives dedicated to the needs of and issues facing the disability community. The School offers several groundbreaking undergraduate and graduate disability studies programs, some of which are the first of their kind in the country. In 2019, CUNY SPS was heavily involved in the launch of the Journal of Teaching Disability Studies, with Dr. Bates serving on its editorial board and CUNY SPS alumnus and faculty member Matthew Conlin serving as its managing editor. Most recently, a number of the School's disability studies faculty, students, staff, and alumni participated in the CUNY Accessibility Conference in May.
To attend the Abilities and Resources Committee sign-making event, please RSVP.
About Disability Studies at the CUNY School of Professional Studies
Disability Studies is an emerging academic field that explores disability from multiple perspectives, including the social sciences, humanities, science, and the law. CUNY SPS offers groundbreaking, fully accredited online degree and certificate programs within Disability Studies including the BA in Disability Studies, MA in Disability Studies, MS in Disability Services in Higher Education, and Advanced Certificate in Disability Studies.
About the CUNY School of Professional Studies
For over 15 years, the CUNY School of Professional Studies (CUNY SPS) has been leading online education in New York. Offering the most online Bachelor's and Master's degree options at the City University of New York, CUNY SPS meets the needs of adults who are looking to finish a bachelor's degree, progress from an associate's degree, earn a master's degree or certificate in a specialized field, and advance in the workplace or change careers.
The School's growth has been remarkable, with twenty-three degrees launched since 2006. Enrollment has risen by more than 30% in the last four years to over 3,700 students in the credit-bearing programs and thousands more who are enrolled in non-degree and grant-funded workplace learning programs. In addition, the School has an active Alumni network and has established the CUNY SPS Foundation, which offers multiple scholarship opportunities to current students.
CUNY SPS has been ranked in the nation's top 5% by U.S. News & World Report for the past six years, most recently in its list of the 2020 Best Online Bachelor's Degree Programs, making CUNY SPS the highest nationally listed program in New York State and New York City.
Press Contact
Andrea Fagon
Director of Marketing and Communications
andrea.fagon@cuny.edu
(646) 664-869