CUNY SPS Graduate Leaves Banking Career to Serve College Students with Disabilities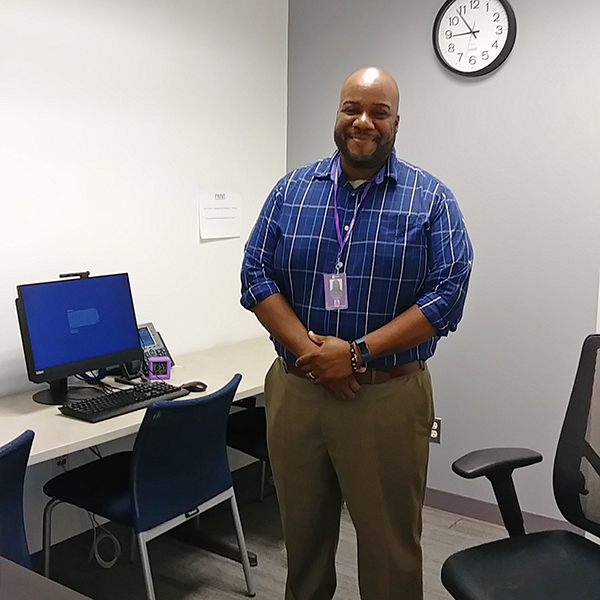 The CUNY School of Professional Studies (CUNY SPS) is honoring National Disability Employment Awareness Month this October with a series of events, talks, and screenings. Amid these celebrations, the school also welcomed news that Phillip Ferrigon, a graduate of the MS in Disability Services in Higher Education online degree program, was hired as a Disability Specialist on hand for the Moses Center for Students with Disabilities at New York University. In his new role, Ferrigon will facilitate services for students with disabilities who require accommodations for their academics, testing, and housing needs.
For Ferrigon, the job represents the culmination of a long journey that began when he left his career in investment banking operations to explore disability services, inspired by his family history of disability and his desire to help others. In 2016, he entered the MS in Disability Services in Higher Education program, which develops the knowledge and skills needed to provide mandated accommodations to students with disabilities in higher education settings, and was quickly impressed by the community of skilled instructors and supportive fellow students that he met. Ferrigon says, "I do feel like a better version of myself and I credit that to the many great friends and advisors made through my CUNY SPS experience. I hope that I am given the opportunity to positively influence the lives of others, as this graduate program has been influential to my own life and awareness."
After graduating in 2018, he devoted much time and effort towards finding a job in disability services that would allow him to apply his training and assist students in their academic success. As part of his search, he applied for all related jobs listed on well-known job sites, emailed his resume to Disability Services and Human Resources offices of various schools, and networked heavily with others in the field. Ferrigon also became a participating member of AHEAD, the leading professional membership association for individuals committed to equity for persons with disabilities in higher education, and consulted with the CUNY SPS Office of Career Services, who helped him improve his interview skills.
As Ferrigon looks back on this process, he reflects upon what is needed to find a position within disability services. "My best advice for any student looking for work in this field is to be persistent with your search and try anything that will strengthen your skills as a professional and make you more in demand for potential employers."
Even as Ferrigon is excited by his new job, he says he is not done learning. "CUNY SPS helped me to instill a habit of independent learning. I continue to explore methods that will improve my professional development (i.e. learning ASL and public speaking). I believe as I refine my skillset over time, I will provide a greater range of service towards others in higher education and beyond."
About Disability Studies at the CUNY School of Professional Studies
Disability Studies is an emerging academic field that explores disability from multiple perspectives, including the social sciences, humanities, science, and the law. CUNY SPS offers groundbreaking, fully accredited online degree and certificate programs within Disability Studies including the BA in Disability Studies, MA in Disability Studies, MS in Disability Services in Higher Education, and Advanced Certificate in Disability Studies.
About the CUNY School of Professional Studies
Home to the first fully online degree programs at the City University of New York, the CUNY School of Professional Studies (CUNY SPS) provides online and on campus programs that meet the needs of adults who are looking to finish a bachelor's degree, earn a master's degree or certificate in a specialized field, advance in the workplace, or change careers.
The School's growth has been remarkable. Launching twenty-three degrees since 2006, enrollment has risen by more than 30% in the last four years to over 3,700 students in the credit-bearing programs. We serve thousands more who are enrolled in our non-degree and grant funded workforce development programs. In addition, the School has an active Alumni network and established the CUNY SPS Foundation, which offers multiple scholarship opportunities to our current students.
Affirming our role as a leader in online education, CUNY SPS was ranked in the top 5% of U.S. News & World Report's list of the 2019 Best Online Bachelor's Degree Programs, making CUNY SPS the highest nationally listed program in New York City.
Press Contact:
Andrea Fagon
Director of Marketing and Communications
andrea.fagon@cuny.edu
(646) 664-8690