You are here
CUNY SPS Honors Disability Community during National Disability Employment Awareness Month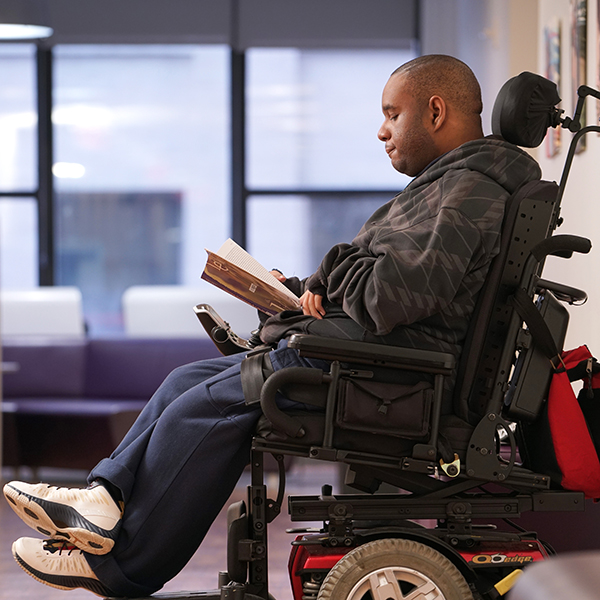 The City University of New York School of Professional Studies (CUNY SPS) is honoring the disability community during National Disability Employment Awareness Month (NDEAM) this October with several events that address the needs of students with disabilities as they enter the workforce.
Observed annually in October, NDEAM is a national campaign created by the U.S. Department of Labor's Office of Disability Employment Policy (ODEP) to celebrate the contributions of workers with disabilities and highlight disability employment issues. As part of this, ODEP offers a range of resources on their website to help organizations plan events throughout the month.
NDEAM launched in 1945, when Congress declared the first week of October "National Employ the Physically Handicapped Week." In 1988, Congress expanded the week to a month and renamed it National Disability Employment Awareness. Each year, the monthly campaign adopts a different theme. The 2019 theme "The Right Talent, Right Now" was chosen to emphasize the significant value and talent that people with disabilities add to America's workforce, thus ensuring the country's economic success.
In keeping with this theme, CUNY SPS has several talks and screenings scheduled throughout the month to equip students with disabilities with the skills, strategies, and tools they can use in their job search and current careers.
An October 2 webinar, titled "Professionalism, Self-advocacy, and the Elevator Pitch - Learn over Lunch NDEAM Webinar" discussed the importance of the elevator pitch, or branding statement, for students with disabilities. Presented by Shannon Gallo, career services manager, and Chris Fleming, CUNY LEADS advisor, the webinar provided students with tips on how to discuss their disability while networking, searching for a job, or meeting with an employer.
On October 17, the CUNY SPS Abilities and Resources Committee and the CUNY Coalition of Students with Disabilities (CCSD) will present "Closing the Gap: An Evening of Discussion on Diversity and Inclusive Hiring Initiatives." Developed with NDEAM's "The Right Talent, Right Now" theme in mind, this event will bring together professionals from organizations with diversity hiring initiatives and talented job-seeking CUNY students and alumni with disabilities for small group discussions.
Following that, on October 24, students, alumni, faculty, and staff are invited to attend the talk "Leveraging Employment Opportunities for College Students with Disabilities," featuring Wendy Strobel Gower from the Northeast ADA Center & ILR School, Cornell University. During this session, Gower will discuss recent legislative changes designed to build inclusive workforces and suggest ways that students with disabilities might benefit from these policies. This event is co-sponsored by the Office of Student Services, the Disability Studies Program, and the Accessibility and Inclusion Committee.
On October 30, filmmaker Truett Vaigneur will screen the documentary "Disabilities Redefined: Major Choices, Great Career Paths!," featuring interviews with disabled students who share their experiences as they build their career. This event is also sponsored by the CUNY SPS Abilities and Resources Committee.
These activities represent some of the latest efforts by CUNY SPS to ensure equal opportunity and access to all its students through inclusive policies, services, and scholarship. As a result of these efforts, and other initiatives developed by CUNY and its individual schools, students with disabilities have the opportunity to flourish, take on leadership roles, and expand opportunities for others.
Leonard Blades, who is enrolled in the MS in Disability Services in Higher Education program at CUNY SPS, was inspired by his experiences at CUNY and has vowed to help others with disabilities his future career. Born with Arthrogryposis, a condition which affects the muscle growth through areas like the hands and legs, Blades primarily uses a wheelchair to get around. The challenges he faces attracted him to the field of disability services in higher education, where he is learning how to provide mandated accommodations for students with disabilities.
Blades explains, "As a student with a disability myself, I utilized accommodations back at Brooklyn College and I remember how helpful and supportive the staff was when assisting me. Reasonable accommodations are essential for students with disabilities because they help level the playing field academically to students without disabilities. During my time in CCSD [CUNY Coalition for Students with Disabilities], I learned a lot from my peers about some of the experiences, both positive and negative, in terms of receiving services. It just inspired me to give back and help others the way in which I was helped. I hope to gain more experience within this field by working in a Disability Services Office, beginning as a Disability Accommodation Specialist."
Underlying all his studies—and his own experiences—is the belief that it is vital to advocate for yourself and others. With that in mind, Blades made it a top priority to join campus organizations that provide for the needs of students with disabilities.
"When I was in Brooklyn College, I also got involved on campus through volunteering for student orientations and commencement ceremonies. I also joined the Student Organization for Every Disability United for Progress (SO FED UP). We advocated for push panels to be installed at entrances where the doors are heavy to open. We also successfully advocated to have an Access-A-Ride bus stop implemented on campus. I really enjoyed being involved in various things and I told myself if I make the decision to pursue grad school I will continue being an active student beyond the classroom," adds Blades.
Currently, Blades serves on a number of committees, including the CUNY SPS Student Association and the CUNY SPS Abilities and Resources Committee, which works to foster inclusion among the community at-large while also hosting programming that highlights issues of interest to people with disabilities (including several of the NDEAM events this month). He is also the chairperson of the CUNY Coalition for Students with Disabilities. Most recently, Blades was elected to serve as vice chair of Disabled Student Affairs on the University Student Senate (USS) Steering Committee. In this role, he works directly to advocate on behalf of the more than 11,000 students with disabilities who attend CUNY.
On a system-wide level, the City University of New York offers a number of disability-related courses and student services. Several CUNY schools, including The City College of New York, The College of Staten Island, Lehman College, and LaGuardia Community College, feature undergraduate minors and concentrations in disability studies, an emerging academic discipline that examines the theories behind disability and the lived experiences of disabled people.
In addition to these courses, students may receive further accreditation through CUNY SPS's groundbreaking disability studies programs, which are some of the first of their kind in the country. For nearly a decade, the school has offered BA, MA, or MS degrees in disability studies and related fields.
Students with disabilities can also rely on a broad range of services that help them navigate college life on all CUNY campuses. In addition to an Office of Disability Services located at every CUNY School, which ensures reasonable accommodations and support services, students can also benefit from CUNY LEADS, a program which provides an advisor on every campus to facilitate successful academic and career outcomes for students with disabilities enrolled in CUNY programs.
As a result of these major initiatives developed by CUNY and its individual schools, students with disabilities have the opportunity to flourish, take on leadership roles, and expand opportunities for others.
About Disability Studies at the CUNY School of Professional Studies
Disability Studies is an emerging academic field that explores disability from multiple perspectives, including the social sciences, humanities, science, and the law. CUNY SPS offers groundbreaking, fully accredited online degree and certificate programs within Disability Studies including the BA in Disability Studies, MA in Disability Studies, MS in Disability Services in Higher Education, and Advanced Certificate in Disability Studies.
About the CUNY School of Professional Studies
Home to the first fully online degree programs at the City University of New York, the CUNY School of Professional Studies (CUNY SPS) provides online and on campus programs that meet the needs of adults who are looking to finish a bachelor's degree, earn a master's degree or certificate in a specialized field, advance in the workplace, or change careers.
The School's growth has been remarkable. Launching twenty-three degrees since 2006, enrollment has risen by more than 30% in the last four years to over 3,700 students in the credit-bearing programs. We serve thousands more who are enrolled in our non-degree and grant funded workforce development programs. In addition, the School has an active Alumni network and established the CUNY SPS Foundation, which offers multiple scholarship opportunities to our current students.
Affirming our role as a leader in online education, CUNY SPS was ranked in the top 5% of U.S. News & World Report's list of the 2019 Best Online Bachelor's Degree Programs, making CUNY SPS the highest nationally listed program in New York City.
Press Contact:
Andrea Fagon
Director of Marketing and Communications
andrea.fagon@cuny.edu
(646) 664-8690