CUNY SPS Earns Military Friendly Silver Award for 2023-2024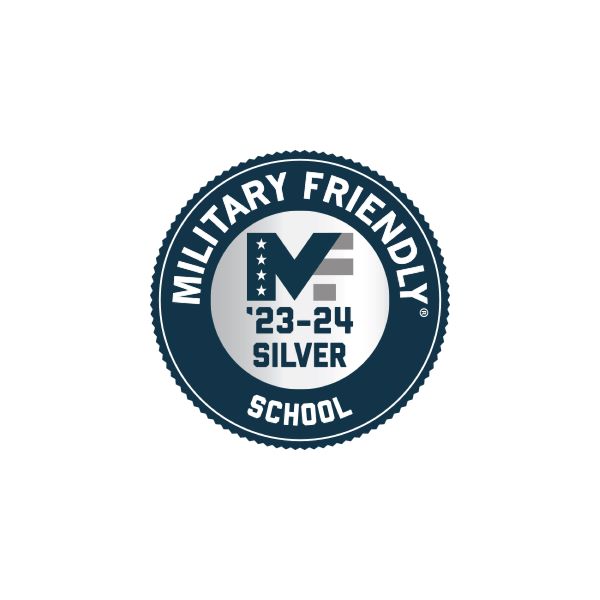 In a third year of recognition by the website Military Friendly.com, the CUNY School of Professional Studies (CUNY SPS) has been named a Military Friendly® School, earning a Silver Award for 2023-2024.
MilitaryFriendly.com assesses schools annually based on student retention, graduation, job placement, loan repayment, persistence (degree advancement or transfer), and loan default rates. The complete 2023-2024 Military Friendly® Schools list will be published in the May and October issue of G.I. Jobs magazine and can be found online now.
"CUNY SPS faculty and staff work incredibly hard to meet the specialized needs of our military and veteran students—who often struggle to balance their academic work with family, work, and, in some cases, military obligations—by offering flexible online programs, financial help, and personalized support," said Christopher Leydon, associate director of student services at CUNY SPS. "We are truly honored once again to receive this recognition of our efforts by MilitaryFriendly.com even as we acknowledge the true heroes—the courageous and hardworking veterans and servicemembers who serve their country even as they work toward their own educational goals."
The 2023-2024 Military Friendly Silver Award is the latest in a long list of accolades awarded to CUNY SPS for its extraordinary commitment to veterans and active military students. Most recently, CUNY SPS was ranked #5 in the nation on U.S. News & World Report's 2023 list of Best Online Bachelor's Programs for Veterans, marking the third year in a row that the School was named in the country's top five for veterans by the publisher.
In particular, CUNY SPS has been praised for the comprehensive services it provides to servicemember students, which includes financial assistance like the CUNY SPS U.S. Military Bachelor's Degree Completion Scholarship.
For veteran Kenneth Fernández, a graduate of the BS in Information Systems, CUNY SPS' support was indispensable to getting his degree. "The [Office of Military and Veterans' Services] at CUNY SPS helped me from the get-go, and Chris Leydon in particular really helped me get the ball rolling," said Fernández. "When my benefits were about to expire, Chris gave me additional information on other grants and helped me apply for a VA extension, which enabled me to continue with my program."
About the CUNY School of Professional Studies
As New York's leading online school since 2006, the CUNY School of Professional Studies (CUNY SPS) offers the most online bachelor's and master's degree options at the City University of New York, and serves as the University's first undergraduate all-transfer college. With 26 degrees and numerous other non-degree and grant-funded workplace learning programs, CUNY SPS meets the needs of adults who wish to finish a bachelor's degree, progress from an associate's degree, earn a master's degree or certificate in a specialized field, and advance in the workplace or change careers. Consistently ranked highly by U.S. News & World Report for its online offerings, CUNY SPS has emerged as a nationwide leader in online education. The School's renowned and affordable online programs ensure that busy working adults may fulfill their educational goals on their own time and schedule.
Press Contact
Andrea Fagon
Chief Marketing and Communications Officer
andrea.fagon@cuny.edu