CUNY SPS Disability Studies Student Wins Scholarship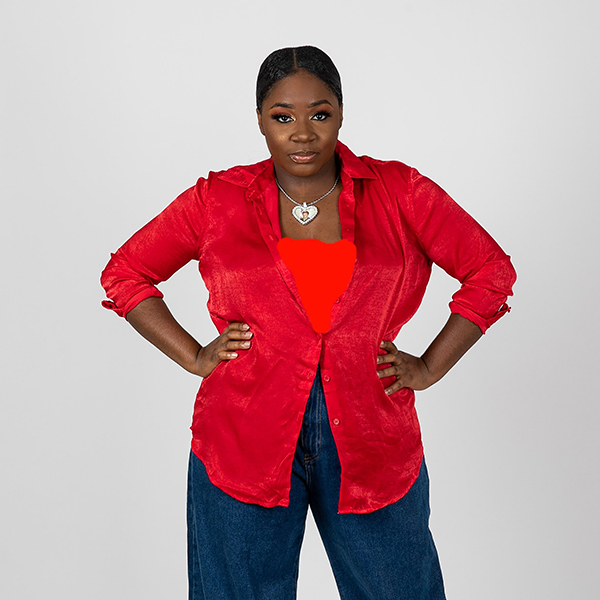 As the CUNY School of Professional Studies (CUNY SPS) celebrates National Disability Employment Awareness Month this October, the School also welcomed news that Nia Williams, a rehabilitation professional attending the MS in disability studies program, was awarded the 2020 Marge A. Tierney Memorial Scholarship by the New York State Board of Regents.
"We are so proud to learn that Nia received this accolade in recognition of her years of clinical rehabilitation work," said Mariette Bates, academic director of the CUNY SPS Disability Studies programs. "The Marge A. Tierney Memorial Scholarship will help defray some of Nia's school-related costs, and we are excited to see what she will achieve in her time at CUNY SPS!"
Williams, who joined CUNY SPS in Fall 2020, has worked for more than 10 years in the rehabilitation field. In past roles, Williams served as a direct support professional, residential habilitation specialist, and Medicaid service coordinator at several organizations, and is currently a program coordinator at the Cerebral Palsy Associations of New York State. In addition to the disability studies program at CUNY SPS, Williams is also enrolled as a graduate student in the clinical rehabilitation counseling program at Hunter College, with plans to later obtain a PhD in clinical rehabilitation counseling so that she can provide support for individuals with intellectual and developmental disabilities.
Alongside her professional work, Williams is a member of the Tau Upsilon Alpha National Organization for Human Services Honor Society, and is very active in charity work. Some of her volunteer projects including collecting clothes for CazCares and hosting food drives for the rescue mission of Syracuse, as well as organizing talent shows, fashion shows, and women-only support groups for people with disabilities.
Williams' hard work and dedication has been recognized prior to this scholarship. While working at the non-profit Rising Ground, Williams received a buddy award for partnering with co-workers to achieve exceptional care for the individuals, and, following a recommendation from a residential nurse, was also given a special compassion award for taking care of individuals under challenging conditions. Finally, the National Alliance for Direct Support Professionals, as part of their National DSP Recognition Week in September, gave Williams an award for perfect work attendance during the peak of the COVID-19 crisis, when she worked non-stop shifts for days without going home.
The Marge A. Tierney Memorial Scholarship is offered to one student annually who is enrolled in a graduate program in rehabilitation counseling. Established in the memory of Tierney, a New York State Education Department employee who dedicated her 33-year-long career to vocational rehabilitation and to the development of quality services and programs for people with disabilities, the scholarship provides up to $1,000 to be used in pursuit of a master's degree in rehabilitation counseling. In addition to the financial award, Williams will also receive a citation from the Board of Regents.
About Disability Studies at the CUNY School of Professional Studies
Disability Studies is an emerging academic field that explores disability from multiple perspectives, including the social sciences, humanities, science, and the law. CUNY SPS offers groundbreaking, fully accredited online degree and certificate programs within Disability Studies including the BA in Disability Studies, MA in Disability Studies, MS in Disability Services in Higher Education, and Advanced Certificate in Disability Studies.
About the CUNY School of Professional Studies
For over 15 years, the CUNY School of Professional Studies (CUNY SPS) has been leading online education in New York. Offering the most online Bachelor's and Master's degree options at the City University of New York, CUNY SPS meets the needs of adults who are looking to finish a bachelor's degree, progress from an associate's degree, earn a master's degree or certificate in a specialized field, and advance in the workplace or change careers.
The School's growth has been remarkable, with twenty-four degrees launched since 2006. Enrollment has risen by more than 30% in the last four years to over 4,000 students in the credit-bearing programs and thousands more who are enrolled in non-degree and grant-funded workplace learning programs. In addition, the School has an active Alumni network and has established the CUNY SPS Foundation, which offers multiple scholarship opportunities to current students.
CUNY SPS has been ranked in the nation's top 5% by U.S. News & World Report for the past six years, most recently in its list of the 2020 Best Online Bachelor's Degree Programs, making CUNY SPS the highest nationally listed program in New York State and New York City.
Press Contact
Andrea Fagon
Director of Marketing and Communications
andrea.fagon@cuny.edu