Class of 2023 Honored With Accolades and Advice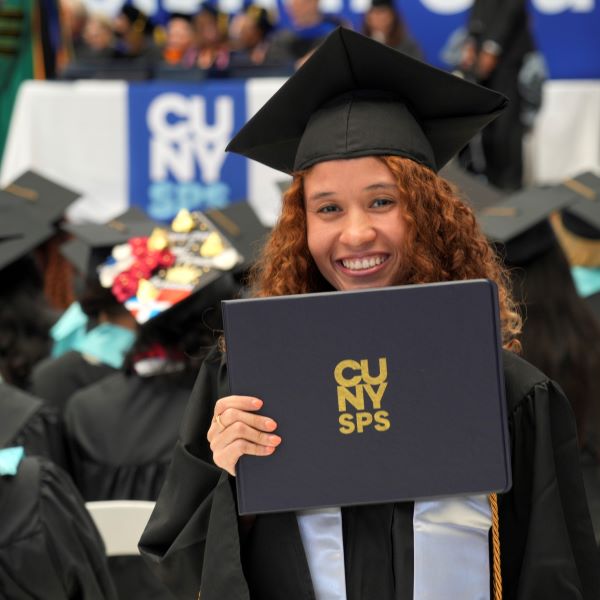 School's Largest Class To Date Celebrates Milestone During Joyous Ceremony; First Cohort of MS in Health Information Management Joins Graduating Class
The CUNY School of Professional Studies (CUNY SPS) honored the Class of 2023 in an exuberant, emotional, and heartwarming Commencement ceremony on May 25.
Graduates, their families, friends, and CUNY SPS faculty and staff gathered at Louis Armstrong Stadium in Queens to pay tribute to the remarkable Class of 2023, who overcame both the pandemic and the everyday challenges faced by working adults going back to school to complete their degrees.
In another milestone for CUNY SPS, the Class of 2023 bore the distinction of being the largest graduating class to date, with 1257 graduates. Within this large class, over 500 of the approximately 770 undergraduates also graduated with academic honors, including nearly 260 students receiving the highest honors, summa cum laude, along with their degree.
The high-energy ceremony, which was hosted by Chief Marketing and Communications Officer Andrea Fagon, launched with a moving performance of the national anthem by MA in Applied Theatre candidate Elyse Orecchio.
Her beautiful rendition set the stage for the Commencement speeches, which began with virtual greetings by CUNY Chancellor Félix V. Matos Rodríguez and in-person remarks by CUNY Trustee Sandra Wilkin, who both welcomed the Class of 2023 and exhorted them to make CUNY proud.
Interim Dean Silva-Puras took to the stage next to offer welcoming comments, where he shared his own awe at the graduates' achievements during such a challenging time.
"Today, as I look out at your faces in the crowd, I can see how you have persevered and flourished. I see remarkable people who have redefined who they are and what they stand for. I see people who have reaffirmed their love and dedication to their families, their friends, and their communities," he said. "I see people who have become stronger and who recognize their own resilience. I see people who have learned what they want to do and what they want to be. This is what we fundamentally celebrate."
Next, Asantee Mitchell, BA in Disability Studies candidate, delivered the student address. In an electrifying speech, she reflected on her own journey at CUNY SPS from a quiet student who grew emboldened to join—and take on significant leadership roles—in many of the School's clubs and organizations, including the Student Association, CUNY's University Student Senate, the Black Student Union, the Black Male Initiative, and the School's Committee on Institutional Equity and Diversity.
As Mitchell explained, her participation in these clubs and organizations—which echoed a larger trend of growing student engagement honored in the recent Student Leadership and Service Recognition Ceremony—fundamentally broadened her experience at CUNY SPS. "The connections formed, and the doors opened, will follow me for the rest of my days," she said.
Mitchell also offered her own advice to the graduating class. "Remember your journey is YOUR journey. Maximize your talents and gifts for yourself and your community….I encourage you to take all that you have learned, all the frustration you have experienced, all the wins you've achieved, and all the connections you have made and use it to your advantage. Know that you are capable, valuable, worthy, strong, and courageous. I speak discernment, prosperity, peace, growth, stability, abundance, love, great habits, and an ending to bad ones over your life.  As this celebration begins, enjoy your journey."
Following her address, Dr. Jennifer Sparrow, interim senior associate dean for academic affairs spoke on behalf of the CUNY SPS faculty.
"Even though many of you may be seeing your professors in person for the first time today, we know you. …We know you, we saw you, and…we have always rooted for you to make it here," said Dr. Sparrow. "Graduating from college is no small feat, and doing so as a returning adult learner requires courage, focus, and grit. You have juggled work, family, and personal commitments while still finding time to study, participate in class, complete assignments, and join clubs and other extracurricular events. You have persisted, and you have succeeded. Today is your grand slam."
With the conclusion of her remarks, students were then invited to the stage and conferred their degrees. In a time-honored tradition, Interim Dean Silva-Puras also formally invited them to switch their tassels across their caps, indicating their passage from student to graduate, while the audience cheered them on.
View a short recap and the full-length version of the 2023 Commencement ceremony here.
In addition to the in-person event, members of the Class of 2023 who could not attend were offered the option to instead participate in a virtual Commencement ceremony on Wednesday, May 31, where they will be able to celebrate online with members of their academic program.
School Welcomes First Cohort of MS in Health Information Management Graduates
In one major highlight, the CUNY SPS 2023 Commencement ceremony also featured the first cohort of graduates from the School's MS in Health Information Management (MSHIM) program. A total of eighteen students were awarded an MSHIM degree, which will prepare them for higher-level health information management roles in complex healthcare environments.
Launched in Spring 2021, the MSHIM program prepares individuals to work proficiently with clinicians and health services administrators to develop and carry out clear and effective health information strategies for their healthcare organizations.
About the CUNY School of Professional Studies
As New York's leading online school since 2006, the CUNY School of Professional Studies (CUNY SPS) offers the most online bachelor's and master's degree options at the City University of New York, and serves as the University's first undergraduate all-transfer college. With 26 degrees and numerous other non-degree and grant-funded workplace learning programs, CUNY SPS meets the needs of adults who wish to finish a bachelor's degree, progress from an associate's degree, earn a master's degree or certificate in a specialized field, and advance in the workplace or change careers. Consistently ranked highly by U.S. News & World Report for its online offerings, CUNY SPS has emerged as a nationwide leader in online education. The School's renowned and affordable online programs ensure that busy working adults may fulfill their educational goals on their own time and schedule.
Press Contact
Andrea Fagon
Chief Marketing and Communications Officer
andrea.fagon@cuny.edu