You are here
Outstanding CUNY SPS Student Leadership Recognized During Third Annual Ceremony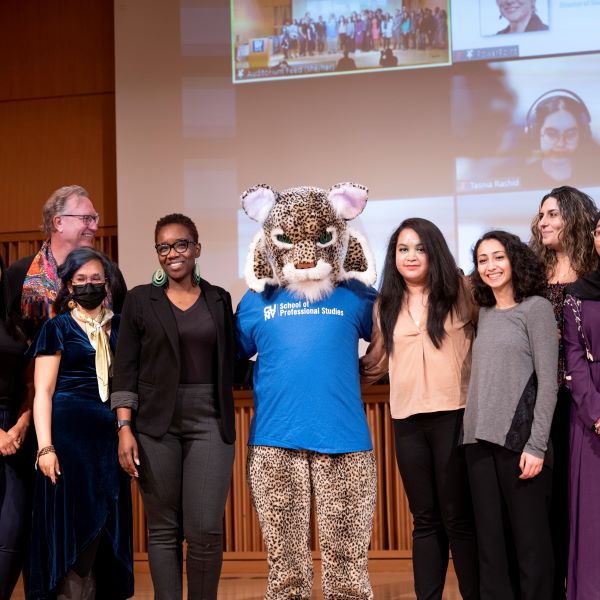 The CUNY School of Professional Studies (CUNY SPS) hosted its third annual Student Leadership and Service Recognition Ceremony on April 25 to recognize exceptional student endeavors over the past year.
The hybrid event, which honored more than 75 students who contributed to new and existing CUNY SPS clubs, organizations, or committees during the 2022-2023 academic year, was held at the Elebash Recital Hall at the CUNY Graduate Center and via livestream.
Hosted by Anthony Sweeney, associate director of student life, and Reshma Jaigobin, student leadership and development coordinator, the ceremony also featured remarks by Interim Dean Jorge Silva-Puras; Zeita-Marion Lobley, director of student services; Parshotam Lal, student life coordinator; and the students in the organizations.
In his opening comments, Interim Dean Silva-Puras marveled at the commitment of CUNY SPS students to volunteer their time when many of them attend school and have families and jobs.
"Your resilience and your compassion are all the attributes that make you not only fantastic students, but outstanding individuals," enthused Silva-Puras. "The sky truly is the limit. You have worked and studied hard and done wonderful things and you have done it with flying colors. If that's just a demonstration of what's to come, I really feel that you're going to do wonderful things for your families, for your communities, and for yourself."
Lal, who delivered the keynote address, shared some of his own experiences working with student leaders and what it means to him.
"Many of you always ask me how I manage to do all of this for our students," Lal said. "The answer is that I truly care about our students and providing them with an experience that they can remember beyond their time at CUNY SPS. No matter who you were. If you came to me, you always knew you had a person to hear your problems, your ideas, and to know that I had your back."
Lal also praised the students for their remarkable work in creating events and clubs for their communities. "Your time as a student leader won't stop paying off when you graduate, but it will continue to grow as you grow," he said. "I hope that as you look back at your time here, you remember how much of an impact you had on the growth of CUNY SPS, and how much you have left a steppingstone for future student leaders who will continue the amazing work you all have set for them."
At the ceremony's finale, student leaders were presented with an award and spoke about what their organization or club meant to them. They also thanked their CUNY SPS club advisors and members of the student services department for their passion and unwavering support.
The organizations and clubs whose members were honored in the ceremony include:
Black Student Union
Cyber Intelligence Alliance
Disability & Access Coalition
Film Club
Health Information Management Club
Health Services Administration Organization
Human Relations and Sociology Club
Islamic Studies Club
Management and Entrepreneurship Leadership Organization (MELO)
Museum Studies Organization
Parent Club of SPS
Pride Club
Psychology Club
Software Development Club
South Asian Student Union
Student Veterans Organization
Student Association
For more information on CUNY SPS student clubs and organizations, visit the Student Life page.
About the CUNY School of Professional Studies
As New York's leading online school since 2006, the CUNY School of Professional Studies (CUNY SPS) offers the most online bachelor's and master's degree options at the City University of New York, and serves as the University's first undergraduate all-transfer college. With 26 degrees and numerous other non-degree and grant-funded workplace learning programs, CUNY SPS meets the needs of adults who wish to finish a bachelor's degree, progress from an associate's degree, earn a master's degree or certificate in a specialized field, and advance in the workplace or change careers. Consistently ranked highly by U.S. News & World Report for its online offerings, CUNY SPS has emerged as a nationwide leader in online education. The School's renowned and affordable online programs ensure that busy working adults may fulfill their educational goals on their own time and schedule.
Press Contact
Andrea Fagon
Chief Marketing and Communications Officer
andrea.fagon@cuny.edu