Stephanie Kerr
BA in Psychology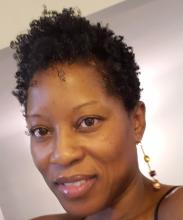 "I've grown by learning how to take accountability for my own education."
Why did you decide to join the BA in Psychology program?
I decided to join the BA in Psychology program because I felt I had a calling to study and work in psychology and the degree was available online.
Why did you choose to continue your education online at CUNY SPS?
I chose to continue my education online because I wasn't sure about going back to school and did not want the headache of traveling; having that nuisance would easily deter me from continuing.
What was your motivation for returning to school for your bachelor's degree?
I do not know what my original motivation for returning to school was. I originally enrolled in a different program. I decided to take some initiative and follow the feeling that wasn't initially revealing its intent. I entrusted my heart to lead me to my purpose.
Which skills have you acquired during your time at CUNY SPS that you believe will help you excel in the psychology field?
I learned that regardless of a person's discipline or field, my expectations of that person might not be met. This is something I have known for a long time. But I still kept one or two beliefs about people in particular fields. I believed them to be very cognizant of the way they relate to others; in turn, I placed them on a pedestal. I was wrong, they are just like everyone else; so now I have low to no expectations of a person on any level until I'm shown differently. This has allowed me to become more open-minded to all possibilities and let go of some biases.
Can you talk about the connections/relationships you formed with your professors and other CUNY SPS students?
I've grown by learning how to take accountability for my own education; I had to find my own way of connecting, relating, engaging, and learning because the curriculum or the way it's articulated doesn't always align with my learning style.
In which ways have you grown as a result of your studies at CUNY SPS?
A connection that I have made with a professor here at CUNY SPS is with Dr. Lauren Roygardner who has always made herself available to help work out some of the kinks in my understanding of psychology. Other connections made, although they aren't my professors, are Dr. Zeita-Marion Lobley, director of student services, and Sarah Wagner, an academic advisor. Some students that I have made connections with are my mentor from the ACE program from when I was a mentee and now my own ACE mentees.
What kind of impact do you think your degree will have on your career/life?
I hope my degree will give me the versatility to go anywhere. I have already had the experience of having a job that made me feel like a "one-trick pony." While I made good money, I was only able to make it at the company I was working for. The industry did allow for growth but only to individuals that had a passion or talent for technology. I was competent because my skill set is of adjustment; I have the ability to rearrange components of an environment that I am usually not suited for and make them work for me to ultimately get the job done.
What advice would you offer someone who is considering an online program?
Some advice I would give to someone considering a fully online program would be to extensively research all that it entails. Some students do not realize that you have to be comfortable learning independently. I did not realize that either, but I have become somewhat comfortable because of my ability to adapt, adjust, rearrange, and seek out the resources that will aid my adjustments. There are some things I would definitely change and some things I haven't quite figured out yet, but I guess I will see what I come up with to address those issues.
What does your future look like after CUNY SPS?
I hope to be accepted into a dual degree program in school and community psychology.