You are here
Darnell Wold
BA in Psychology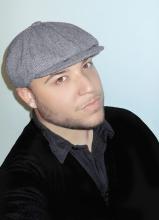 "My goal is to become a psychotherapist and I knew that majoring in psychology would provide me with the perfect foundation for understanding the human mind and human behavior."
Why did you decide to join the BA in Psychology program?
It has always been my ultimate goal in life to pursue an education and career in the field of psychology and mental health. My goal is to become a psychotherapist and I knew that majoring in psychology would provide me with the perfect foundation for understanding the human mind and human behavior.
Why did you choose to continue your education online at CUNY SPS?
After completing my associate's degree, I knew that I wanted to further my education; however, my options were quite limited due to my busy schedule. I am a business owner and a caregiver, so finding an online bachelor's program was crucial for me. Fortunately, I came across CUNY SPS and I was blown away by all of the positive reviews regarding the Bachelor of Arts in Psychology program.
What was your motivation for returning to school for your bachelor's degree?
Despite being a bit older, I've never let my age deter me from pursuing any of my goals or dreams in life. I've always known that I'd ultimately return to college to pursue a career in psychotherapy. Fortunately, the one positive thing that came out of the pandemic and lockdown was more downtime. As soon as the pandemic started in March of 2020, I enrolled back in college and completed my associate's degree. Upon graduating in the Spring of 2021, I began my bachelor's degree at CUNY SPS. The flexibility of taking online classes has allowed me to finish my bachelor's degree within one year.
Which skills have you acquired during your time at CUNY SPS that you believe will help you excel in the psychology field?
CUNY SPS has provided me with a strong foundation regarding advanced research methods and statistical methods that I am certain will be beneficial once I begin graduate school. I am now much more confident when it comes to conducting research in the field, and I now have the proper skills and foundation to properly conduct a statistical analysis.
Can you talk about the connections/relationships you formed with your professors and other CUNY SPS students?
Despite being an online student, I have been fortunate enough to connect with many great professors and students from all over the world. I am the first person in my immediate family to pursue an advanced degree and I did not have anyone to turn to when it came time to apply to graduate school. Fortunately, many of my professors were readily available to help assist me with the graduate school application process. Drs. Bielek and Roygardner were more than happy to share their expertise and guidance with me as I began this new journey in my academic career.
In which ways have you grown as a result of your studies at CUNY SPS?
Being a psychology major has helped me grow in the sense that I am now much more capable of honing my ability to think deeply and critically about different issues. I've always been very analytical and quite a deep thinker, but as I've mastered the scientific method and fine-tuned my decision-making and problem-solving abilities, I have noticed a significant difference in how I approach issues in my everyday life. I have also found that I understand myself much better, I have learned many new research methods, and I've even improved my communication and critical thinking skills when it comes to understanding others.
What kind of impact do you think your degree will have on your career/life?
I am confident that with the education and skills I have acquired throughout my bachelor's degree I am well equipped to enter graduate school and pursue a career in the field of psychology. I have been fortunate enough to remain an honors student throughout my scholarly journey and I know this will ultimately dictate where I am able to pursue my advanced education. Earning a bachelor's degree not only benefits me, but it will benefit my family and my community. Having a degree not only improves your overall salary potential but can also improve your own mental health and the well-being of those around you. My education and everything I have learned have helped me grow as an individual and I now have a much better understanding of human nature, which is literally beneficial in all aspects of life.
What advice would you offer someone who is considering an online program?
I would tell them to get started as soon as possible. Do not wait for the perfect moment. Take the moment and make it perfect. That is the beauty of attending an online program. You're able to make it work for you and your current lifestyle. I'll be 37 years old this month and despite starting college over 19 years ago, I returned, I got it done, and now I'm starting graduate school. Not to mention, I was able to do get this done while becoming a caregiver to my grandparents and struggling to keep my business afloat during a global pandemic. You're More Powerful Than You Think! Go for it! The possibilities are endless.
What does your future look like after CUNY SPS?
I will be starting graduate school this fall and pursuing my Master of Social Work. My ultimate goal is to gain experience and advanced training in the field so that I can become an effective psychotherapist. Aside from psychotherapy, I am currently pursuing a new venture where I will be providing consulting and mentoring to underrepresented businesses. I have been fortunate enough to overcome many obstacles throughout my life and I want nothing more than to assist others as they do the same.