You are here
Christy King
BA in Communication and Media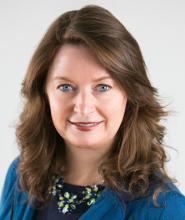 "Now, after more than a year of consulting, I'm having a blast, learning more every day, and feeling more confident about working for myself over the long haul."
Christy King is a student in our online BA in Communication and Media program. She and her business Christy King LLC advanced to the Regional Finals of the 2017 NYS Business Plan Competition. Christy shares her experience as a tech-savvy entrepreneur, risk-taker, and online student in the interview below.
Tell us a little bit about yourself. Where you're from/currently live, place of employment, the work that you do at Christy King LLC.
I was born in Hawaii, but spent most of my youth in Oregon. I have lived all over the USA working in television and now live on the upper west side. Christy King LLC is a media business consulting company I started after leaving my last corporate position as COO of a software company.
What is the most gratifying aspect of your job? What is the most difficult aspect?
The best part of working for yourself is the moment you have enough steady customers that you can start saying "no" to projects that aren't interesting and can seek out projects that are compelling and challenging instead. The most difficult part in running my own business is trusting my ability to succeed. On paper, it is clear that I am a perfectly competent thought leader, but I still struggle to shake "imposter syndrome."
When/how did you conceive the idea for Christy King LLC? At what moment in your life did you decide to become an entrepreneur?
Funny enough, I had no desire to ever run my own company. My best skill is executing other people's business goals. It's like cleaning somebody else's house – it's clear how to handle everything because it isn't my mess. Most entrepreneurs have one or two things that they are super passionate about, which makes it easy to focus on achieving that goal; but sometimes they are so myopic they can't get out of their own head. That's where I come in; I clean up operations and communications.
When I left my last corporate job, I did not have an immediate new one lined up so I decided to work on short-term projects and observe how various companies focus their energies. Now, after more than a year of consulting, I'm having a blast, learning more every day, and feeling more confident about working for myself over the long haul.
How does Christy King LLC differentiate itself from other corporate video production companies? What void do you think Christy King LLC fills in the ever-changing digital industry?
My consulting company actually provides two services. I have a long history of comfort with new technologies, so I advise people in the media business on how to design video production workflows that work best in today's media distribution environment. The second service I provide is marketing advice to companies that make products or services for content creators.
My skills are still fairly rare, and the media business is changing rapidly because of technology's hyper-speed evolution. When people are in a day-to-day battle to get content deadlines met, it can be really hard to step away far enough to see the bigger picture. I provide the guidance executive teams need to lead them to think and act proactively, rather than always playing catch-up.
From a marketing perspective, I spent years in that media delivery battleground so I know the issues media creators need addressed by vendors. One element of my secret sauce is that I have a particular knack for explaining technical concepts to non-technical people.
What were some of the challenges you faced when developing Christy King LLC? At what point did you have your "aha!" moment; a moment you knew that all the hard work would be worth it?
My company is only about a year and a half old so it is premature for me to exalt about achieving any sort of grand success. However, I am paying the bills and participating in some fascinating projects. For me, doing work that allows for a lot of thinking and exploration is an inspiring way to spend each day.
In which ways have you and your business grown since Christy King LLC began?
I was thinking recently about the rate of technical change and its effect on how people communicate, and also, fundamentally, how technology has NOT changed communication. Being in school again, it has dawned on me that the fundamentals of good storytelling remain true not matter the distribution method or medium. The skills we all learn and practice in school about how to organize information, structure sentences, and present ideas in the most compelling way are still the bedrock of good communication in any medium and I would do well to remember that in the work world.
Where do you see Christy King LLC in two, five, ten years?
I have absolutely no idea, and I'm really okay with that. I know many career and goal-oriented people would find my "wing it" mentality horrifying, but I look at it this way: I chose not to have children or get married, and I have a good retirement account. I am the only person dependent upon my income, which means I can fail like crazy and won't take anybody down with me. As long as I keep networking, meeting people, and learning things, there will always be more people out there who will pay me to help them solve their interesting business problems. For me, life is all about the journey, not the destination.
Why did you decide to enter Christy King LLC in the NYS Business Plan Competition? Can you provide some insight into your experience in the competition?
I entered the NYS Business Plan competition because I have a lot of experience in documentary style interview production. There is a massive amount of research that shows video is most people's preferred way to learn about new products or services. I wanted to purchase lighting, camera, and audio equipment, and start training new hires in my research and interview methods. That process is the one part of my years of experience that is fairly easily transferable in order to scale that aspect of my business.
The competition itself was well organized and I was surprised and happy that professors across the CUNY system came out of the woodwork to help and support those of us who participated. Unfortunately, my business didn't make it past the regional competition, but it was absolutely worth the time to go through the motions of developing a thoughtful business plan for myself.
For those who are interested in participating next year – do it! But know that the event name is a bit of a misnomer. It isn't a "business plan" competition in the vein most of us will start and run successful businesses with (far) less than 500 employees. The NYBPC is more about finding the next Uber franchise or business that is designed to scale to massive billion dollar enterprises. If you've got an idea for the next Uber, or indoor farm warehouse, or automation solution – this is the competition for you!
What motivated you to finish your bachelor's degree at CUNY SPS? Why the online BA in Communication and Media program?
When I first moved to New York, I met a fascinating woman at a nail salon who has a PhD in nursing, several certificates, as well as a law degree, and all from NYC schools. I told her I had often wished I had finished my college degree because I love to teach, but people who took my community college classes in things like Photoshop couldn't get college credit for taking my classes because I am not credentialed. I also wanted to learn more about "big data" and business issues covered in master's programs. She convinced me that I could return to school and finish a bachelor's degree in order to move on to a master's program faster than I thought. The Communication and Media program has been interesting to participate in as someone who has been in the media business for 30 years. Believe it or not, I've learned quite a bit!
What's life like as an online student? Did you ever think you would enroll in an online program?
I am extremely comfortable with technology, so an online program seemed like a no-brainer for me. I am also running a business. Online classes are perfect for people with lots of other things to do. The same drive required for running your own business is exactly the same skill you need to do well in a self-directed, online learning program.
What kind of impact do you think your degree will have on your career/life?
That's a great question. If I were in my 20s or 30s, I think having a bachelor's degree might mean a great deal in a regular career path, but at 49, I think I need to pursue at least a master's program for education to be as meaningful as my years of experience. Also, life isn't all about work. I want to make sure I keep learning new things to keep career and life options open to new possibilities. Attending CUNY allows me to keep exploring new options.
What's the greatest piece of advice you've received while at CUNY SPS so far?
The best piece of advice I have been given about school is to be sure to connect with instructors, admins, and staff – especially as an online student. Due to my age and experience, I am more "peer" than "student" in some instances, so I ask different kinds of questions with a different scope. They have all offered great advice and expanded my thought process in ways I did not expect.
What advice would you offer someone considering applying for admission to your program? Advice you can offer someone who is juggling work and school?
Just do it. Even if you're rapidly approaching 50 years on this earth like me, it is worth your time and effort to finish that degree you started in your teens. It takes less time than you think it will, but you'll find the practices of academia sneaking into your thought process at work, and that's a good thing. My grandmother graduated from college at 65, and until the day she died she swore it was the best thing she ever did for herself.
What does your future look like after CUNY SPS?
Next, I am looking forward to challenging myself with a master's program. That would be an incredible personal achievement for someone with my background. After that, I hope the book I wrote is published (it is currently with a publishing agent) and people like it enough that I get to do a book tour and meet people who read it. Wouldn't that be a crazy and amazingly fun next chapter of life?!