You are here
Amoni Brown
Bachelor of Science in Business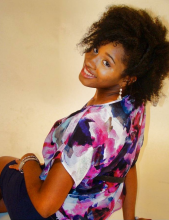 "I believe my degree will serve as a stepping-stone for more learning opportunities. My journey in the business program will offer me experiences, networks, and knowledge that will position me to compete in today's world."
Amoni Brown is a student in our online BS in Business program. She and her nonprofit organization BkMSCC advanced to the Regional Finals of the 2017 NYS Business Plan Competition. Amoni shares her experience as an entrepreneur, full-time employee, community activist, and online student in the interview below.
Tell us a little bit about yourself.
I am a 25-year-old Jane of all trades, who was born, raised, and now resides in East New York, Brooklyn. I attended CUNY City College Grove School for Engineering and graduated from CUNY City Tech with an Applied Science degree in Electromechanical Engineering Technology and a Certificate in Interactive Media Technology. I now attend CUNY SPS for my BS in Business.
I've always been a freelancer and volunteer; however, I currently work for the New York State Unified Court System as a Senior Court Office Assistant. I see this job as my funding stream. Previously, I worked as an after-school teacher, which was the last push I needed to inspire my business, Brooklyn Multi-Service Community Center, Corp. (BkMSCC), of which I'm the Founder and President. I do a lot there. I create, prepare, budget for, host, and conduct entrepreneurship workshops and development seminars. I research properties, notarize documents, prepare agendas, and facilitate board meetings. I run the company's social media pages and website, write and send letters for funding, and apply for grants. I motivate and maintain standards. The work requires a lot of time spent on writing, but I come up with new systems and documents to make everyone's job easier and more efficient while building a foundation for the organization.
What is the most gratifying aspect of your job? What is the most difficult aspect?
When it comes to BkMSCC, I love seeing what we have become. The idea for BkMSCC started from a goal book and personal notes, but quickly came to life with the help of BkMSCC's original Board and family (Latywonna, Leona, Stacey, & Leslie). We're now at a place where we make an impact on the lives and decisions of our neighborhood and its residents.
The most difficult aspect of my job is working with minimal resources and even shorter lead times. I have to get creative with some projects, but always know that where there's a will there's a way. Sometimes I'm hard on my Board because I strive for everyone to share my drive and motivation, which can be very challenging. Finding the balance between work, life, time, stress, and positivity, while coming up with a way to make everything outside of those factors fall into place, can be overwhelming at times.
When/how did you conceive the idea for BkMSCC? At what moment in your life did you decide to become an entrepreneur?
I was born a natural philanthropist and serial entrepreneur. I cannot think of a time I wasn't forming ideas or dance groups with my family. However, in 2010, I got into the modeling, acting, and entertainment world. I managed a musical artist and other models before starting my other business, Vive Entertainment Enterprises. My initial goal was to teach different forms of art in neighboring schools, but didn't know how at that time. In 2012, my cousin appointed me as VP of his company, Made Capital Corp (connected with Made Motivation). In addition to my role at Made, I helped other people form companies. I am usually the person people go to for questions and help, so I had some practice by the time BkMSCC was created.
BkMSCC was developed while I was working at the after-school program, where I taught my students entrepreneurship skills, empathy, and tolerance, and helped them with their homework. I began discussing my ideas with an after-school coworker about the ways we could provide an outlet and promote sustainability to those in East New York through free events and workshops. Similarly, she expressed interest in helping the community by starting a company similar to Access-A-Ride. We agreed that our neighborhood lacked a main community center, so we decided to merge our efforts and form a center that has a garage for her business and a space for mine (BkMSCC). This center is still in the works.
How does BkMSCC differentiate itself from other nonprofit organizations in the Brooklyn/New York City area? What void has it filled in the community?
BkMSCC's mission is to provide services and education to those of the community, while instilling morals, creating better community members, and bridging the generation gap. Using our knowledge and resources, we will help and enhance the community through creative, upbeat, and unique programs, events, and workshops. We will allow for partnerships and collaborations with local government, individuals, and organizations in order to build a sustainable community.
BkMSCC is different in that we strive to be more accessible and approachable than other nonprofits. The people of the community know us and we know them. Next year, we hope to introduce our mobile classroom, which will also be used to hold our items when we run clothing, food, and toy drives. BkMSCC also collaborates with other nonprofits as a goal to unify the neighborhood. We believe in accountability; we want to connect with individuals and be there for them every step of the way.
What were some of the challenges you faced when developing BkMSCC? At what point did you have your "aha!" moment; a moment you knew that all the hard work would be worth it?
One of the main challenges we faced and still face is to get a "state-of-the-art" community center in our neighborhood that would unify nonprofit organizations and individuals. Many times, we were given the cold shoulder when reaching out to politicians who told us to ask elsewhere. In 2016, after conducting many of our grassroots initiatives, we saw a re-redo of the rezoning in my neighborhood, which held a plan to include a center and discretionary funds of $60 million. The information was bittersweet. We would finally get a "state-of-the-art" center in East New York, but I felt betrayed by the politicians in my neighborhood, many of whom we knew directly. It was discouraging; however, I knew our efforts were being seen and heard.
My "aha!" moment came when I first taught the "How to Start a Business" seminar, which gave me the opportunity to share my knowledge and experiences in a structured way. The attendance numbers were impressive but not as much as the stories told from the individuals and guest presenters from local businesses and start-ups. The feedback was also awesome. They were grateful for the forum and wanted more. It was the first forum of its kind, especially in my neighborhood. My second "aha!" moment came when we received a support letter from the Brooklyn Borough President for our walk, which can be read on our site.
In which ways have you and your business grown over the past two years?
BkMSCC started in 2015 and incorporated in 2016. We are new but have grown exponentially, especially in terms of collaborating with the community (including the FDNY and NYPD) and schools on events. We now have more volunteers and interest for our programs and seminars. We now have contracts for our business services and have two Brooklyn Public Library Friends Groups -- one in ENY and one in Brownsville. We hold ourselves more accountable and do not use words like "maybe," "try," or "I do not know," which are too indecisive and leave everyone in confusion or in a state of procrastination.
Where do you see BkMSCC in two, five, ten years?
In two years I hope to be stationed in a few neighborhood schools, including that of Brownsville and Bushwick; provide ongoing mentorship, workshops, and curriculums; and obtain funding and a constant revenue stream. In five years, I hope to have our mobile classroom. I envision us stopping in the middle of the park and allowing people to come to us while we teach something. In 10 years, we will expand throughout Brooklyn, have millions of dollars in funding, help many lives, have people return to BkMSCC as staff or mentors, and have our neighborhood community center.
Why did you decide to enter BkMSCC in the NYS Business Plan Competition? Can you provide some insight into your experience in the competition?
By the second time I saw the ad I felt it would be a great decision. I hoped they would see my passion and want to help my community. I entered in order to get help with my business plan, to obtain start-up funding, and connect with those who would know where and how to find assistance.
What motivated you to finish your bachelor's degree at CUNY SPS? Why the online BS in Business program?
I wanted to go back to school to learn how to run BkMSCC better. I did not want to take on a role as President prior to getting formal knowledge. I wanted to be an asset to my team and the company. I had to find a school where I could balance my day-to-day operation and my 9-5 job; a school that was versatile, accredited, inexpensive, accepts prior learning as credit, and helpful. I researched several schools and spoke to many counselors before finding CUNY SPS. After graduation, I hope to obtain my master's degree and doctorate in either communications or something more focused on community efforts.
What's life like as an online student? Did you ever think you would enroll in an online program?
I NEVER thought I would do a FULLY online program. I have taken classes online with CUNY City Tech, but that was it. There is a stigma around online learning, like it isn't challenging or recognized by other people or institution, which couldn't be farther from the truth. It's very hard to balance school and life. As a student, you have to be very responsible. The New Student Orientation helped me set a schedule, but I have to make sure I stay on top of things. Online students are in charge of their learning and must be comfortable with technology. It's best to make sure you have a plan in case of emergencies or optional places to learn and do your assignments. While at work, I listen to webinars and instructions, type papers, etc. My best advice is to time everything wisely and plan ahead.
What kind of impact do you think your degree will have on your career/life?
The classes I'm currently taking have already impacted my life. I take what I learn or re-learn back to the BkMSCC Board. I also ideate on future plans and businesses I want to pursue. I believe my degree will serve as a stepping-stone for more learning opportunities. My journey in the business program will offer me experiences, networks, and knowledge that will position me to compete in today's world, not just in business.
What's the greatest piece of advice you've received while at CUNY SPS so far?
Before the NYS Business Plan competition, my best advice would have been to have a written schedule and physically check off your accomplishments, which is what I did with my goal book. After the competition, I had a conversation with Dr. Helft and another student, after the judges made their decision. I was surprised that I did not place. I believed my presentation went well and the idea was rock solid, but of course, nothing is perfect. I expressed that maybe I should remodel my plan, but Dr. Helft told me that wasn't the case; that East New York needs me and BkMSCC. Her words were the reassurance that I needed. I knew that I was going to continue, but sometimes you need motivation from those outside looking in. After all that, I would say that the best advice I received was to keep pursuing my dreams.
What advice would you offer someone considering applying for admission to your program? What advice can you offer someone who is juggling work and school?
If you believe you can do something, DO IT. If you want to pursue a certain degree, DO IT. Do not listen to naysayers or people who want to plan your life for YOU.
Before enrolling in classes, see if you can take advantage of Prior Learning Assessment (PLA). There are written portfolios you can make, tests (like CLEP) you can take, and certifications you can use that can add credit to your transcript and help move you forward.
What does your future look like after CUNY SPS?
I want to continue to blog. I want to offer internships to students through BkMSCC. I want to finish my BS in Business and continue my education with CUNY SPS. I want to visit forums, provide mentorship, and connect with staff and students. I want to use the resources available to me to help me personally and professionally, help those that may need it at the same time.