You are here
MA in Museum Studies FAQ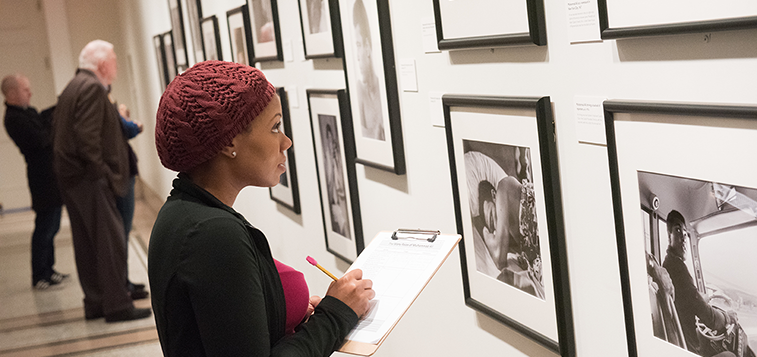 Thank you for your interest in the Master of Arts in Museum Studies program. We have compiled some of the most frequently asked questions about the program. If you still have questions, please contact us at museumstudies@sps.cuny.edu.
How many total credits does the program require?
The Master of Arts in Museum Studies requires students complete 30 credits successfully to graduate. See the table below for a break down.
| | | |
| --- | --- | --- |
| Total | 9 courses | 30 credits |
| Required | 5 courses | 18 credits |
| Elective | 4 courses | 12 credits |
What are the prerequisites for the program?
There are no prerequisites beyond what we now have listed, notably a bachelor's degree, a 3.0 GPA, transcripts from all the institutions you have attended, and a letter of recommendation.
Do I have to take the GRE?
Applicants do need to take the GRE or any other standardized test.
What classes are being offered?
For Fall 2019, we are offering the following courses:
MST 600 - History and Theory of Museums (4 Credits) Required
MST 630 - Museum Administration, Finance, and the Law (3 Credits) Required
DSAB 605 - Disability and Diversity (3 Credits) Elective
MST 644 - The Art and Material Culture of the New York Historical Society (3 Credits) Elective
The full curriculum (including descriptions of each of these courses) can be found in the Catalog.
Do any classes ever meet face-to-face?
The program is fully online. This does not mean that students will never have the opportunity, just that it is not a required part of courses.
How long will it take to finish?
That depends on the individual. Students who take two classes during each fall and spring semester and one summer course can complete the program in two-years. Most students choose to take longer.
What about transfer credits?
A maximum of 12 graduate level credits can be considered for transfer. Typically far fewer credits actually qualify. The courses you may want to transfer must reflect the existing curriculum so look at the list of courses. Transfer credits are evaluated on an individual basis and you will need to submit syllabi in addition to transcripts that you will have submitted.
Do you give credit for experience?
It is difficult to accurately and consistently map work experience onto specific courses, so the short answer is no. However, your work experience is considered as part of your application and applications are considered as a whole. When you are writing your personal statement consider highlighting the work experience you want to stand out.
Is financial aid available?
Financial aid is largely limited to loans at the graduate level. Our financial aid counselors work with students to combine federal and state funds, scholarships, grants, loans, or Veterans benefits to help pay for their education.
We do have a dedicated scholarship program available. On behalf of the New-York Historical Society, the Museum Studies scholarship is made available to students admitted as part of the program's first cohort and to provide support to students who are from under-represented groups or can demonstrate a commitment to diversity.
Additional information about applying is available on our program page and the SPS scholarship page.
How do I apply?