CUNY SPS Honors Financial Aid Awareness Month with Tips for Our Students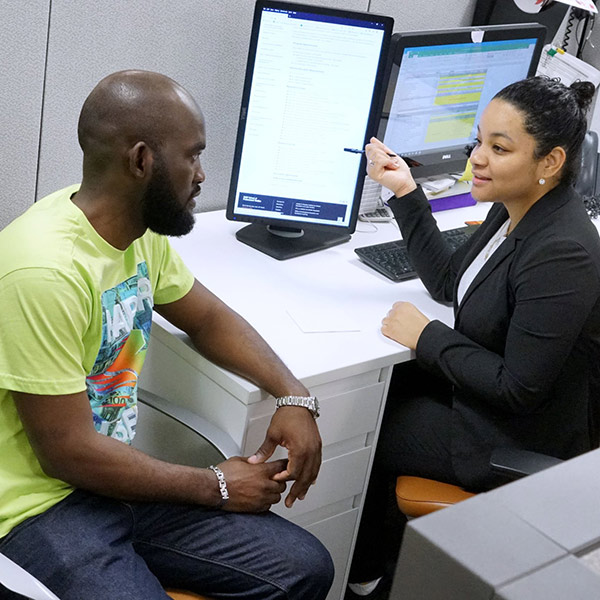 February is Financial Aid Awareness Month, and the CUNY School of Professional Studies (CUNY SPS) is excited to celebrate this important occasion in which the higher education community provides crucial information to students and their families about access to federal, state, and institutional student aid.
CUNY SPS is aware that earning an undergraduate or graduate degree can be expensive. As part of our mission to provide affordable high-quality educational programs for adults, we have one of the lowest tuition rates in the nation. However, we recognize that costs can still add up, and our Office of Financial Aid and Office of Scholarships work closely with our students to inform and advise them on what financial aid opportunities may be available.
In honor of Financial Aid Awareness Month, the CUNY SPS Office of Financial Aid and Office of Scholarships would like to share some of the best advice we give students as they embark upon the financial aid process.
1. File Your FAFSA (and TAP application) Every Year
Most students rely on some federal and state support—offered in the form of aid packages, loans, and grants—to pay for school. In order to determine their eligibility for this federal and state aid, students must file the FAFSA (Free Application for Federal Student Aid).
The single most important tip we like to give students is to file their FAFSA! (And make sure they file a new one for each year they attend school.)
The FAFSA is important not only because it determines whether the student receives federal aid, it will also determine their eligibility for federal student loans. Many state governments and some colleges and universities also use information from the FAFSA as well to determine what other aid students may qualify for.
We also urge undergraduate students or their parents who are New York State residents to complete the New York State TAP (Tuition Assistance Program) application, which will determine their eligibility for state financial aid. This form can be filed directly after completing the FAFSA online. To be eligible for the TAP grant, undergraduate students must be planning to enroll full time (12 credits/semester). Part-time students (6-11 credits/semester) may qualify for an Aid for Part-Time Study (APTS) grant. To be considered, please be sure to complete a supplemental form in CUNYfirst.
Keep in mind:
The FAFSA can be filed online by visiting www.fafsa.ed.gov or by downloading the U.S. Department of Education app myStudentAid, available on the App Store or Google Play. The application is free and takes about 25 minutes to complete.
Each year, the FAFSA application opens on October 1st for the upcoming school year and closes on June 30 of that school year. (For example, students seeking federal aid for the 2020-2021 school year can apply anytime between October 1, 2019 and June 30, 2021). We encourage all students to apply as soon as possible after October 1st in the prior year because certain kinds of aid, like federal work-study and some state and institutional grants and scholarships, is awarded to students who apply the earliest. (The FAFSA only requires tax returns from 2 years prior, so there is no need to wait until the current year to apply.)
When filing your FAFSA, please be careful to choose the correct school year on your application. For example, if you're filing for the fall 2020 semester, the correct FAFSA year is the 2020-2021 school year.
For more information, visit the FAFSA website and the New York State Higher Education Services Corporation.
2. Look for What's Free
In addition to federal and state aid packages, many students cover their educational costs with loans, grants, and scholarships.
At CUNY SPS, we always encourage students to spend some time researching free forms of aid that, unlike loans, will not have to be paid back after they complete school. Our website provides extensive information on grants, scholarships, and other free financial assistance available to students. We also offer detailed information at the Office of Scholarships.
Undergraduate students have access to a wide variety of grants and scholarship opportunities. They may be eligible for federal grants (including PELL and SEOG), state grants, and scholarships offered through CUNY SPS, the CUNY system, and externally.
Graduate students and those enrolled in certificate/non-degree programs may be eligible for tuition vouchers or reimbursements offered by their employers, unions, and city agencies, as well as CUNY SPS scholarships and external ones.
Veterans and active military students in both undergraduate and graduate programs may qualify for a number of scholarship and grant opportunities.
Keep in mind:
Many of the applications for CUNY SPS scholarships available this spring open this month. You can apply for many of the institutional scholarships online and monitor your application to-do lists in CUNYfirst.
We encourage you to apply today!
3. Ask for Help
The CUNY SPS Office of Financial Aid and the Office of Scholarships are here to help our students figure out the best ways to pay for school. Contact us to learn more about the financial aid opportunities out there and make an appointment with our counselors to develop a customized plan for your education. We look forward to seeing you soon!
Office of Financial Aid
119 West 31 Street, 1st Floor
Monday - Friday: 9:00 am - 5:00 pm
Office: (646) 664-8720
Fax: (646) 664-8722
financialaid@sps.cuny.edu
Office of Scholarships
119 West 31 Street, 10th Floor
New York, NY 10001
Office: (646) 664-8535
Fax: (646) 664-8722
scholarships@sps.cuny.edu
About the CUNY School of Professional Studies
Home to the first fully online degree programs at the City University of New York, the CUNY School of Professional Studies (CUNY SPS) provides online and on campus programs that meet the needs of adults who are looking to finish a bachelor's degree, earn a master's degree or certificate in a specialized field, advance in the workplace, or change careers.
The School's growth has been remarkable. Launching twenty-three degrees since 2006, enrollment has risen by more than 30% in the last four years to over 3,700 students in the credit-bearing programs. We serve thousands more who are enrolled in our non-degree and grant funded workforce development programs. In addition, the School has an active Alumni network and established the CUNY SPS Foundation, which offers multiple scholarship opportunities to our current students.
Affirming our role as a leader in online education, CUNY SPS was ranked in the top 5% of U.S. News & World Report's list of the 2020 Best Online Bachelor's Degree Programs, making CUNY SPS the highest nationally listed program in New York State and New York City.
Press Contact:
Andrea Fagon
Director of Marketing and Communications
andrea.fagon@cuny.edu
(646) 664-8690