You are here
CUNY SPS COVID Guidelines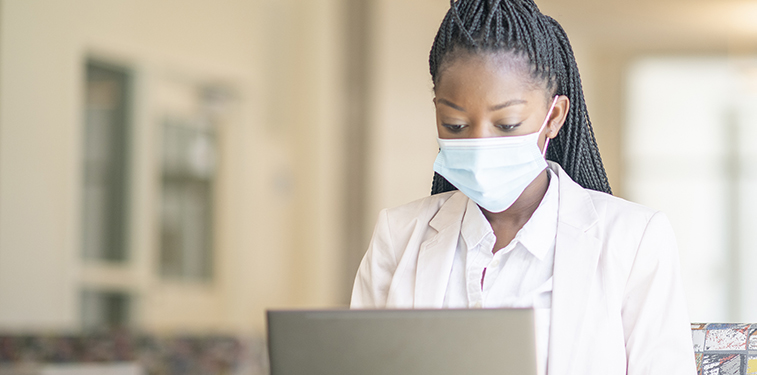 // Check if we have a right sidebar. ?>
1.0 Introduction
CUNY remains dedicated to providing a safe and healthy environment for our students, faculty and staff for the Fall 2022 semester. We continue to adhere to the latest CDC guidance and any requirements from New York State and New York City.
2.0 Self-Monitoring
All persons will monitor themselves for COVID-19 symptoms. Anyone experiencing any COVID-19 symptoms must not report to campus. CUNY safeCircle testing sites should not be used if you have symptoms. Students will notify their instructors. Faculty and staff will immediately notify their supervisors and contact the Office of Human Resources (Kristin.Maynard@cuny.edu, Takisha.Folade@cuny.edu) for sick leave policies and the Coronavirus Liaison (Washington.Hernandez@cuny.edu) for coronavirus policy and procedures.
Common symptoms are:
Fever or chills
Sore Throat
Cough
Congestion or runny nose
New loss of taste or smell
Nausea or vomiting
Fatigue
Diarrhea
Muscle or body aches
Headache
3.0 Vaccination and Booster Requirements
Students:
All new students coming to campus for the first time for in-person and hybrid courses, or any other on-campus activities will be required to submit proof of vaccination, unless a religious or medical exemption has been submitted and approved. Students must upload proof of being fully-vaccinated prior to the start of classes for the fall term. A person is considered fully vaccinated:
Two weeks after their second dose in a 2-dose series, such as Pfizer or Moderna or;
Two weeks after a single dose vaccine such as Johnson & Johnson (J&J),or;
At the time specified in either in the FDA licensure or World Health Organization (WHO) approval, after the final vaccination of any other vaccines
Additionally, students are strongly encouraged to receive vaccine boosters, once eligible.
For more information about CUNY's coronavirus vaccination efforts, visit https://www.cuny.edu/coronavirus/.
Faculty and Staff:
All full and part-time faculty and all non-teaching instructional staff (which includes among others, NTAs, CLTs, CAs, and those in the HEO series), and personnel in the Executive Compensation Plan must be fully vaccinated in order to remain employed by the University, unless granted a religious exception, medical exemption or a reasonable accommodation. Please contact the Human Resources office if you wish to request an exception, exemption or reasonable accommodation.
Booster Eligibility:
Those 18 and older are eligible for a booster shot at 5 months after the completion of two dose regimen of Pfizer, 5 months after the completion of two dose regimen of Moderna or 2 months after the Johnson and Johnson (J&J) shot. The Pfizer or Moderna booster is preferred in most situations.
Those 12-17 year olds who initially received the Pfizer two dose regimen are eligible for a Pfizer booster 5 months after completing the regimen.
Those 12 and older 5 months after the completion of a WHO-approved vaccine that is not authorized by the FDA, or 5 months after completion of a mix and match series of WHO-approved and FDA approved/authorized vaccines.
Note: Individuals who received a World Health Organization (WHO) approved vaccination other than the three listed above must provide more information. Students can reach out to your Campus Location Vaccination Authority (LVA) for details.
CUNY SPS strongly encourages all members of its community to be vaccinated against the COVID-19 virus. Vaccinations provide protection against the more serious virus symptoms and help to reduce the amount of infection in the community.
4.0 Masks
At this time, CUNY will not require face masks during the fall semester.
Anyone who would like to continue wearing masks in any setting is welcome to do so at any time. Masks will continue to be available on campus and offices.
Faculty, staff and students who are still not vaccinated are urged to continue to wear a mask. Mask requirements associated with isolation and quarantine as referenced later in these guidelines remain in effect.
Those who choose to wear a mask should continue to follow CDC guidance on acceptable face coverings.
Note, campuses may still require employees to wear protective PPE masks due to the nature of their work. Employers must comply with all applicable OSHA standards.
5.0 Visitor Policy
CUNY will no longer require a proof of vaccine or recent negative test for visitors. CUNY's campuses and buildings should return to their standard protocols for visitors.
6.0 Isolation and Quarantine
CUNY continues to follow the latest CDC guidance on isolation and exposure. Any students, staff or faculty who test positive with COVID-19 or are exposed to someone with COVID-19 must follow these guidelines, as outlined below, prior to returning to campus.
If You Test Positive for COVID-19
If you test positive for COVID-19, stay home for at least 5 days and isolate from others in your home.
If you had no symptoms, you may end isolation after 5 days
If you had mild symptoms, end isolation after 5 days if you have been fever free for 24 hours (without medication) and other symptoms are improving

If symptoms are not improving, continue to isolate until you are fever free for at least 24 hours and symptoms improve

If you had moderate symptoms (shortness of breath or difficulty breathing) you should isolate for 10 days
If you had severe symptoms (hospitalization), isolate for 10 days and consult your doctor; you may need a viral test before ending isolation
Removing your mask
If you have ended isolation and are feeling better, you may remove your masks after 10 days.
With two sequential negative antigen tests 48 hours apart, you may remove your mask sooner than day 10.
If your antigen test results are positive, you may still be infectious. You should continue wearing a mask and wait at least 48 hours before taking another test. Continue taking antigen tests at least 48 hours apart until you have two sequential negative results. This may mean you need to continue wearing a mask and testing beyond day 10.
Free, at-home rapid tests are provided by New York City. Use NYC COVID-19 Test Site Finder and COVID 19 Testing Sites - NYC Health + Hospitals (nychealthandhospitals.org) to find a test near you.
After you have ended isolation, if your COVID-19 symptoms recur or worsen, restart your isolation at day 0. Talk to a healthcare provider if you have questions about your symptoms or when to end isolation.
If You Were Exposed to Someone with COVID-19
Everyone, regardless of vaccination status:
You do not need to quarantine
Take precautions for 10 full days

Wear a high-quality mask; avoid situations where you cannot wear a mask
Monitor for symptoms; if you develop symptoms, isolate immediately, get tested and stay home until you know the result

Get tested at least 5 days after your close contact (the date of your exposure is considered day 0); if you test positive, stay home and isolate per guidelines above
If your exposure is from someone you live with, you should reach out to your Campus Coronavirus Liaison
If you develop symptoms, get a test, stay home and follow the isolation guidelines above
7.0 Contact Tracing
CUNY will continue to aid in the identification of exposures, and notify close contacts, as appropriate, of exposure as soon as possible after being notified that someone in the campus has tested positive or been diagnosed with COVID-19.
CDC Guidance that CUNY and Campuses will continue to follow:
As soon as possible after they are notified that someone has tested positive for or been diagnosed with COVID-19, campuses should notify close contacts of exposure, in accordance with applicable privacy and other laws.
Individuals who test positive for COVID-19 or have COVID-19 symptoms should isolate and notify their close contacts that they may have been exposed to COVID-19 and refer close contacts to the state or local health department website to learn about the steps they should take because of the exposure.
8.0 Testing
For more information about CUNY's COVID-19 testing program, please see the Testing FAQ. For a list of testing locations, visit here. For general frequently asked questions, please refer to the Getting Back to Working in Person FAQ. If you still have questions, please contact our HR office.
CUNY will continue its testing program using various testing models for the safety and convenience of the CUNY community.
All students are encouraged to test before returning to campus
Weekly testing will continue for those who are unvaccinated
Overall random testing of 5% of the on-campus population; participation in the random surveillance testing is mandatory and failure to participate will result in the removal of the individual's Cleared4 access pass to CUNY spaces
To facilitate testing for required medical clearance to return to campus, tests will continue to be accepted from non-CUNY testing providers as well as from CUNY safeCircle test sites. Testing to return to campus should only be done at CUNY safeCircle test sites when you are symptom free to protect you and others in the CUNY community. If you are recovering from COVID-19, you should not get tested until you have completed your isolation requirements and are symptom free. If you are experiencing symptoms of COVID-19, we encourage you to visit a public testing site near your home or use an at-home test kit. Rapid tests will be available for approved screening circumstances when unanticipated entry to campus is required. The rapid tests will be distributed to CUNY testing sites and to selected locations on campus and will be tracked through the testing system for inventory and usage management.
9.0 Metrics and Early Warning
CUNY will continue to monitor campus and community infection rates. CUNY Central Office will consult with campus leadership to determine the best course of action for additional safety protocols or scaling back campus activity, if necessary. Any decisions on shutting down particular buildings/areas within campuses, individual campuses, or multiple campuses, as appropriate, will be made by the Chancellery/COO's Office in consultation with local/State authorities.
Campuses must have a shutdown plan in place to respond rapidly. Campuses should rely on previously developed shutdown plans and consult the Reclosing Protocols: CUNY's Guide for Safely Closing On-Campus Operations, for additional information on criteria for shutdown and shutdown protocols.
10.0 Physical Distancing
Due to breakthrough infections and high levels of immunity, the CDC recommendations no longer differentiate between vaccinated and unvaccinated individuals. In application, this means unvaccinated individuals are no longer recommended to maintain 6-feet distancing or quarantine after a recent exposure.
11.0 Engineering Controls
Since COVID-19 spreads in the air, infection risk is higher in poorly ventilated spaces. Proper ventilation and filtration are important for preventing the spread of pathogens such as the COVID-19 virus.
In order to ensure that occupied areas are properly ventilated, CUNY SPS will work with its vendors, building managers, and building superintendents to:
Ensure that all ventilation systems are operating properly.
Maximize the amount of outside air used by ventilation systems.
Open windows as permissible by weather conditions.
Maximize air exchanges per hour.
Upgrade filters to safest and highest mechanically permissible rating (currently MERV 13).
Schedule HVAC operation to begin two hours before building occupancy.
Maintain a regular and frequent cleaning and maintenance schedule of HVAC equipment.
Deploy HEPA filters as required.
12.0 Cleaning and Disinfection of Workspaces and High-Touch Surfaces
We will continue our schedule of frequent daily cleaning and disinfection of workspaces and common areas, with a focus on high-touch surfaces. In the common areas, high touch surfaces (doorknobs, elevator buttons, pantry counter tops, tables, microwaves, water fountains, vending machine buttons, etc.) are cleaned and disinfected a minimum of once a day, and up to four times a day for high traffic areas. Restrooms are cleaned, sanitized, and restocked at least twice a day. The campus operations custodial team uses EPA approved disinfectants for use against COVID-19.
Campus Operations manages a daily cleaning log indicating each workspace that has been cleaned and disinfected and each workspace that is scheduled to be cleaned and disinfected. This log will continue to be utilized during all phases of reopening. Additionally, logs of all bathroom cleanings will be kept by campus operations. The director of campus operations will provide regular updates to the coronavirus coordinator about the cleaning regimen in place at the campus. Campus community members can report any issues with cleanliness using the online facility management portal or by notifying the administrative superintendent, Nigel Thomas (nigel.thomas@cuny.edu).
13.0 Isolation Room Operations
If a student, faculty, staff member, or visitor reporting to the campus is displaying COVID-19 symptoms, they will be immediately separated from other persons on campus. The affected individual will be moved to a designated isolation room (Room 103 at 119 West 31st Street). The isolation rooms are equipped with personal protective equipment for the affected individual, Public Safety, and any campus staff providing assistance. Public Safety and the campus coronavirus coordinator will help the affected individual make arrangements to return home. If the affected individual's symptoms are too severe and they require transport to a health facility, the campus coronavirus coordinator or their designee, working with Public Safety, will arrange for ambulance transport.
14.0 Travel
All individuals should follow the CDC domestic travel recommendations and international travel recommendations before reporting to work or campus and notify their manager in advance of the travel dates and should quarantine be required.
Any students, faculty or staff engaging in official travel on behalf of CUNY must follow the latest approval requirements for domestic and international travel.
15.0 Coronavirus Contacts
Coronavirus Coordinator:
Washington R. Hernández, Associate Dean for Administration and Finance
washington.hernandez@cuny.edu, (646) 664-8585
RF CUNY Coronavirus Contact:
Amy Perez, Executive Director, Professional Education and Workplace Learning
amy.perez@cuny.edu, (646) 664-8646
Coronavirus Liaison:
Washington R. Hernández, Associate Dean for Administration and Finance
washington.hernandez@cuny.edu, (646) 664-8585
Coronavirus Liaison (Backup):
Takisha Folade, HR Manager
takisha.folade@cuny.edu, (646) 664-8686
Coronavirus HR Point of Contact:
K. Maynard, HR Director
kristin.maynard@cuny.edu, (646) 664-8680
Coronavirus HR Point of Contact (Backup):
Takisha Folade, HR Manager
takisha.folade@cuny.edu, (646) 664-8686
Student Coronavirus Coordinator
Jennifer Grace Lee, Associate Dean of Enrollment Management and Student Services
jennifer.gracelee@cuny.edu, (646) 664-8571
SCP Admin/Technical Point of Contact:
Bronwen Stine, Assistant Dean of Information Technology
bronwen.stine@cuny.edu, (646) 664-8586
SCP/Technical Point of Contact (Backup):
Serge Cherestal, Senior Systems Administrator
serge.cherestal@cuny.edu, (646) 664-8598