You are here
Youseph Karzoan
Advanced Certificate in Management
Class of 2019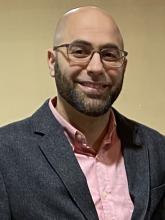 "CUNY SPS influenced my career by enabling me to become a better communicator and manager at my law firm."
Why did you choose CUNY SPS?
CUNY SPS offered the best programs and flexibility for students with a full-time job.
What most appealed to you about your CUNY SPS program?
The Advanced Certificate in Management program has graduate-level courses without the commitment and cost of a graduate degree program.
How did you find your online/classroom interaction with other students? With faculty?
Amazing! I was exposed to students and faculty from diverse career backgrounds who all wanted to become managers or better managers.
What were some of the most defining aspects of your time at CUNY SPS?
The class group projects are based on the course material. They were a very practical and fun way of expressing what we learned during the semester.
What is the most important thing you learned at CUNY SPS?
I learned how to analyze and evaluate organizations/workplaces and their management systems. Additionally, I now know the qualities of what it takes to be an effective manager/leader.
How has your CUNY SPS influenced your current job, and your career overall?
It has enabled me to become a better communicator and manager at my law firm.
What is the most rewarding aspect of your job?
Litigation keeps you on your toes. No two cases are the same.
Where do you see yourself in five years?
Paralegal Manager
OUTSIDE THE CLASSROOM
Favorite sports? Favorite team? I love all sports but football the most. NY GIANTS
Favorite movie or TV show of all time? Lean on Me
Netflix, Hulu, Cable, all three, neither? I don't watch as much TV anymore but cable (I'm old school lol) News and sports
Favorite NYC attraction or cultural institution? High Line
Favorite music artist/band? KRS-One
Facebook, Twitter, Instagram, LinkedIn, none, all? Facebook and LinkedIn
Book or e-reader? Favorite or most recent book you read? Book, The Kite Runner by Khaled Hosseini