You are here
Vincent Oliver
BA in Communication and Culture (now BA in Communication and Media)
Class of 2010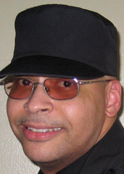 "CUNY SPS offered the very type of study program through which I was able to redirect my academic focus with marked independence and self-motivated study, and did so without compromising work or other activities with which I was involved."
A native of the Bronx, Vincent Oliver's first love and life began in the theatre. As a high school graduate of the Fiorello H. LaGuardia School of Performing Arts, he engaged in the professional study of acting and theatre. During subsequent years as a young adult, Vincent participated in various theatre organizations, arts activities and majored in theatre at Herbert H. Lehman College's Theatre Department. Vincent's theatre degree from Lehman did not materialize as he originally envisioned, so Mr. Oliver discontinued his studies in order to rethink and redirect his academic focus.
While solidifying his interests, Vincent worked with the New York City Law Department in various capacities but primarily as a Paralegal and Investigator with an enthusiastic, independently taught and motivated interest in Information Technology. Vincent's independent and motivated style made CUNY SPS a great fit for him and enabled him to receive a BA in Communication and Culture online.
Vincent now works as a Litigation Support Analyst with the department's Litigation Support Division. He intends to attend graduate school to obtain an advanced degree in a practical area paving the way for new academic pursuits. Vincent will continue with his current employer, the New York City Law Department, being that it also fosters a great environment in which to learn those things relevant to its primary practice and mission.