You are here
Tyler McCormick
MA in Youth Studies
Class of 2018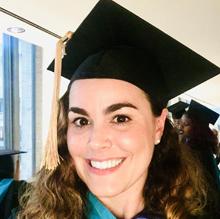 "My time with CUNY SPS reinforced my love for this work, and the importance of developing a praxis to elevate youth development more broadly."
Why did you choose CUNY SPS?
I chose CUNY SPS because it is one of the only schools with a Master's program focused on youth development.
What most appealed to you about your CUNY SPS program?
I was drawn to the program's social justice lens and deep commitment to practitioner research.
How did you find your online/classroom interaction with other students? With faculty?
Classes were hands-on and provoked compelling discussions among faculty and students. I developed close relationships with my cohort and faculty, who remain important members of my personal and professional network.
What were some of the most defining aspects of your time at CUNY SPS?
My time at CUNY SPS allowed me to hone my writing skills and engage in critical research that continues to inform my work.
What is the most important thing you learned at CUNY SPS?
I learned to question what I think I "know," and to always place young people at the center of my work.
How has your CUNY SPS influenced your current job, and your career overall?
I currently work with the Youth Development Institute (YDI) where I'm a part of the Innovation and Strategy team. We work to support local and national partners to build cultures of transformational leadership rooted in positive youth development practices. My time with CUNY SPS reinforced my love for this work, and the importance of developing a praxis to elevate youth development more broadly.
What is the most rewarding aspect of your job?
I love being a part of systems-change work and building relationships with other youth development practitioners.
Where do you see yourself in five years?
In the next five years, I hope to be pursuing my doctorate and continuing to build coalitions for change with youth development practitioners and young people in New York City.
Outside the Classroom
Favorite sports? Favorite team? I love football. I don't have a favorite team, but I enjoy a good Sunday game.
Favorite movie or TV show of all time? I enjoy a good western, and Tombstone is one of those movies I could watch again and again.
Netflix, Hulu, Cable, all three, neither? Netflix.
Favorite NYC attraction or cultural institution? As a Southern California native, I miss the sand and sea of the west coast, but I've fallen in love with New York City's green spaces. I love Prospect Park, and Socrates Sculpture garden has a bit of magic, as well.
Favorite music artist/band? It's too hard to select just one genre of music or artist, but my go-to of late has been George Gershwin's "Rhapsody in Blue" or anything by Billie Eilish.
Facebook, Twitter, Instagram, LinkedIn, none, all? None
Book or e-reader? Favorite or most recent book you read? Book, hands down. I have so many favorite books, but the novel that first inspired my love of reading was Jane Eyre.