You are here
Tyerence Brown
BS in Business Alumnus and Current MS in Business Management and Leadership Student
Class of 2016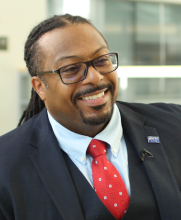 "My CUNY SPS degree gave me greater confidence, understanding about ways to succeed, and how to maximize team-building to accomplish organizational goals."
Why did you choose CUNY SPS?
I chose CUNY SPS to further my academic learning and advance my career path in banking and finance.
What most appealed to you about your CUNY SPS program?
The greatest appeal was the mix of a talented faculty from within CUNY and throughout the nation.
How did you find your online/classroom interaction with other students? With faculty?
I found my online interaction with other students and faculty quite rewarding, informative, and engaging.
What were some of the most defining aspects of your time at CUNY SPS?
Coming to realize you are never too old or too busy to learn and to grow as a person and as a leader.
What is the most important thing you learned at CUNY SPS?
The most important thing I learned at CUNY SPS is recognizing it takes a team to succeed in life. Trying to go it alone is often quite costly an endeavor.
How has your CUNY SPS influenced your current job, and your career overall?
My CUNY SPS degree gave me greater confidence, understanding about ways to succeed, and how to maximize team-building to accomplish organizational goals.
What is the most rewarding aspect of your job?
The most rewarding aspect of my job is leading a diverse team of business professionals to achieve our business objectives.
Where do you see yourself in five years?
In five years, I see myself having completed the MBA program I am interested in undertaking at Baruch College (Zicklin School of Business) and probably on course to acquiring a Juris Doctorate at New York Law School.
Outside the Classroom
Favorite sports? Favorite team? Basketball, football, bodybuilding, golf, billiards and motorcycle racing. San Francisco 49-ers.
Favorite movie or TV show of all time? The Good, the Bad and the Ugly
Netflix, Hulu, Cable, all three, neither? All three
Favorite NYC attraction or cultural institution? The New York Historical Society
Favorite music artist/band? Marvin Gaye, Patti LaBelle, and U2
Facebook, Twitter, Instagram, LinkedIn, none, all? All
Book or e-reader? Favorite or most recent book you read? My favorite book is Think and Grow Rich by Napoleon Hill, the most recent book I read is Me Before You by JoJo Moyes, and I prefer hardcover.