You are here
Toni Pennacchia
BS in Business
Class of 2010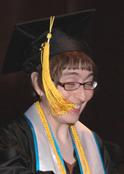 "Regardless of your situation, don't give up on what you have started. You owe this to yourself to complete this goal."
Toni Pennacchia was no stranger to online learning, so when she needed to finish her degree while working at the same time, she knew exactly what she was looking for in an academic program. Specifically, she wanted a program that offered flexibility, responsive advisors even from a distance, small class sizes, and a curriculum with a broad focus that would prove marketable in today's economy. To her satisfaction, Toni was able to get all that and more during her time as a student in the BS in Business program at CUNY SPS. She enjoyed a wide range of classes such as Business Negotiation, e-Commerce, and Business Law that provided her with business skills she was able to immediately apply to her professional and personal life. Toni's work in the Virtual Enterprise course allowed her to create a formal business plan and elevator pitch for MergingArts Productions, a series of film and music programs that she hosts and curates with her partner, which encouraged her to see the series as a sustainable business venture.
Now that she's completed her degree with CUNY SPS, Toni's hope is to continue to use her firsthand experience as an adult student to assist other students and faculty in the lifelong learning process, particularly in the online learning environment.