You are here
Steven Dupré
BA in Communication and Media
Class of 2014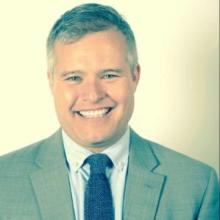 "As a working professional, finding a degree program that was malleable to an ever-shifting and demanding work schedule was the single most important criteria for me choosing CUNY SPS."
Why did you choose CUNY SPS?
As a working professional, finding a degree program that was malleable to an ever-shifting and demanding work schedule was the single most important criteria for me choosing CUNY SPS.
What most appealed to you about your CUNY SPS degree program?
What most appealed to me was the fact that CUNY is a reputable institution of higher learning and that a degree from CUNY SPS would open doors with prospective employers and academic institutions when applying for jobs and graduate school.
How did you find your online/classroom interaction with other students? With faculty?
At first, I found the format disorienting as my previous academic experience was in a traditional "brick and mortar" classroom. However, so much of the way we communicate with one another and learn about the world is online so it didn't take long to adjust. It's important to communicate as often as necessary when taking classes online. Never hesitate to ask questions. It's the only way to be successful.
What were some of the most defining aspects of your time at CUNY SPS?
While taking the Organizational Change and Leadership class with Professor Dianne Weinstein, I discovered my passion for the design and implementation of change management initiatives in organizations. This discovery inspired me to pursue a master's degree in organizational behavior and set me on a path toward a career in diversity & inclusion.
What is the most important thing you learned at CUNY SPS?
The most important thing that I learned at CUNY SPS was that I was not alone in my pursuit of a degree. I had the support of an amazing team of classmates, professors, and CUNY SPS staff. Being a non-traditional student at CUNY SPS is not only encouraged, it's embraced.
How has your CUNY SPS degree influenced your career?
Since earning a degree from CUNY SPS, I have established connections with CUNY SPS alumni and alumni of the broader CUNY system which have afforded me countless professional and personal opportunities to grow.
What is the most rewarding aspect of your job?
In my current role as a diversity recruiting programs manager, I have a unique opportunity to showcase the talent and experience of the non-traditional student. I take pride in championing the underrepresented and effecting positive change within my organization and beyond.
Where do you see yourself in five years?
In five years, I see myself continuing to work in the diversity & inclusion space. I recently relocated to the West Coast, a bastion of the technology and entertainment industries. One only needs to follow the news to know that both industries could benefit from a better defined strategy to be more inclusive and diverse.
Outside the Classroom
Giants, Jets, other, don't care? Knicks, Nets, other, don't care? Mets, Yankees, other, don't care? I am a Giants fan. However, the Giants I refer to are the San Francisco Giants. If I had to pick an East Coast team, I would go with the Nets. Brooklyn was home for a few years.
Favorite subway line? This one is easy, I love the A line because it runs the span of New York from the Financial District to Harlem. You can jump on and off at various points and feel like you've been around the world and back.
Grey's Anatomy, Scandal, both, neither? Neither. Give me a Netflix Original show.
Favorite NYC attraction? Favorite NYC cultural institution? The Metropolitan Museum of Art. So many stunning masterpieces under one roof. You can spend an entire day and still only see a fraction of what's available.
Biggie, Tupac, both, neither? Biggie Smalls.
Facebook, Twitter, Instagram, LinkedIn, none, all? Social media is part of my day-to-day work life. I couldn't get along without it.
Book or e-reader? Either works for me.