Neeroopa (Susan) Surendranath
BA in Communication and Culture
Class of 2008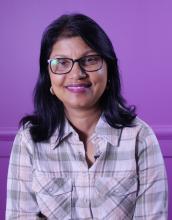 "Because I had a bachelor's degree from CUNY SPS, I was able to apply to an accelerated nursing program and complete my degree in 15 months."
Why did you choose CUNY SPS?
I choose CUNY SPS because it afforded me a flexible schedule. It was less costly than other colleges.
What most appealed to you about your CUNY SPS degree program?
I thought the program was very balanced in covering subjects that mattered in the communication and culture world, which also included subjects in the business world.
How did you find your online/classroom interaction with other students? With faculty?
My program was completely online and I found it very satisfactory. The faculty was always available via phone or in person if that was your choice.
What were some of the most defining aspects of your time at CUNY SPS?
I remembered talking to my professor in one of my Cultural Diversity classes for over an hour. She was guiding me through a project and I will always be grateful for her time and dedication. This showed that there are excellent professors at CUNY SPS who want to make sure students succeed.
What is the most important thing you learned at CUNY SPS?
The most important thing I learned is that you have to keep a schedule of doing your work. Don't leave things that you can do today for tomorrow because something can always come up and your work might be late. This is a life lesson.
How has your CUNY SPS degree influenced your career?
If not for my CUNY SPS degree I would not be where I am today. After acquiring my degree I got a job as a supervisor and from there I was promoted to manager and then again to assistant vice president to vice president at a major financial institution. After the 2008-2009 stock market crashed, I was laid off and had to find another job which was not so easy because so many other people were in my same situation. But because I had a bachelor's degree from CUNY SPS, I was able to apply to an accelerated nursing program and complete my degree in 15 months. This put me on a new and rewarding career path.
What is the most rewarding aspect of your job?
My present job affords me the opportunity to interact with people from all backgrounds and cultures. I love my job.
Where do you see yourself in five years?
I see myself doing nursing because it's a job I love.
---
Outside the Classroom
Favorite sports? I am a Giants, Jets, Knicks and Yankees fan
Favorite NYC cultural institution? The Highline, and the MOMA
Favorite artist/band? The Beatles and Mariah Carey
Facebook, Twitter, Instagram, LinkedIn, none, all? Facebook
Book or e-reader? Favorite title or the most recent title you read? Mostly magazine or newspaper, print copy