You are here
Michelle C. Pinedo
BS in Business
Class of 2013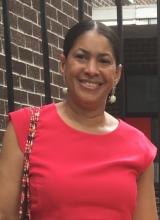 "…many years of work experience along with my bachelor's degree from CUNY SPS enabled me to attain executive level positions."
Why did you choose CUNY SPS?
I graduated with an AAS degree in accounting from BMCC and wanted to continue my academic career at CUNY. I had taken a few classes at Baruch but found it difficult to work a demanding job, go to classes, and tend to my family. I researched several online programs and found CUNY SPS was the best fit; I could continue my education at CUNY and have the flexibility of an online education.
What most appealed to you about your CUNY SPS degree program?
I didn't need to start over. I was able to transfer 90 credits from my previous schools. Additionally, the programs at CUNY SPS are tailored to adult students returning to college, so the maturity and experience of the other students were very appealing to me.
How did you find your online/classroom interaction with other students? With faculty?
I felt more engaged with my classmates than in a physical classroom. The online platform requires participation – my grades depended on thoughtful responses and interactions. The faculty was generous with their time and understood the need for flexibility while adhering to a rigorous program.
What were some of the most defining aspects of your time at CUNY SPS?
I had a serious accident during my last semester and EVERONE on CUNY SPS staff, administration, and faculty were supportive. I was able to graduate on time and attend the graduation ceremony because the CUNY SPS team made sure I had time to take finals and complete my assignments.
What is the most important thing you learned at CUNY SPS?
Never give up! I first started pursuing my undergraduate degree in 1984 and graduated in 2013. CUNY SPS helped me complete my degree with the convenience of online learning.
How has your CUNY SPS degree influenced your career?
I had been able to make significant progress in my career with my AAS degree in accounting, but the many years of work experience along with my bachelor's degree from CUNY SPS enabled me to attain executive level positions.
What is the most rewarding aspect of your job?
I work for a non-profit organization that funds programs that alleviate hunger, provide disaster relief, and create economic opportunities for women and children in 40 countries around the world. My work improves the quality of life for communities across the globe.