You are here
Lizanne Fluxmon
BS in Business
Class of 2020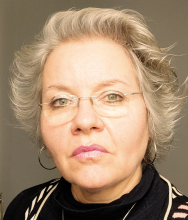 "There were times I had professors whose credentials not only impressed me but humbled me. I feel honored to have been their student."
What were some of the most defining aspects of your time at CUNY SPS?
While at CUNY SPS, I had the opportunity to learn from respected professionals in my field of study. Many classes presented cutting edge material that I was able to use in the workplace. There were times I had professors whose credentials not only impressed but humbled me. I feel honored to have been their student.
What is the best piece of advice, or most important thing you learned at CUNY SPS?
When it gets to be too much … step back, breathe, and say 'I can do this." because you can. Then get back in there and take care of your business. I remember learning about petrol dollars and having to step back because it was a lot for me to absorb. The same thing happened when I studied state capitalism.
Who influenced you the most? Please feel free to include anyone from the CUNY SPS community including faculty, staff, or fellow classmates.
Professor Izen's media class gave me experience in 2019 that helps every time I have a Zoom meeting. Professor Boritzer was empathetic during a rough time but kept me on task and held me accountable. I took many of her classes and would love to take more of them. Her curriculum is relevant, intense, and a lot to digest. Professor Delalex opened up so many topics that I never knew existed. These and many other professors covered meaningful material that was relevant to today's business environment.
How has your CUNY SPS influenced your current job, and your career overall?
My experience has enforced my desire to pursue a career in business.
What is the most rewarding aspect of your job?
Currently, I continue to expand my knowledge by following online classes, seminars, and workshops while examining options available to me in today's workforce.
Where do you see yourself in five years?
I hope to be a successful citizen who has a positive effect on the economy and helps improve education for girls and opportunities for women.
outside the classroom
What show/s are you currently watching? Agatha Christie's "Hercules Piorot" BBC reruns.
What is your favorite meal? Hungarian food … homemade noodles encourage my spirit to soar
What is your favorite line in a movie? "Only love can save this world. So I stay, I fight, and I give. This is my mission now. Forever." Diana Prince/Wonder Woman from Wonder Woman (2017).
Favorite or most recent book you read? I just finished White Fragility and now I am reading Breaking Through by Christine Lagarde
Facebook, Twitter, Instagram, LinkedIn, TikTok, none, all? FB, Instagram and LinkedIn
List 3 things you would bring to a deserted island.
a wind-up laptop like the one's UNICEF gives to kids in countries that do not have an option for internet service ( to do research)
a carton of spiral notebooks
a lot of pens