You are here
Jerome Basma
BS in Business
Class of 2016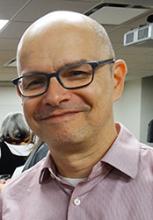 "After waiting so long and working so hard to finish my degree, winning the scholarship was an amazing validation of all my efforts…having the degree opens up new possibilities of advancement at my present company and possibly in other organizations."
Why did you choose CUNY SPS?
I chose to attend CUNY SPS because of the convenience of online learning. Having a full time job and two kids under ten (at the time I started) pretty much negated any thought of enrolling in a traditional school or night school. I needed flexibility of being able to complete coursework on a schedule that was largely determined by me. A second reason, which was equally important, was that SPS is part of the City University of New York. I didn't want a degree from one of those online–only universities. CUNY has a great reputation and I wanted that to be visible on my diploma.
What most appealed to you about your CUNY SPS degree program?
Embarking on the undergraduate Business degree program was an opportunity for me to study business processes in-depth and to use my life experience to enrich my learning.
How did you find your online/classroom interaction with other students? With faculty?
The online interaction with students was really good. I would even say that in the online environment there is more interaction with other students given that participation in discussion boards is a requirement of every class. I've been in traditional lecture class settings where there was no student to student interaction at all. In general, faculty were responsive in solving issues that came up, though some professors were better than others at taking part in the class discussion.
What were some of the most defining aspects of your time at CUNY SPS?
The most defining aspect of my time at SPS was that I was able to use the knowledge acquired in class almost immediately in my work. The very fact of taking classes and learning new things and being able to take that back to my job has enriched my work and elevated me. It's also opened up new career avenues for me. Two other notable things happened in my time at the School. I was awarded an ACE Scholarship that allowed me to pay for a good chunk of my tuition in the last couple of years. It was a great honor. And, I received The Vice Chancellor's Excellence in Leadership Award for my scholastic and service related activities.
What is the most important thing you learned at CUNY SPS?
Probably the most important thing I learned was that I should never stop learning. Learning is not a burden, it's a road that opens up new vistas and takes one to new places.
How has your CUNY SPS degree influenced your career?
The degree itself has not influenced my career greatly: It's what I've learned that's influenced my career. That said, having the degree opens up new possibilities of advancement at my present company and possibly in other organizations. I'd like to go beyond what I do work-wise right now (even though it's comfortable and rewarding). I'm planning my next few moves and the SPS degree has provided more possibilities.
What is the most rewarding aspect of your job?
Managing and working with people both in the office in New York and remotely with my company's vendor partners in India. Bringing people from two different continents together and leading them so that they work well together. A successful outcome is very rewarding.
Where do you see yourself in five years?
Managing a global team at a higher level than I am now. Working part of the year in South Asia, or full-time depending on family obligations.
How did the ACE Scholarship award and mentoring program impact you as a student, a professional and a member of the CUNY SPS community?
The ACE Scholarship award and the mentoring program had a big impact on me personally. After waiting so long and working so hard to finish my degree, winning the scholarship was an amazing validation of all my efforts. It was a terrific ego-boost in the most positive sense, and gave me the confidence to imagine new possibilities for myself in my career. As a mentor it was just as validating because it gave me the opportunity to do something for other students who would be working as hard as I did. It was a great way to pass on the torch to others in the CUNY SPS community. The whole experience is one I'll never forget.
Outside the Classroom
Giants, Jets, other, don't care? Knicks, Nets, other, don't care? Mets, Yankees, other, don't care? Jets, Knicks, and Yankees. I would like to learn more about cricket, though.
Favorite subway line? Least favorite subway line? There all good, just as long as there are no delays.
Grey's Anatomy, Scandal, both, neither? Game of Thrones
Favorite NYC attraction? Favorite NYC cultural institution? Does Central Park qualify as an attraction? The NYC public libraries are my favorite cultural institutions.
Biggie, Tupac, both, neither? Beatles, Rolling Stones, both, neither? Mariah, Nicki Minaj, both, neither? Favorite artist/band? New age space music (I know it's weird, but it helps me relax).
Facebook, Twitter, Instagram, LinkedIn, none, all? Facebook and LinkedIn, not the other two.
Book or e-reader? Favorite title or the most recent title you read? A little of both, though I prefer the good old print book. Sea of Poppies by Amitav Ghosh (great read, I highly recommend it). And for my last book of the summer, Day of the Scorpion by Paul Scott.