You are here
Elisa Frangaj
Advanced Certificate in Management
Class of 2019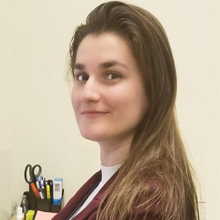 My supervisors have already seen impressive growth and have increased my responsibilities, thus making my position more challenging and rewarding."
What most appealed to you about your CUNY SPS program?
I specifically chose the Advanced Certificate in Management program because it would allow me to test the waters and see whether I was interested in shifting my career from healthcare to business. Doing so helped clear up any doubt that I wanted to pursue the full MS in Business Management and Leadership degree.
How did you find your online/classroom interaction with other students? With faculty?
I really appreciate that the courses are offered online. More importantly, the format doesn't take away from being able to interact with professors and peers as some other online degree programs might.
What were some of the most defining aspects of your time at CUNY SPS?
The CUNY network is expansive, meaning it offers a vast array of services. Yet, CUNY SPS remained small enough to allow students and faculty to know each other more intimately than would otherwise be possible at a larger institution. This really helped me get a sense of who my cohort included.
What is the most important thing you learned at CUNY SPS?
At CUNY SPS, I gained a hunger for learning and discovered a newfound love for academia. Despite balancing a full-time job with my coursework, I finished my certificate with a 4.0 and regained a sense of focus for my future.
How has your CUNY SPS influenced your current job, and your career overall?
Thanks to how well-organized CUNY SPS is in guiding students to graduation, I was able to focus on my courses and gain knowledge that I can apply in the real world. My supervisors have already seen impressive growth and have increased my responsibilities, thus making my position more challenging and rewarding.
What is the most rewarding aspect of your job?
As a field manager for a research study on substance abuse, I take immense satisfaction in interacting with patients and presenting to clinical staff to promote the wellbeing of Bronx-based individuals.
Where do you see yourself in five years?
In five years, I hope to be healthier, happier, and more well-rounded as a person. I know that with the certificate I completed and the master's I'm currently working on at CUNY SPS my vision can definitely become a reality.
Outside the Classroom
Favorite sports? Favorite team? I've run a handful of full-length marathons since 2017 and hope to continue running as a way to maintain my health.
Favorite movie or TV show of all time? Lately, I've been binging BoJack Horseman, which I recommend everyone watch! It's more than just a comedic cartoon; it really gets at the heart of human nature.
Netflix, Hulu, Cable, all three, neither? Despite very rarely watching TV, I have to say that Netflix is my preferred platform for binging shows. The world will slowly get rid of cable as we transition to more internet-based programming.
Favorite NYC attraction or cultural institution? I call the Bronx home. As such, most of my favorite places are here. If you haven't already, please go visit the Bronx Zoo and Botanical Gardens!
Favorite music artist/band? I love every genre of music but have a soft spot for rap and hip hop. We really need to acknowledge the genius of rapping; it isn't easy.
Facebook, Twitter, Instagram, LinkedIn, none, all? My friends tease me for only having LinkedIn as social media!
Book or e-reader? Favorite or most recent book you read? When I'm on the go, I'll read from Quora or the Kindle app on my phone, but nothing beats sitting down and consuming a real book. My favorite book of all time is A Short History of Nearly Everything by Bill Bryson. Bryson does an excellent job of guiding us through the history of scientific discoveries and uses well-written prose that all of us can digest.