You are here
Edwin Franco
BS in Business
Class of 2011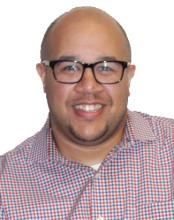 "Earning the BS in Business helped solidify my 10-plus years of work experience and helped me move into a management role within a year of graduating."
Why did you choose CUNY SPS?
After 10 years of bouncing in and out of CUNY schools, I was ready to give up on my education, when I received a postcard in the mail about CUNY's first online degree. I was skeptical at first but decided to attend the information session anyway. That night, CUNY SPS had me, line, hook, and sinker.
What most appealed to you about your CUNY SPS degree program?
I was able to transfer all of my credits earned at three other CUNY schools and set an actual end date for the completion of my degree. The flexibility and affordability of the program made the commitment an easy one.
How did you find your online/classroom interaction with other students? With faculty?
Online interactions were very new to me and it took a while for me to get used to. I have always enjoyed the face to face interaction of the traditional classroom setting but I knew I didn't have the luxury of time anymore. Once I was able to connect with my classmates and professors whether in person or by webcam it made the experience very personal. My classmates were no longer strangers to me.
What were some of the most defining aspects of your time at CUNY SPS?
The fact that I was able to take classes on my own time while still keeping up with my responsibilities at home was crucial to my success. And as I mentioned before, having the ability to interact with classmates and professors made the experience real for me.
What is the most important thing you learned at CUNY SPS?
I would say patience and time management. The traditional school setting was becoming very frustrating for me and I felt I would never graduate from college. I was ready to give up and drop out prior to enrolling in CUNY SPS. After my first semester, I felt I could speed up the process by taking more classes. I quickly learned not to bite off more than I can chew. So I took a step back, reassessed my standing, and came up with a new game plan to graduate on time while maintaining a realistic class load.
How has your CUNY SPS degree influenced your career?
Earning the BS in Business helped solidify my 10-plus years of work experience and helped me move into a management role within a year of graduating. I also saw a 30% increase in salary. But more importantly, my degree opened doors that were not there before. It helped boost my morale because I could back up my experience and not be turned away by potential employers due to a lack of education.
What is the most rewarding aspect of your job?
As an accounting professional working within education, I enjoy using my skills and talents to provide assistance to school executives and administrators. I enjoy the process of getting to know the needs of our schools and finding creative ways to help address those concerns.
Where do you see yourself in five years?
I would love to transition out of an accounting role and into an operational one where I can spend my time working directly with stakeholders to ensure the organization best meets their needs. I think it would be a great challenge for me to eventually work at the collegiate level where I can interact with other working adults in the quest to continue their education.
Outside The Classroom
Giants, Jets, other, don't care? Knicks, Nets, other, don't care? Mets, Yankees, other, don't care? I am a diehard Giants/Yankees/Knicks fan no matter how much they may frustrate me!
Favorite subway line? Least favorite subway line? I grew up riding the 1/9 lines (a little nostalgia for those who grew up in NYC during the 80's and 90's) so I've always found the west side to be the most reliable. My least favorite is the 6 line (where I currently live). Way too many stops which make my commute feel longer every day.
Grey's Anatomy, Scandal, both, neither? I was an early adopter of Grey's Anatomy back in my 20's, but honestly now, I cannot stomach either show!
Favorite NYC attraction? Favorite NYC cultural institution? I absolutely love the South Street Seaport and the rich history of the NYC downtown/financial district. I think the Metropolitan Museum of Art is probably the most culturally rich institution in this city. The site alone is historic!
Biggie, Tupac, both, neither? Beatles, Rolling Stones, both, neither? Mariah, Nicki Minaj, both, neither? Favorite artist/band? As a product of hip hop, I cannot choose between Biggie and Tupac. I love both artists and still listen to their work today. As a kid, I was neither into the Beatles nor the Stones but as an adult, I have learned to appreciate their music. I'm actually more of a Journey/Doors/Stooges fan. Apart from that, my favorite artists are Jay-Z, Daft Punk, Prince and Wu-Tang Clan.
Facebook, Twitter, Instagram, LinkedIn, none, all? I am active on all social media platforms, but Instagram is my favorite.
Book or e-reader? Favorite title or the most recent title you read? Although I own a Kindle and an extensive library, I absolutely love the feel of a hardcover book in my hand. One of my favorite novels is "The Feast of The Goat" by Mario Vargas Llosa. I am also a huge Michael Connelly fan (#harrybosch)! Lately, I've been reading a lot of business and investment-related books.