You are here
Christopher Bonet
BS in Business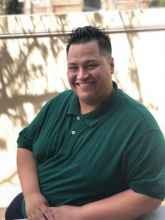 "...many of the principles and policies learned in my coursework have lent a hand in increasing my job duties, as well as expand my career prospects."
Why did you choose CUNY SPS?
CUNY SPS provided me with a unique opportunity. It gave me the flexibility needed in my schedule. I knew that I wanted to finish my bachelor's degree in a two-year period, and the availability of online classes afforded me the chance to do that.
What most appealed to you about your CUNY SPS program?
The online course catalog. As I was finishing my associate's degree at LaGuardia Community College, one of my online professors mentioned that she was attending CUNY SPS and how wonderful and vast the catalog of courses is. This would allow me to continue working both of my jobs while attending school full time. I saw it as a win-win.
How did you find your online/classroom interaction with other students? With faculty?
My online interactions with my peers were very positive and fulfilling. Many of my classmates seemed just as driven as I was to do well in the courses. I did not mind taking charge in the many group projects assigned throughout my academic journey, but most of the teams I worked with were supportive. The faculty is also great! Very knowledgeable in their fields, and made sure that we had an interactive and interesting learning environment.
What were some of the most defining aspects of your time at CUNY SPS?
I would say the hurdles I faced towards the end of my bachelor's journey are one of the most defining aspects of my time at SPS. My son, Noah, was born during my final semester. New parenthood is always a life-changing event. However, Noah was born 3 months premature, weighing only one pound at birth and with severe health complications, requiring a near 6-month stay in the hospital. Somehow, I was able to focus on my final semester, push through my courses as a full-time student, AND earn the honor of being student speaker at the School's 2018 Commencement Ceremony. I never felt more accomplished than I did at the finish of my final semester.
What is the most important thing you learned at CUNY SPS?
I learned that it is never too late to start. Moreover, that no matter what life throws at you; you can and will overcome it. Many of my peers were like me, meaning that their academic journey was not a straight line, but a bumpy road. It felt great being in classrooms with people that I can relate to.
How has your CUNY SPS influenced your current job, and your career overall?
I have been able to use the many aspects of business and accounting that I learned in my coursework to further myself in my current job in the Office of Budget and Finance at New York City College of Technology, or "City Tech." Further, many of the principles and policies learned in my coursework have lent a hand in increasing my job duties, as well as expand my career prospects. My focus is on upward mobility at City Tech., but who knows what the universe has planned for me.
What is the most rewarding aspect of your job?
While I find my work professionally enriching, my son is now my biggest motivation in life.
Where do you see yourself in five years?
I have no clue where I will be in five years. With my son's situation last year, I was humbled and learned not to plan too far ahead. I know it sounds cliché, but the Universe will lead me to exactly where I need to be. As long as my family and friends are happy, healthy, and prosperous in five years, then I deem it a successful five years.
However, if I NEED to nail down a career goal, I am hoping to have my MBA and run a financial office, whether it is Budget/Finance or Bursar, in a university. I once dreamt of entrepreneurship, but that will have to hold off for a few more years. Maybe it is in the Universe's ten-year plan.
Outside the Classroom​
Favorite sports? Favorite team? My favorite sports are boxing and baseball. I have been watching boxing since I was a child and I try not to miss any events now. I currently have about 4 different app subscriptions just so I can catch all of the fights. My favorite baseball team is the New York Mets. I hope that this is their year!
Favorite movie or TV show of all time? My favorite movies are in the current Marvel Cinematic Universe. I love the Avengers movies and I cannot wait to see Avengers: Endgame.My favorite TV show would have to be The Office. The humor presented in it is just perfect. I work in an office so you can begin to find some similarities in the ensemble cast of characters and your co-workers. I have watched the full series AT LEAST four times now.
Netflix, Hulu, Cable, all three, neither? It has to be Netflix here. Although, when Disney+ comes out, that might be atop my list. Netflix gives me the opportunity to binge-watch so many shows, including my favorites The Office, One Day at a Time, Stranger Things, and much more. I am still upset that they cancelled One Day at a Time, which blended humor and real world issues perfectly.
Favorite NYC attraction or cultural institution? Shea Stadium/Citi Field. I used to work at Shea Stadium and I enjoyed watching games there on my days off. I love the atmosphere of the stadium. The feeling of excitement is palpable. And although the team has not been very good lately (with two good years in the last 10) I still enjoy taking in a game there.
Favorite music artist/band? Hip-hop and reggaeton/Latin trap music have been playing non-stop in my headphones. Currently, J. Cole and Cardi B are my favorite hip-hop artists, and J. Balvin and Daddy Yankee are atop my list of Latin artists. J. Balvin's performance of throwback reggaeton songs at Coachella recently was a beautiful homage to the genre and those that led the way for the younger artists.
Facebook, Twitter, Instagram, LinkedIn, none, all? I use Facebook, Twitter, and Instagram regularly. My favorite has to be Twitter. It is the perfect balance of jokes, news, and interactions. I do not tweet often, but I am always scrolling the timeline (unless I am trying to avoid spoilers for current/upcoming events!)
Book or e-reader? Favorite or most recent book you read. My current world revolves around my son, Noah. Therefore, my favorite and most recent book right now is Goodnight, Ark by Laura Sassi. My wife and I took turns reading this book to him while he was in the NICU, every night for several months. Now at home, one of us recites the book from memory while the other shows Noah the pictures and pages from the book. It may not be the most common answer people give to this question, but the book holds a special place in my heart due to the emotional connection forged during Noah's time in the NICU. It was the first book I read to him, even before I was able to hold him.