You are here
Chanira Rojas
MA/Advanced Certificate in Youth Studies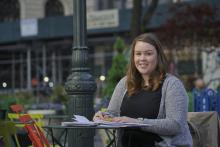 "We are a tight-knit group with a passion for providing youth with the tools they need to become empowered individuals that will change their lives and the lives of others."
For those that aren't aware, can you explain the field of Youth Studies?
Youth Studies encompasses the culture, development, history, politics, and psychology of youth. Youth Studies teaches issues that youth face and how they are affected by the relationships with one another, family, school, and society.
Why do you think there was a need to develop degree and certificate programs the focus on this field?
Youth work is not given the credit that it deserves and sadly has a high turnover rate. Having an advanced certificate/master's degree option for students who are interested in this field will take the field to new heights, offering a better understanding of the youth we serve and have more individuals adequately trained to work in the field and/or manage staff in the field.
How does your current work relate to the field of youth studies? What is the most gratifying aspect of your job? What is the most difficult aspect?
As a program director for the YMCA of Greater New York, I run after-school youth programming at a high school where the students are underserved. We provide leadership development, college/career access, civic engagement, and recreation services. All of the knowledge I am acquiring at CUNY SPS can be implemented directly in my work, whether I am leading an activity or sharing best practices with staff. Some participants have never had the opportunity to engage in programming that emphasizes positive youth development and growth mindset. The most gratifying part of my job is witnessing the transformation that the participants go through when they realize the power that they truly possess. Witnessing the challenges that minority or immigrant students coming from marginalized neighborhoods have to face saddens me as I know that will have to face additional obstacles as they transition to adulthood and onward.
Why did you choose to pursue the Advanced Certificate/MA in Youth Studies? Why at CUNY SPS?
I have always wanted to go to graduate school but was not sure what to study. Youth work has been a passion of mine since I was a participant in youth programming in high school. CUNY SPS is the only school to have a program of this kind that truly caters to those interested in advancing in the field of youth work. CUNY is also known for being affordable, so knowing that I would be able to graduate with no debt was a great incentive.
Which courses/aspects of the program have you enjoyed most so far?
One class I was looking forward to was "group work with youth," which I completed during the Spring 2017 semester. I was able to get a better understanding of what group work entails, how to handle different stages or groups, how to serve the individual and group at the same time, and the roles group members assume. The instructor, Julie Stein Brockway, is an expert in this field and comes with an immense wealth of knowledge. Her passion for the work is infectious. Our opening activities were fun, engaging, and purposefully brought the class together. We were able to bring back the activities and directly apply them to our work.
A majority of the programs we offer at CUNY SPS contain online courses. Youth Studies, however, offers classes on campus. What do you enjoy most about the on campus course format?
I enjoy the camaraderie between all the classmates. Youth work is about building strong relationships and having on campus courses allows us to engage one another in the same way. Because we are able to meet face to face, we engage in games and activities that can use in our places of work and practice our skills to engage the youth we serve.
What is your relationship like with other students/professors?
Our professors are leaders from their respective fields and have an immense amount of knowledge and wisdom that they share with us. They are humble and appreciate when we respectfully challenge them. They are genuinely concerned with our well-being and remind us to practice self-care. My classmates and I have become great friends. The cohort is small since we are the first group, so there are about 10 students in my class who are working with youth ranging from middle school to older adolescents. Everyone brings their own knowledge and it really has become a safe space to share our stories, lessons learned, and advice while working with youth. We are a tight knit group with a passion for providing youth with the tools they need to become empowered individuals that will change their lives and the lives of others.
Which professional and/or personal goals would you like to achieve while enrolled in the program? In which ways would you like to see yourself grow as a result of taking the program?
Because of my education at CUNY SPS, I am gaining knowledge I can pass on to others. I would like to move up the ladder with my current employer and provide capacity building support. It is important to nurture the next batch of youth workers so they can support the youth.
Do you foresee any advancements/changes occurring in youth studies agencies as a result of their employees taking this program?
As a result of this program, it would be for there to be an increase of compensation for youth workers. Adequately educated and trained staff will benefit the youth! Knowing the history of youth development, understanding brain development, family dynamics (especially living in a diverse city like New York), and social injustices our youth face will make for more empathic youth workers who are prepared to handle challenging situations.
What is the greatest piece of advice you have received at CUNY SPS?
The greatest piece of advice I have received at CUNY SPS has been, "fight the good fight!" Working in youth has its challenges, however, it has been some of the most rewarding work I have ever done. Sometimes we are the only advocates youth may have. The students I serve live in marginalized neighborhoods and do have access to services afforded to affluent neighborhoods. Sometimes we are the only voice the youth have.
So far, what advice can you give to someone who is considering returning to school for an advanced certificate?
I would highly recommend this program to anyone who is interested in returning to school for an advanced certificate and/or master's degree in youth studies. It has given me more confidence as a youth worker. I have made friends in the field who are also passionate and driven. The staff is very supportive, helpful, and truly cares about our success. The support I have received at CUNY SPS is unmatched to the other schools I have attended! CUNY SPS has a small school feel, and in a city as big as New York City, this is a wonderful rarity.
What do you hope to do after graduating from CUNY SPS? What does your future look like?
I want to continue working in youth development. I would like to move up the ladder with my current employer and provide capacity building support. It is important to nurture the next batch of youth workers so they can support the youth. I am also interested in youth social justice and want to work closely with those in social justice agencies to advocate for youth rights.
Learn a Little More about Chanira:
Place of residence: Brooklyn, NY
Weirdest place you have studied: The local I Love Kickboxing studio in my neighborhood.
Best thing about your community: There is so much to do! Whether you want to grab a quick bite, take a stroll in the park, or check out a cute boutique, Park Slope has it all!
What are you reading right now? Mindset: The New Psychology of Success by Carol Dweck
What are you watching right now? A constant loop of "Friends" and "How I Met Your Mother" on Netflix.
What you enjoy doing in your spare time: I enjoy spending time with my family and kickboxing with my friends.